'Stranger Things' Spinoffs: 3 Plotlines We Could See Becoming Their Own Series
Stranger Things Season 4 arrives on Netflix in just a few weeks. The show's creators, the Duffer Brothers, previously announced to fans that the series will end after season 5 and hinted at potential Stranger Things spinoffs. The town of Hawkins, Indiana, and the horrifying alternate universe known as the Upside Down, offers up plenty of ideas about where exactly those spinoffs might go. We believe three different plotlines would make great stories to expand the Stranger Things universe.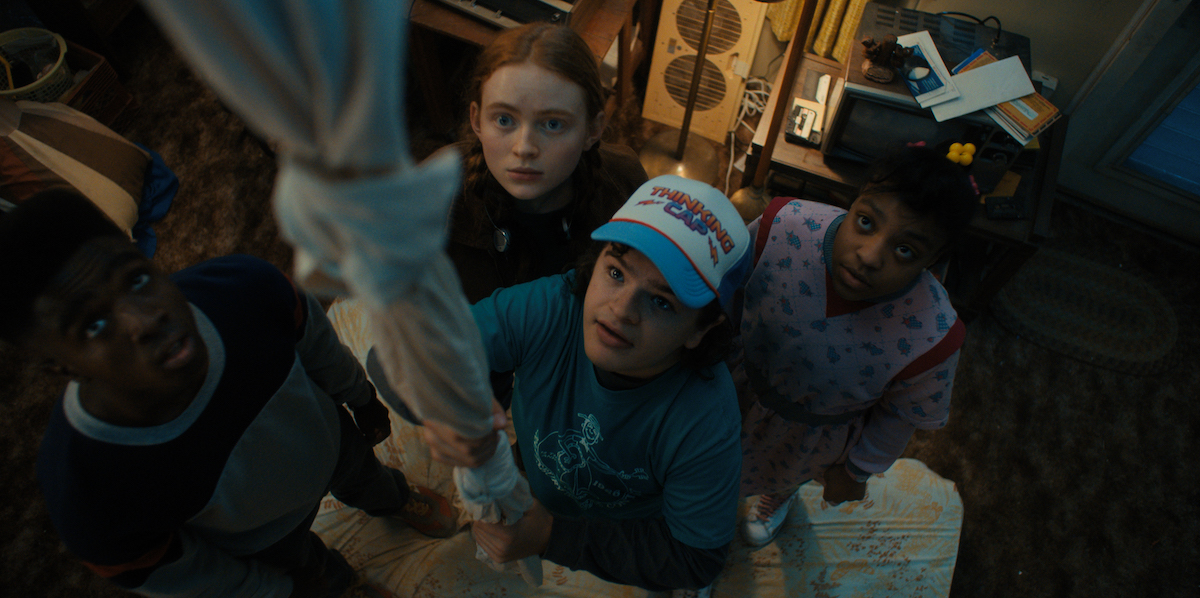 More of the 'numbers' in the 'Stranger Things' universe
Stranger Things Season 1 introduced us to Eleven, played by Millie Bobby Brown. She doesn't have a name and only goes by the number 11 tattooed on her wrist. Eleven grew up in a secret government lab where doctors used her telekinetic powers for experiments. In Stranger Things Season 2, the series introduces audiences to Kali, who also has a number tattooed on her wrist – number eight. This means at least nine other children with special powers we have yet to meet.
These other children could create a tremendous amount of content for a spinoff series as we learn more about their powers and backgrounds. We know Kali and Eleven's powers are different, which implies that the other children in the lab might also have different supernatural abilities.
RELATED: New 'Stranger Things' Season 4 Photos Show the Kids Making a Pitstop at Suzie's House
Chief Jim Hopper and Joyce Byers as teenagers in a 'Stranger Things' spinoff
Hopper (David Harbour) and Joyce (Winona Ryder) have a type of chemistry that radiates off the screen. While a romance between the two has yet to manifest on screen, the characters got close to crossing that line in Stranger Things Season 3. The couple even planned to go on an official date once the situation with the Mindflayer got squared away. However, in order to save Hawkins, and the people he loved, Hopper seemingly sacrificed himself to close the gate.
While we know Hopper ultimately survived the season 3 finale, Netflix could use the popularity of the characters to create a separate Stranger Things spinoff. Audiences don't know much about Hopper and Joyce's backstories. Exploring that in a prequel offers up potential stories for fans to dive into within the Stranger Things universe.
A series focused solely on 'Stranger Things' character Eleven
Stranger Things Season 1 skyrocketed to popularity shortly after it premiered, with Eleven becoming an instant fan-favorite. A Stranger Things spinoff dedicated to her life in the lab and before she met Mike (Finn Wolfhard,) Dustin (Gaten Matarazzo,) Lucas (Caleb McLaughlin,) and Max (Sadie Sink) seems like a no-brainer. The spinoff could focus on how she gained her abilities, her life in the lab with evil Dr. Brenner, and her interactions with the other children in the lab would make for interesting viewing.
The topic of Eleven's backstory could also involve her mother, Terry Ives, and her time in the MKUltra program. The government program is mentioned in Stranger Things Season 1. Plus, much of the first season takes its cues from the real-life program. However, since the first season, MKUltra hasn't been discussed. Showrunners could use this as a jumping-off point to set up some seriously creepy stories all within the confines of the Stranger Things universe.
RELATED: 'Stranger Things': Why Dr. Brenner Could Be Eleven's Biological Father