'Stranger Things' Star David Harbour Says Hopper's Going on 'A Much Darker Journey' in Season 4
'Stranger Things' star David Harbour reveals that Sheriff Jim Hopper will take on a less humorous, and much darker, journey in Season 4.
It may have looked like Sheriff Jim Hopper died in the Season 3 finale of Stranger Things. But in February, a teaser for the new season revealed that he's still very much alive. The forthcoming storyline is still a mystery, but in a recent interview, series star David Harbour revealed that Hopper will be going on a much darker journey in Season 4.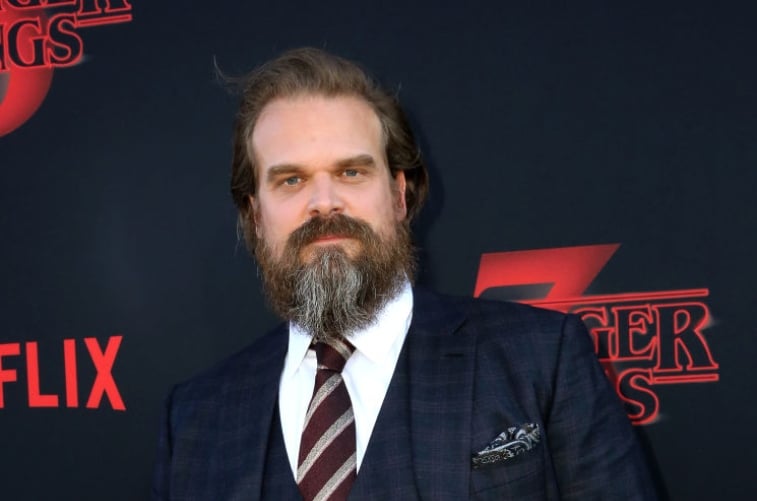 Jim Hopper's final moments on 'Strangers Things' Season 3
In the season finale of Stranger Things, Hopper and Joyce Byers (Winona Ryder) attempt to destroy the machine keeping the portal to the Upside Down realm open. But before they can close it, they are attacked by Russian agents. Harbour ends up in a fistfight with Grigori (Andrey Ivchenko) near the portal.
Hopper kills Grigori but gets trapped in the room. When Joyce finally begins turning the keys to destroy the portal, Hopper, who is still inside, gives her the OK to go ahead. The room explodes, with Hopper in it, and he is then presumed dead. 
The teaser shows Hopper alive in Russia
In February 2020, Netflix released a short teaser for Season 4 of Stanger Things. In the clip, Hopper is seen with a shaved head, working on a base in Russia. 
"We're excited to officially confirm that production on Stranger Things 4 is now underway — and even more excited to announce the return of Hopper," showrunners Matt and Ross Duffer revealed at the time, in a statement from Netflix. "Although it's not all good news for our 'American'; he is imprisoned far from home in the snowy wasteland of Kamchatka, where he will face dangers both human … and other."
"Meanwhile, back in the states, a new horror is beginning to surface, something long-buried, something that connects everything," they continued. "Season 4 is shaping up to be the biggest and most frightening season yet, and we cannot wait for everyone to see more. In the meantime — pray for the American."
 David Harbour will return for 'Stranger Things' Season 4
Knowing that Hopper is now in Russia, fans have plenty of questions on how he got there and what he's doing. In an interview with Gold Derby, David Harbour suggested that unlike past seasons, this time around, his character will go through a less humorous, and much darker journey.
"The new season is…for my character very deep and profound, and moving and interesting, and very different from last season," said Harbour. "Last season had this dad vibe to it, it had all this different color and life…even that shirt, and like the humor and stuff, and this season, he's in a Russian prison with a shaved head. He's gonna go on a much darker journey and I'm really excited for you guys to see that."
Production for the fourth season of Stranger Things began in February 2020, just ahead of the COVID-19 shutdown. So, as of now, there is no official premiere date for the new season. 
Stranger Things' first three seasons are currently streaming on Netflix.