'Stranger Things': Steve Harrington Was Supposed to Die in Season 1
Joe Keery's character in 'Stranger Things,' Steve Harrington, has a brush with death in the newest season. Apparently, that wasn't the first time he nearly died.
Steve Harrington (Joe Keery) has come a long way since Stranger Things fans first met him in season 1. He started out as a cocky womanizer who didn't always treat his high school peers in the nicest way. However, by season 2, Steve became a responsible and caring role model for the younger kids in Hawkins. Many fans today couldn't imagine Stranger Things without Steve, but that was almost the case — he was apparently supposed to die in season 1. Here's what changed.
[Spoiler alert: The following story contains spoilers for Stranger Things 4 Vol. 1.]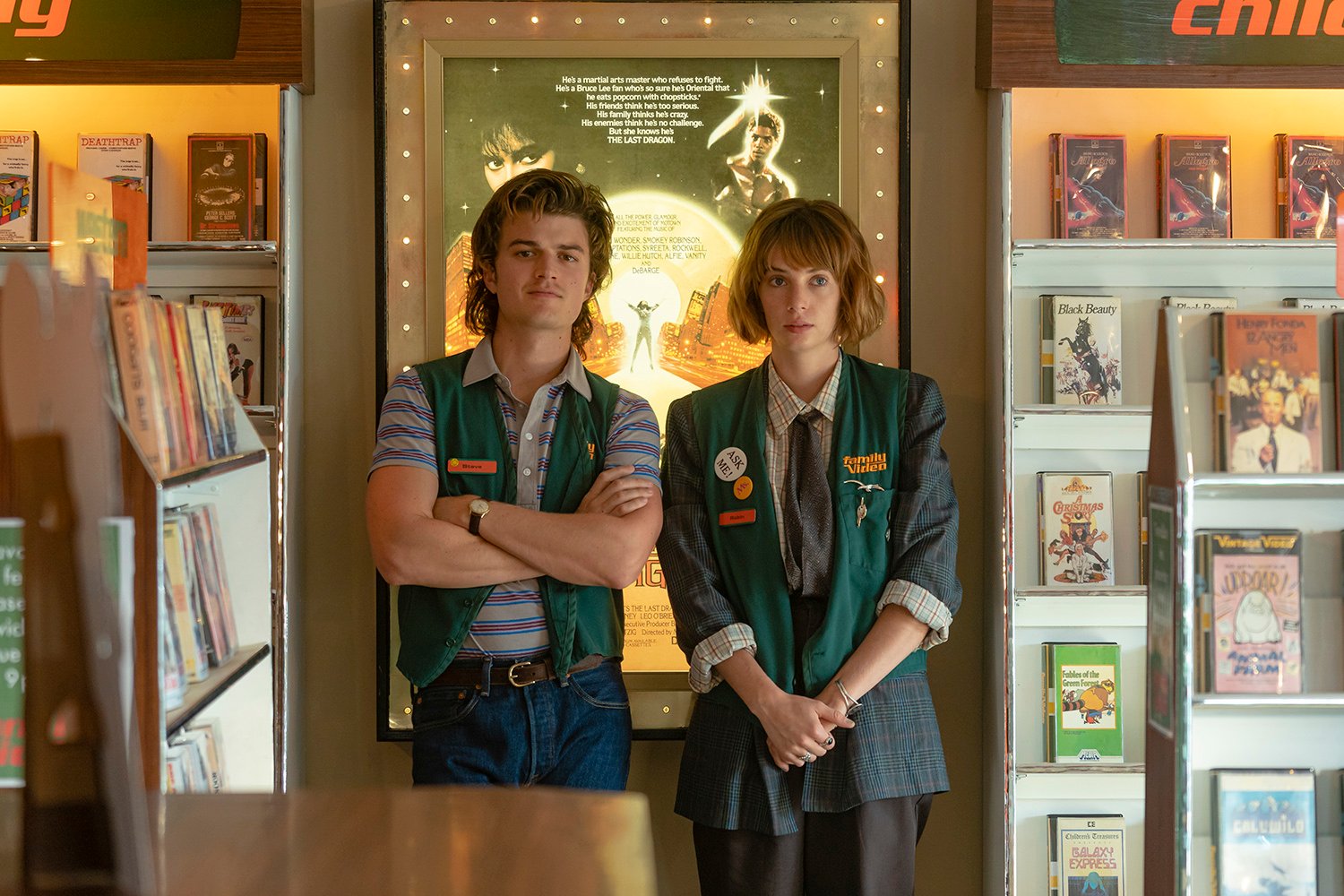 Steve Harrington wasn't originally supposed to make it past season 1
Believe it or not, Steve's growth by the end of Stranger Things Season 1 wasn't part of the original script. Ross Duffer explained to The Hollywood Reporter in 2017 that the writers planned for Steve to be a static villain who wouldn't live past the first season. However, they loved Steve's actor, Joe Keery, so much that they had to carry him into season 2 and beyond.
"We fell in love with him during the making of season 1, which is why we ended up writing that arc for him where he's helping to save the day with Jonathan [Charlie Heaton] and Nancy [Natalia Dyer]. Steve was supposed to be this jocky douchebag, and Joe was so much more than that," Duffer said.
The only problem the writers had was figuring out how to tie Steve into the rest of the story. Up until season 2, he had been a love interest for Nancy. After their breakup, Steve didn't have much connection to the group. So, the writers turned him into the friendly neighborhood babysitter and BFF to Dustin Henderson (Gaten Matarazzo) that fans know and love.
Even Keery felt surprised by his character's sudden kind-heartedness. In a 2021 interview with GQ, the actor said he fully expected Steve to die in season 1.
"I figured I was going to get killed, to be honest with you, because I played the douchey sort-of boyfriend, which is the first guy to die," he said.
Steve Harrington nearly died in 'Stranger Things' Season 4
Steve Harrington came close to death for the second time in Stranger Things Season 4, which debuted its first volume on May 27. In episode 6, "The Dive," the former Hawkins High student used his swim experience to dive into the lake and find a portal to the Upside Down. When he returned to the surface for air, vines from the other dimension captured his leg and dragged him through the portal.
Steve broke free from the vines, but he faced more danger as bat-like creatures began attacking him from every direction. Thankfully, Nancy, Robin (Maya Hawke), and Eddie (Joseph Quinn) arrived just in time to help Steve fight off the monsters. He survived another brush with death — but will that luck continue in Stranger Things 4 Vol. 2?
'Stranger Things 4' fans have heartbreaking theories that Steve will die in Vol. 2
Unfortunately, some fans worry that Steve won't last through the remaining two episodes of Stranger Things 4. The bats left him with some pretty nasty bites in episode 6, and who knows what kind of venom they carried?
"Stranger Things Season 4 theory: Steve is definitely dying," one viewer wrote on Twitter. "They are teasing Nancy and Steve just so they can kill off Steve. Steve will most likely sacrifice himself for Nancy either whilst she is in Vecna's mind control or after, during some other situation."
"Is no one gonna talk about how Mr. Steve Harrington got bitten by bats in the Upside Down and how Robin is fearing that he might get rabies or [something] from them? IDK BUT I HAVE THIS THEORY THAT HE MIGHT DIE ON THE UPCOMING VOLUME 2," another person added.
Steve's fate in Stranger Things 4 remains a mystery, but one thing is clear: Fans won't be thrilled if he does die.
"I am 1000% sure Steve is dying in Stranger Things this season, and it'll be the worst thing to ever happen to me," one fan tweeted.
Stranger Things 4 Vol. 1 is now streaming on Netflix. Vol. 2 drops on July 1.