'Stranger Things': The Real Reason Dustin and Steve Had to Become Close Friends
This is the real reason Dustin and Steve in Netflix's 'Stranger Things' became such good friends so quickly.
Most American fans of Stranger Things likely spent their Fourth of July binge-watching the new third season. As expected, some interesting plot developments unfolded that led to chatter on social media.
One of those plot points is the close friendship between Dustin and (Dad) Steve. This was a favorite match-up in Season Two, though it came out of nowhere for the stars playing the characters.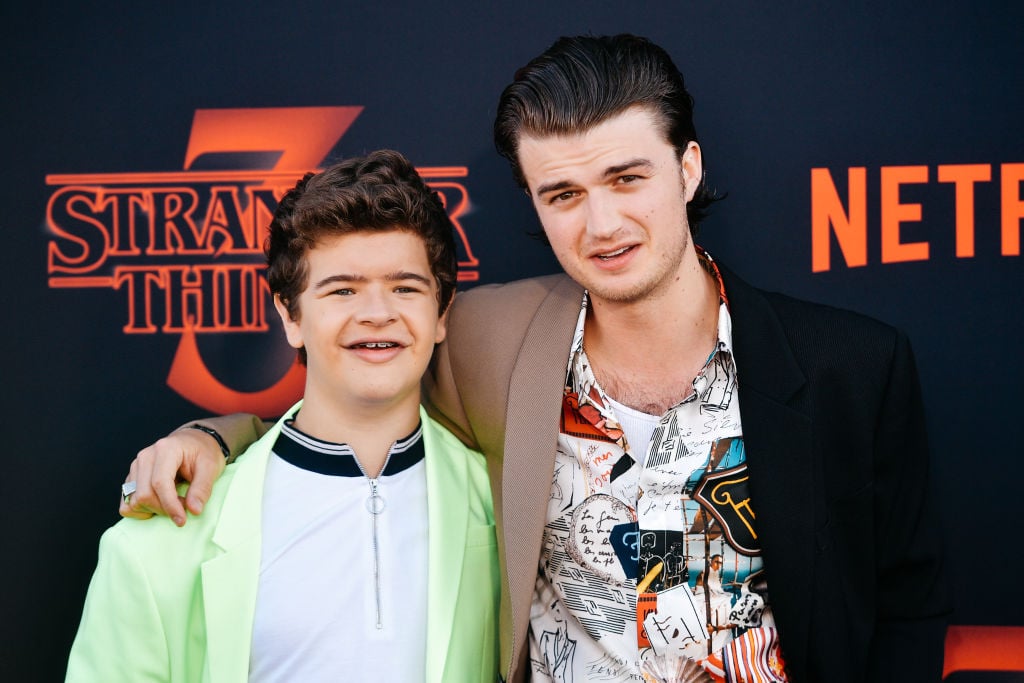 Portrayed by Gaten Matarazzo and Joe Keery, respectively, their chemistry together was organic, and ultimately proved how creating a popular duo for a show can go beyond the script.
According to Matarazzo, this friendship also happened thanks to the writers having a deeper understanding of where Dustin and Steve needed to go.
Why were Dustin and Steve better as close friends last season?
Those of you new to Stranger Things will soon find out that in the first season, Dustin and Steve didn't really know one another very well. Both were typical 1980s teenagers with bad '80s hair and relationship problems with girls.
While all the kids of Hawkins were involved with finding Will Byers and dealing with the Upside-Down, the show only saw Steve as a sideline character and boyfriend of Nancy at the time. Dustin was one of Will Byers' closest friends.
By the beginning of Season Two, Steve and Dustin didn't really have any method to expand their characters. All it took was broaching the subject of hair care products to suddenly form a closer friendship, despite a slight age difference and Steve becoming a fatherly figure.
It also helped having Dustin's dog turn a bit demonic, making him and Steve team up to figure out how to deal with the problem.
Matarazzo says he was surprised with the Dustin/Steve friendship
Now you know the value of writers when they often understand the psychology of characters better than the actors do. It's not always this way. Nevertheless, Gaten Matarazzo said to Hollywood Reporter recently he was amazed at how fast he and Joe Keery were able to find such fun, comedic chemistry together.
Their so-called "bromance" during Season Two was one of the highlights fans keep talking about. For Season Three, many critics say their friendship is one of the reasons to watch again, outside the battle against the Upside-Down still terrorizing Hawkins.
If you've already watched Season Three all the way through, you can see why so many fans keep hoping Dustin and Steve will have a spinoff show once ST ends.
Is it true this is pure comedic magic we only see rarely on a show, or will Matarazzo and Keery want to create their own individual acting paths?
1980s teens being teens
Many of the situations Dustin and Steve find themselves in this season are hilarious, including taking on an elaborate scheme to weed out what they think are Russian spies in the local Hawkins mall.
You could call Dustin and Steve the new Bill & Ted who seem to go through life in a daze and make things more entertaining living in their own imaginations. Of course, dealing with the Upside-Down isn't imaginary, unless there's a surprise twist we don't see coming down the line.
Having these guys living the '80s is already entertaining enough. What makes Dustin and Steve a joy is their goofy interactions. They also still stay within reality considering Dustin is now a wingman for Steve in helping link up with a favorite new girl (Robin) at his new job.
Also, they really became a trio when you include Robin in the mix. All three have great chemistry together, yet the friendship of Dustin and Steve still stands alone. With acting egos likely always getting in the way, great comedy duos like this usually don't last forever, unless given a spinoff they can't say no to.