'Stranger Things' Vol. II Trailer Has Fans Concerned About Steve Harrington's Survival
'Stranger Things' fans are panicked about Steve and Eddie after seeing Dustin's reaction in the new trailer for Vol. II.
A new trailer for Stranger Things 4 Vol. II has many fans worried about Steve Harrington's (Joe Keery) fate. Steve appears ready for battle in the sneak peek of the season 4 conclusion to the Netflix series. However, Dustin Henderson's (Gaten Matarazzo) face says it all. Is he screaming about Steve or another character? Let's unpack what might be happening in this scene from the final chapters of Stranger Things 4.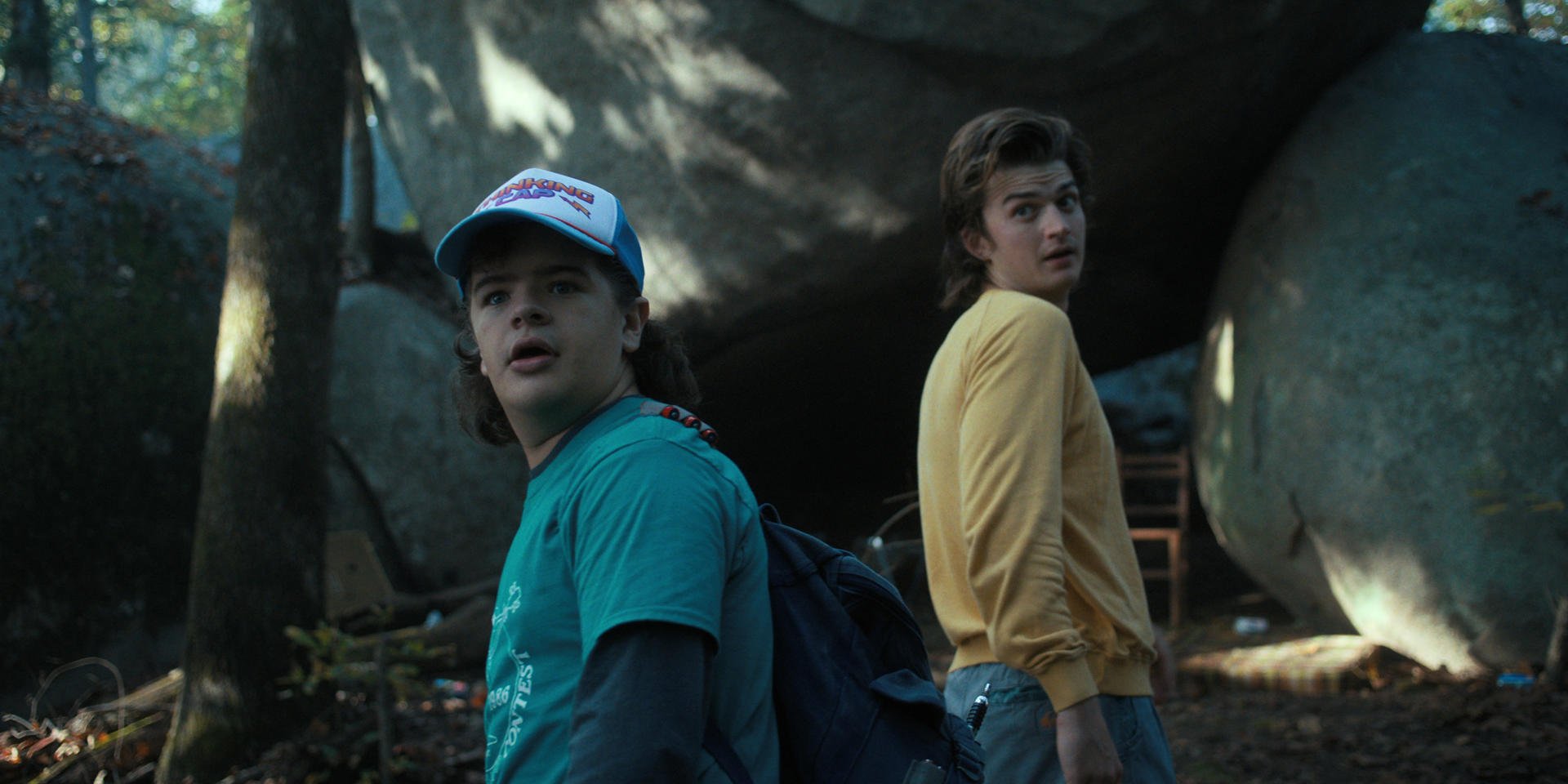 Fans think Dustin could be screaming as he watches Steve die in 'Stranger Things 4' Vol. II
In a blink or you'll miss it moment, Dustin appears distraught and screaming in the new Stranger Things trailer. Could he be witnessing Steve under attack by Vecna, a demogorgon, more demobats, or something worse? 
"Dustin is screaming," a fan tweeted in response to the trailer. "Let's hope [it's] because someone is following him or someone is fighting and not because Eddie or Steve dies because I can't choose between those two."
"Why is Dustin screaming whoever it is that's in danger better not be Steve," reads another tweet. Fans know the Duffer Brothers intended to kill Steve at the end of season 1. More recently, during Netflix's Geeked Week, Ross Duffer said: "I'm pretty sure he was gonna die earlier. I mean, it's been a while." This has some fans thinking Steve will meet his end in the final episodes. 
Dustin could be screaming for Eddie in the new trailer
Eddie Munson (Joseph Quinn) is a big concern for Stranger Things fans, too. "Yeah that scene with Dustin has me worried," another Reddit user commented in the thread. "He sees either Eddie or Steve get killed :(."
In the teaser, Dustin is seen back-to-back with the curly-haired leader of the Hellfire Club, wearing the same headband in the shot of him screaming. Fans are aware of Eddie's epic guitar solo in the Upside Down, and the trailer has many of them theorizing he's creating a distraction to save the others. Could Dustin be screaming at Eddie, sacrificing himself and playing the guitar to distract whatever is going to attack them? 
"Gives me hope that Eddie survives," another user pointed out, then added: "But could also see him saving Dustin as his heroic feat as it was foreshadowed earlier when he told Steve how much Dusty worships him."
Either 'Stranger Things 4' Vol. II death will be painful for fans 
Based on the online chatter, fans will have a hard time if either Eddie or Steve dies in the final chapters of Stranger Things 4. Both characters share a bond with Dustin — Steve even gets jealous of Dustin hanging out with Eddie and the Hellfire Club in Volume I.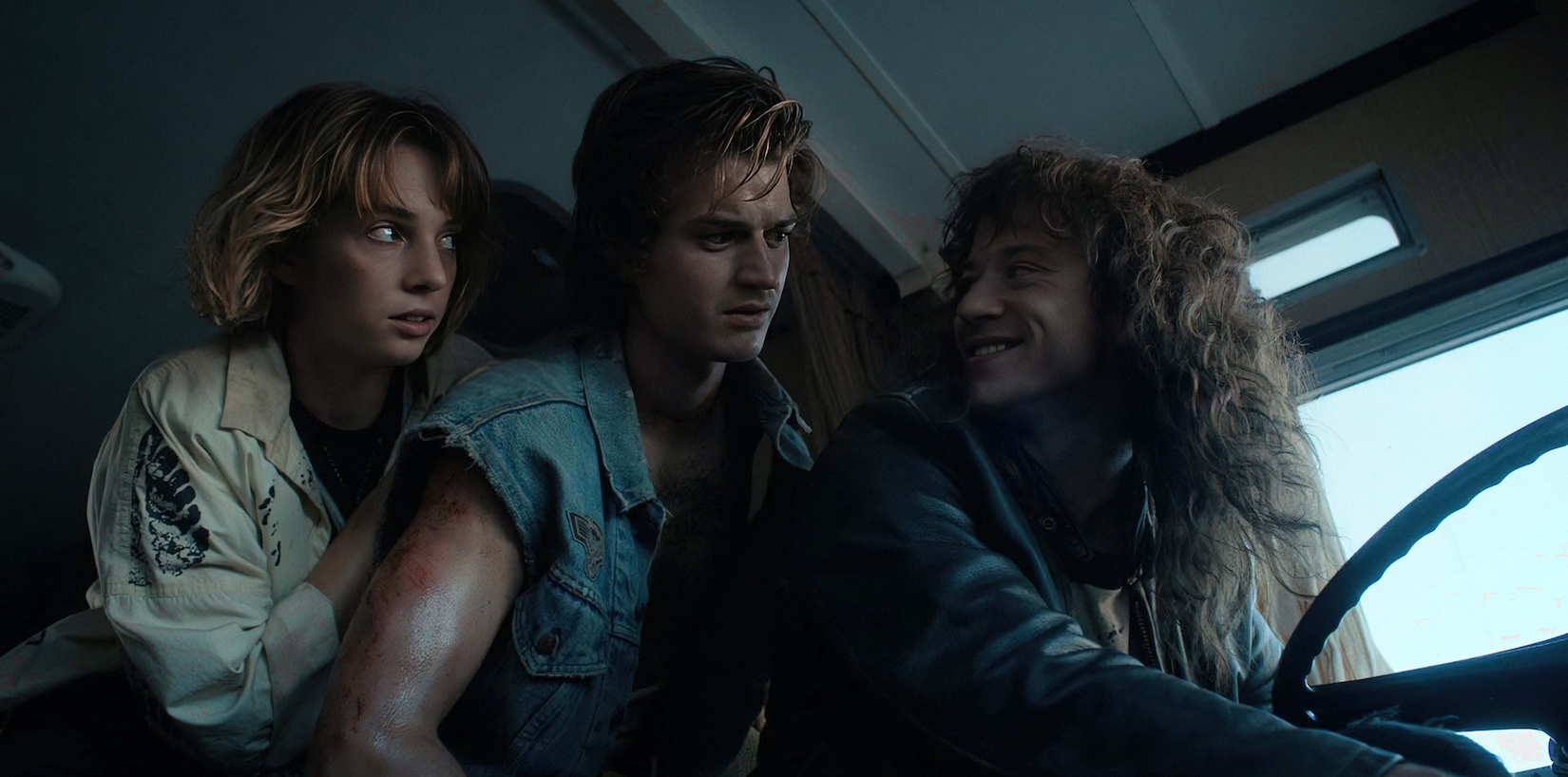 In the end, they all come together in the battle against Vecna — a battle fans know all of these characters can't survive.
Fans will have to wait until July 1 to find out who lives and dies in the final episodes of Stranger Things 4. Stream seasons 1 through 4 Vol. I on Netflix.