'Stranger Things': Why a Time Jump Would Be Perfect for Season 5
After months of no new information, Ross and Matt Duffer released a deluge of new content about Stranger Things Season 4. The creators of the series, the Duffer Brothers, also confirmed that they would end the show after season 5. Much of the cast started filming the show in their early teens, and now as they enter adulthood, many fans wonder how they'll be able to portray characters in high school. That's why season 5 is the perfect opportunity for a time jump in the story.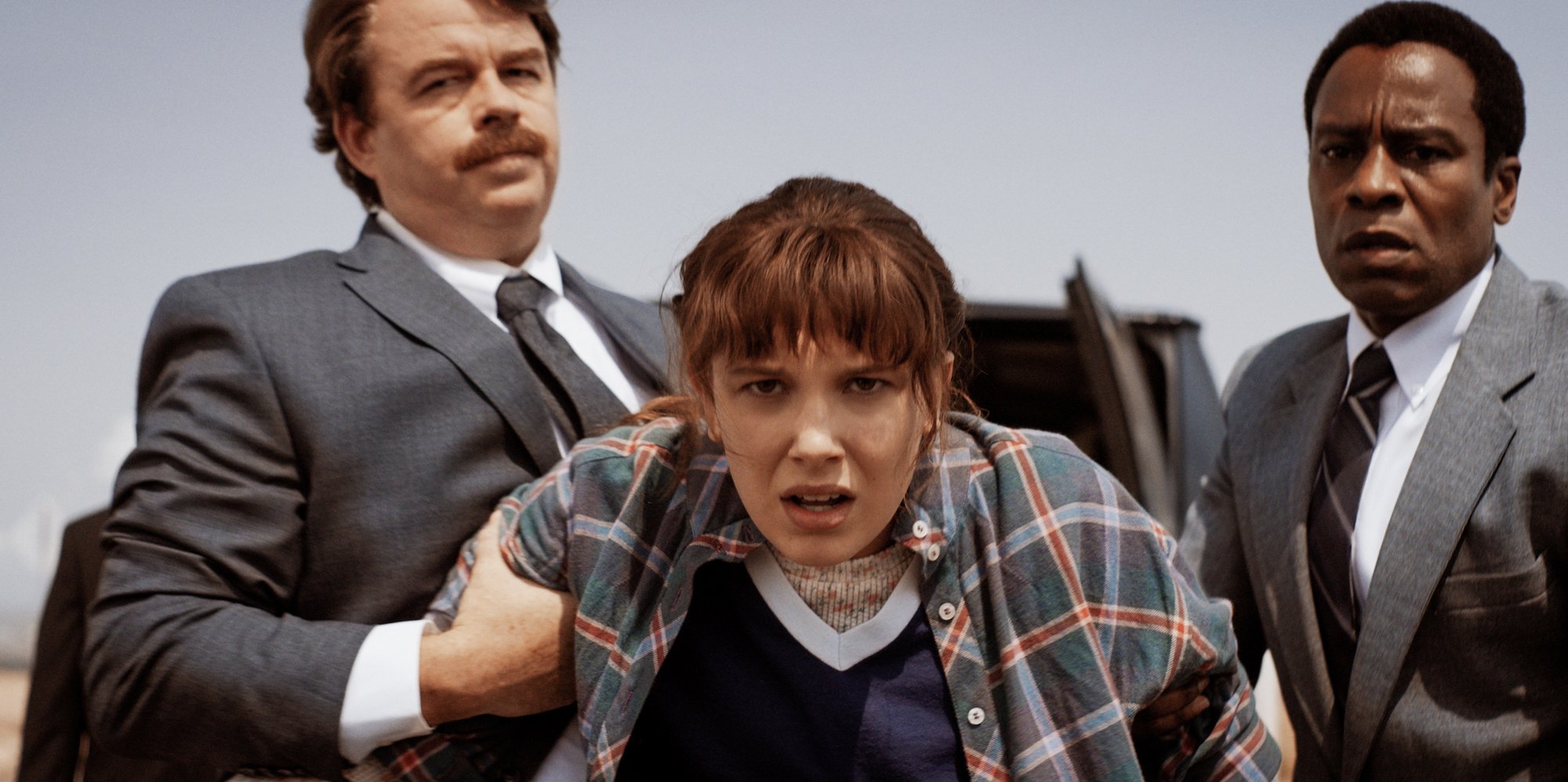 'Stranger Things' Season 4 picks up six months after the events in season 3
Each season of Stranger Things occurs at a different time of year. The Demogorgon captured Will in season 1 in November of 1983. Season 2's events happen around Halloween of 1984, and season 3 occurs the week of July 4 in 1985. The "Welcome to California" teaser for Stranger Things Season 4 shows Eleven (Millie Bobby Brown) and the gang getting ready to celebrate Spring Break in 1986.
Many fans hoped for the fourth season of the series to debut during the Christmas season but eventually learned that wouldn't happen. In the letter the Duffers wrote to fans, they explained part of the reason behind the delay included the massive scope of the project. On top of making Stranger Things Season 4 two volumes, it's also twice as long as season 3. Now, some fans wonder if Stranger Things Season 5 could take place in the winter of 1987.
RELATED: Every Clue You Missed in the 'Stranger Things' Season 4 Teaser Posters
Why a time jump for season 5 would work
Before anyone knew about the Spring Break timeline, many viewers wondered if Stranger Things Season 4 would include a time jump. The filming delay worried fans about the actors' ages, but only six months have passed since Stranger Things Season 3 ended in October of 1985. 
However, Youtuber @StrangerUniverse pointed out in a recent video that a time jump for Stranger Things Season 5 could potentially help with the issue of the actors' ages.
"Could it be that season 5 will be the winter of 1988 and take place during Christmas and New Year's? It's what everyone wanted for season 4 after all! Maybe if they want to extend the gap in the story itself, it could be the winter of 1988 for the gang's senior year of high school. If our favorites lose in season 4, they could assemble one last time to end the threat of the Upside Down once and for all. It would be interesting to see how they fit Christmas into all of this."
'Stranger Things' Season 4 Volume 1 debuts on May 27, 2022
Thankfully, fans are only a few weeks away from the continuation of the Stranger Things story. The first volume debuts on May 27, but while they're calling it "volume one," viewers can expect an entire season's worth of content. With over 800 pages of script, each volume equals approximately one season. After that, audiences receive volume two on July 1, only five weeks later. 
In the meantime, feel free to rewatch Stranger Things Seasons 1-3 on Netflix to refresh your memory while you wait.
RELATED: 'Stranger Things 4': Hardcore Fans Believe the Nina Project Spells Bad News for Eleven