As 'Stuck With U' Debuts at No. 1, Ariana Grande Tells 6ix9ine 'You Can Not Discredit This as Hard as You Try'
Singer Ariana Grande is speaking up about Tekashia 6ix9ine's allegations regarding the Billboard Hot 100 and her song, 'Stuck with U.'
With the weekly release of the top 10 songs on Billboard's Hot 100, a disagreement has broken out. Singer Ariana Grande shoots back at the comments of rapper 6ix9ine that her label "bought" the top slot for "Stuck with U." Read on to learn more.
Ariana Grande and Justin Bieber's duet 'Stuck with U'
Grande and Bieber's song, "Stuck with U," was made with a cause in mind. They each recorded their parts separately and released the tune on May 8, 2020. While many were excited about the collaboration and the music video, the artists were more focused on how the net proceeds benefit the First Responders Children's Foundation. A statement shared by SB Projects follows:
On behalf of First Responders Children's Foundation, I would like to thank Scooter Braun and the entire SB Projects family for bringing all of us together and providing critical support for first responders and their families, and to Ms. Grande and Mr. Bieber for using the power of their music to lift the spirits of first responders responding to this crisis.

– Jillian Crane, President of First Responders Children's Foundation
Grande told fans she 'will never play dirty'
As the song continued to climb the charts, Grande's fans (known as Arianators) began to encourage others to buy and stream it. The artist herself posted an Instagram Story, saying that while she appreciates the love, that's not what it's about for her. She later reaffirmed this in a since-deleted tweet.
When fans protested, saying that they wanted to support her, she replied, "don't get me wrong. it is so much fun to watch u all fight for it and i appreciate u sm. u are the fiercest angels alive. i just had to share. it was weighing on me and i appreciate u listening. i will never play dirty. i don't enjoy the game. however, i don't want to let u down."
Rapper 6ix9ine has said called Billboard 'corrupt'
Meanwhile, rapper 6ix9ine (also known as Tekashi 6ix9ine) took to social media after the chart data was made public. His lengthy statement can be heard in full above, but the gist of it is that he believes "You can buy No. 1s on Billboard."
6ix9ine said there was an "ongoing investigation" into the matter. He continued to accuse Grande's team of purchasing "60,000 units last second" in order to guarantee "Stuck with U" the top spot.
Grande replies to 6ix9ine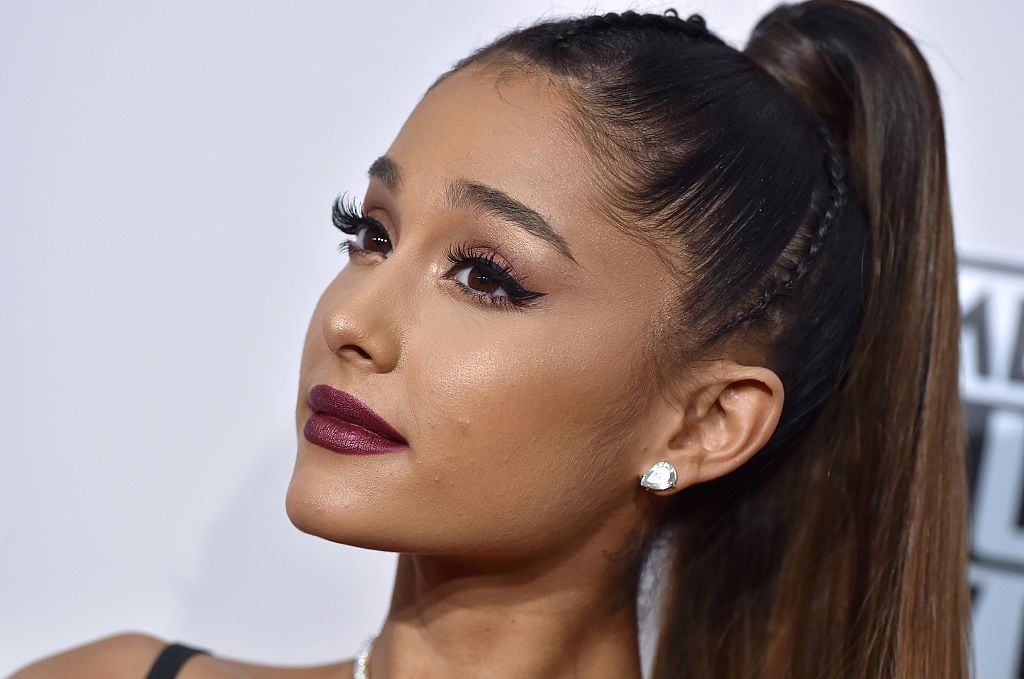 After 6ix9ine's video began to circulate, Grande added to the conversation on Instagram. After reiterating that "numbers aren't the driving force" for her, she praised her fans, calling them "ride or die motherf*ckers." She also made a point to refer back to 6ix9ine's remarks, addressing him not by name, but by the way his comments called out her and not Bieber.
"sales count for more than streams. u can not discredit this as hard as u try. to anybody that is displeased with their placement on the chart this week or who is spending their time racking their brain thinking of as many ways as they can to discredit hardworking women (and only the women for some reason…..), i ask u to take a moment to humble yourself," she wrote.
After talking about the times she missed out on getting No. 1, Grande sent home the message once more, confirming again that she was talking to 6ix9ine. "I FEEL GRATEFUL TO EVEN BE HERE. TO WANT TO BE HEARD AT ALL," she wrote. "and you should feel that way too. congratulations to all my talented *ss peers in the top ten this week. even number 3. "