Will Studio Ghibli Films Be on Disney+?
Disney is about to make our childhood dreams come true with the release of the new streaming platform, Disney+. For now, the service's library will include classic Disney movies and shows. But, given the company's massive ownership of the entertainment industry, audiences might be wondering which titles actually made the lineup, including the whimsical films created by Hayao Miyazaki's Studio Ghibli. So will Studio Ghibli films be on Disney+? A lot has changed since the late '90s.
Does Disney own Studio Ghibli?
On Oct. 14, Disney unveiled its entire lineup for the streaming service launching on Nov. 12. The queue includes many Disney original classics — like Hercules, 101 Dalmatians, and Lilo and Stitch — just to name a few. It also contains content from the Marvel and Star Wars universes.
However, it seems titles from Studio Ghibli are missing from the Disney+ list, which probably means fans shouldn't hold their breath. That said, the news doesn't come as a surprise.
Back in 1996, Disney became the distributor of Studio Ghibli worldwide, per The New York Times. "Miyazaki's films feature the same kind of quality family entertainment that Disney strives to produce," then-chairman of Walt Disney Studios, Joe Roth, said.
Then in 2017, the North American distribution rights of the Studio Ghibli catalog were sold to GKids, according to The Hollywood Reporter. The publication also revealed GKids managed the theatrical rights to Studio Ghibli films since 2010. Nevertheless, Disney continued to distribute Studio Ghibli films in other countries, despite "beginning to consolidate rights under one roof" in North America, as reported by the publication Kotaku in 2017.
For now, it seems Studio Ghibli films won't be on Disney+. The Walt Disney Company is no longer the U.S. distributor for the Japanese production company. So it's unlikely fans will see classics like Kiki's Delivery Service or My Neighbor Totoro on the streaming service anytime soon.
Where to stream Studio Ghibli movies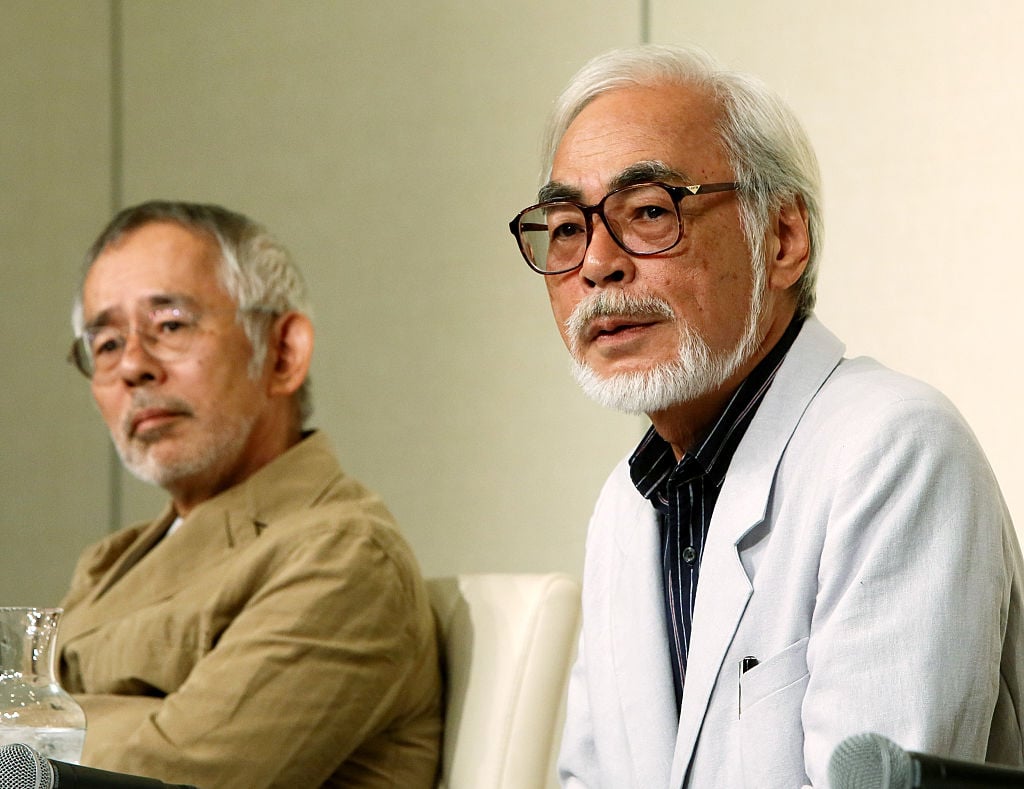 That being said and done, most Studio Ghibli films are not currently available to stream online. In the past, the production company made it clear they don't want their titles to be made available for streaming.
When speaking with Salon in 2017, GKids president Dave Jesteadt explained why. "The Studio Ghibli catalog remains unavailable on digital platforms like iTunes, or on streaming services like Netflix or Amazon Prime Instant," he said. "It's something we have discussed with them, particularly as there are now younger generations (and older) that see movies almost exclusively through these platforms, and no longer cultivate video collections like they used to."
However, the GKids president noted it's still a possibility. "Perhaps it is something they will allow in the future," he continued. "For now, I respect their reasons for wanting as much control as possible over how fans experience their films."
While most fans will have to continue buying the physical copies of Studio Ghibli films, there is one title available online now. And as of this writeup, you can watch Isao Takahata's Grave of the Fireflies on Hulu.
Disney Plus announces catalog for its release
As mentioned, Disney+ announced its full lineup of titles coming on Nov. 12, via Twitter. The queue will include new original shows and films like The Mandalorian, High School Musical: The Musical: The Series, The Falcon and The Winter Soldier, WandaVision, and Loki. And according to Variety, the Disney+ titles available on release will also contain content from Disney, Pixar, Marvel, Star Wars, and National Geographic.
Although Studio Ghibli films may not be available to stream on Disney+ when it launches. But perhaps GKids and Studio Ghibli will one day decide to bring the beloved films into the digital age. Until then, stay tuned.
Check out Showbiz Cheat Sheet on Facebook!