Subtle Signs Meghan Markle Is Unhappy With Life As A Royal
Royal experts have taken a look at all of Meghan Markle's appearances over the past year and believe there are subtle signs that prove she may regret marrying into royalty.
Meghan Markle is rarely caught without a smile when she out in public, as is expected from a member of the royal family. But is Markle as happy as she looks? Royal experts have taken a look at all of Markle's appearances over the past year and believe there are subtle signs that prove she may regret marrying into royalty.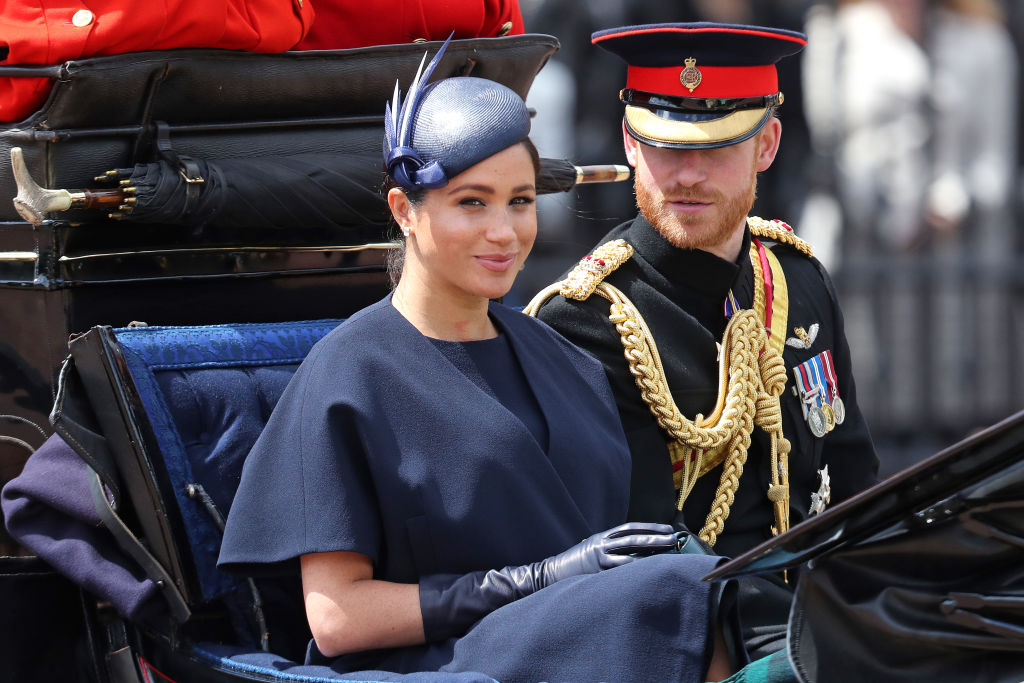 Fashion reflects mood
While Kate Middleton has become known for wearing pastel colors, Markle usually opts for darker colored outfits. During their recent appearances at Trooping the Colour, for example, Middleton rocked a yellow dress while Markle donned a dark blue outfit.
There is certainly nothing wrong with wearing darker shades, but Markle has previously admitted that she enjoys these types of colors whenever she feels too stressed or depressed. That said, Markle has worn light colors to royal engagements in the past, but there is no denying that she favors the other side of the spectrum.
This is not the first time Markle has worn a navy blue outfit to Buckingham Palace. According to the UK Express, the Duchess of Sussex rocked the same color for the RAF centenary event last summer. In contrast, Middleton opted to go with a pale blue dress for the engagement. It is unclear if Markle's choice of fashion has anything to do with her mood, but it is something she felt strongly about in the past.
"I think our clothes are such a reflection of how we're feeling," Markle previously shared.
Is Meghan Markle struggling to adjust to new life?
Fashion choices aside, inside sources also claim that Markle is having a difficult time living under the shadow of the royal family. Sources say that palace staffers have tried to advice Markle on how to adjust to her new setting and role, but the former actress has been turning to her celebrity friends for advice.
This reportedly includes George and Amal Clooney along with the singer, Rihanna. Markle allegedly feels like celebrities have a better understanding of dealing with the media and is hoping they can help her turn things around.
Markle has faced a number of different scandals over the past year. Her biggest controversy involved an alleged feud with Middleton. Things reportedly reached a point where Meghan Markle and Middleton could no longer get along, and their fighting spawned other beefs within the royal family, namely a feud between Harry and Prince William.
Sources believe this is one reason why the brothers are splitting their houses this year and have discontinued a collaborative effort with a charity called the Royal Foundation. Harry and William have not talked about their feud publicly, but the royal family did confirm that they will have separate houses moving forward.
Prince Harry and Meghan Markle break free
The Royal Foundation recently released a statement in regard to the split houses. The company revealed that William and Middleton will continue with the charity while Harry and Markle are moving in a completely different direction. The Duke and Duchess of Cambridge plan to use the Royal Foundation as the driving force behind all of their charitable endeavors. Harry and Markle, on the other hand, are starting their own foundation that is better suited to meet their goals.
It is unclear what type of work Prince Harry and Meghan Markle will do in the coming year. The former actress is still recovering from the birth of her first child and is not expected to return to royal duty for a couple more weeks.
Markle's first appearance
Despite recently giving birth, Markle made an appearance with the rest of the royal family at Trooping the Colour. The Duchess of Sussex arrived at the event in a carriage with Harry, Camilla, and Kate Middleton.
Although all three women smiled big for the cameras, inside sources claim that the carriage ride was super tense. The appearance was Meghan Markle's first royal engagement since delivering Archie in May.
Since the Trooping, Meghan Markle has made a few more appearances at an MLB game in London, and most recently, the family released photos from Archie's private christening. Meghan and Harry also announced they are taking Archie with them when they tour Africa this fall.