'Succession' Star Nicholas Braun Had Real-Life Cousin Greg Vibes During a Rambling Late Night Interview
Nicholas Braun reminded Succession fans of his wide-eyed fish-out-of-water character Cousin Greg during a 2019 appearance on a late-night talk show. He stumbled through a story about meeting former president Bill Clinton and the way he blundered the anecdote was equal parts cringey and adorable.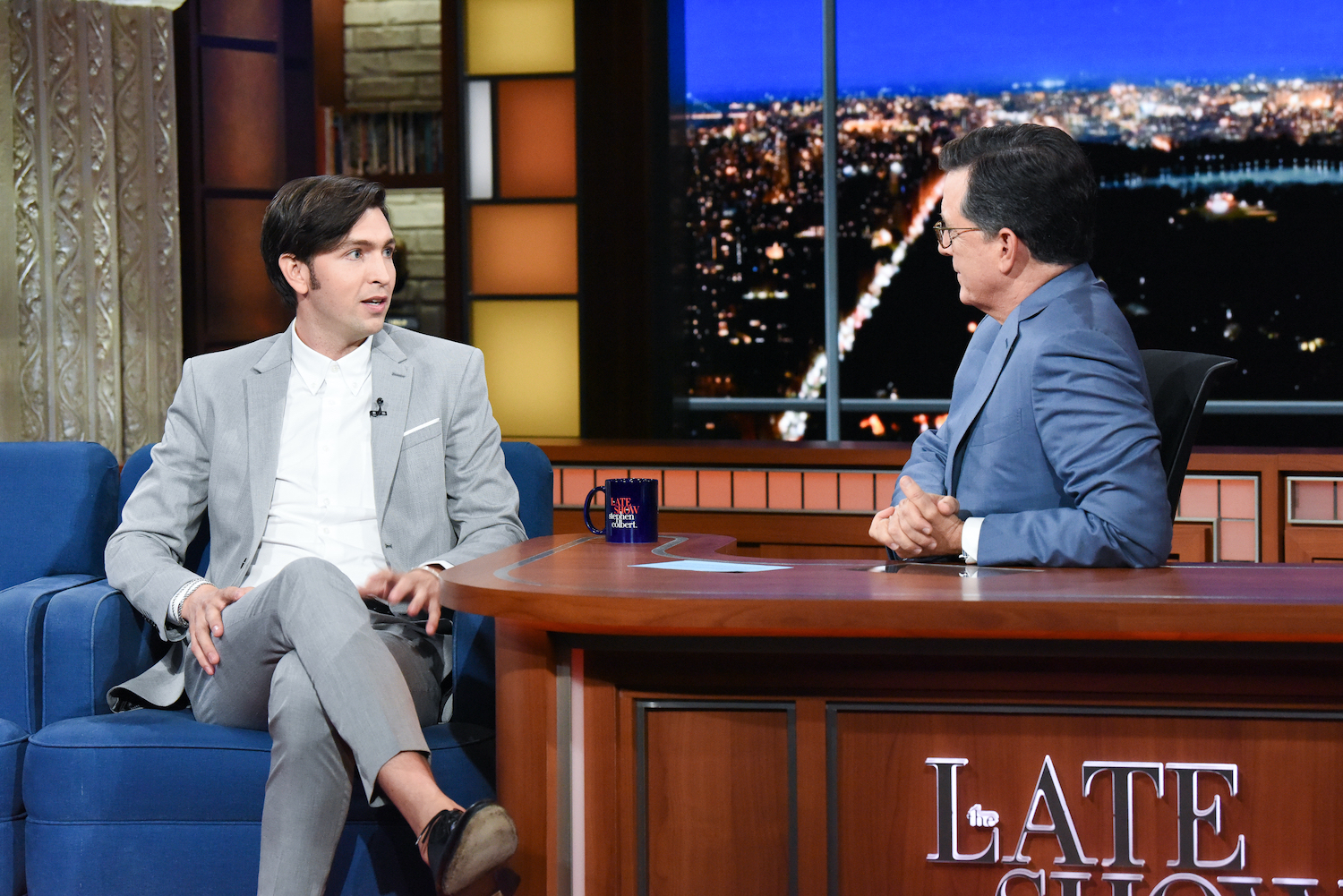 Nicholas Braun told a very long-winded story
Braun appeared on The Late Show with Stephen Colbert in 2019 and, as talk show guests do, he came prepared with an interesting story. At one point the actor even admitted he was very much like his Succession character Cousin Greg.
Braun's anecdote about meeting Clinton seemed to go on forever. While it was a little hard to watch, viewers got to see the Cousin Greg vibe in real life. The actor's nerves might have gotten the better of him entirely, had Colbert not been there to steer him gently back on track.
Would the story ever end? It certainly went on far longer than it should have, but it was sweet to watch the host give Braun a hand and (eventually) get to the meat of the story.
The interview was off to a shaky start when Braun took his seat and shared this was his first late-night talk show appearance. "I'm blacking out right now," he shared.
Nicholas Braun admitted he's really like Cousin Greg on 'Succession'
The story began with Braun's co-star, Jeremy Strong, who plays Kendall Roy, inviting him to a party. Braun had to get to the party held in the Hamptons so he traveled via the "sweaty" Long Island Rail Road.
Braun noted that he's not swanky enough to arrive anywhere by helicopter. "I'm still Greg in life — I'm basically just Greg," he joked.
The actor was very aware that his storytelling was long-winded, joking, "I was told to milk this." Colbert cracked up and shook hands with the actor.
Eventually, he arrived at the party — and the point of the story was fast approaching, with a little help from Colbert. Braun recalled meeting the Clintons, with Bill pitching ideas for Succession.
Colbert was stunned to hear that Braun called Clinton by his first name. "You called the president of the United States 'Bill' and this is the first time you've ever met him?" Colbert asked. "I've interviewed him five times. I've spent an entire day with the man, I would never dream of calling a president of the United States, 'Bill.'"
Braun's story went on even longer than what aired
Succession fans left comments on the YouTube clip of Braun's appearance. Many pointed out just how much he's like his Succession character. "So he is cousin Greg in real life," one person commented. "This is awesome."
Another person commented, "Hilarious and Amazing! Where does Greg begin and Nicholas end? I can't tell the difference, word for word and gesture for gesture."
One person shared how the interview played out in real time — and it went on much longer. "I saw this interview live from the stage and I can tell you it took nearly 20 minutes to get that story out of him," they wrote. "He was overwhelmed with stage fright but Colbert was having the time of his life leading him through it."
They added, "At the end, Colbert told the audience he loved that interview with a huge sincere grin. It was the highlight of the show from a live perspective. By the moment Colbert told him none of this will go on the air it had been more than 10 minutes. They really had to chop this one down."
RELATED: 'Succession': Which Member of the Roy Family Has the Highest Net Worth?