'Succession' Season 3: Gerri's Answer to Roman Roy's Question in Episode 4 Is a 'Very Key Line,' According to J. Smith-Cameron
Succession is an HBO drama that follows the Roy family—a family that has built a successful business, but the cracks of corruption begin to show when the CEO and head of the family Logan Roy suffers severe medical issues.
In season two, fans were thrown in the middle of the family drama when Kendall was shut out of taking over the company and Logan pits his children against each other to see which one wants the job of being the next CEO more.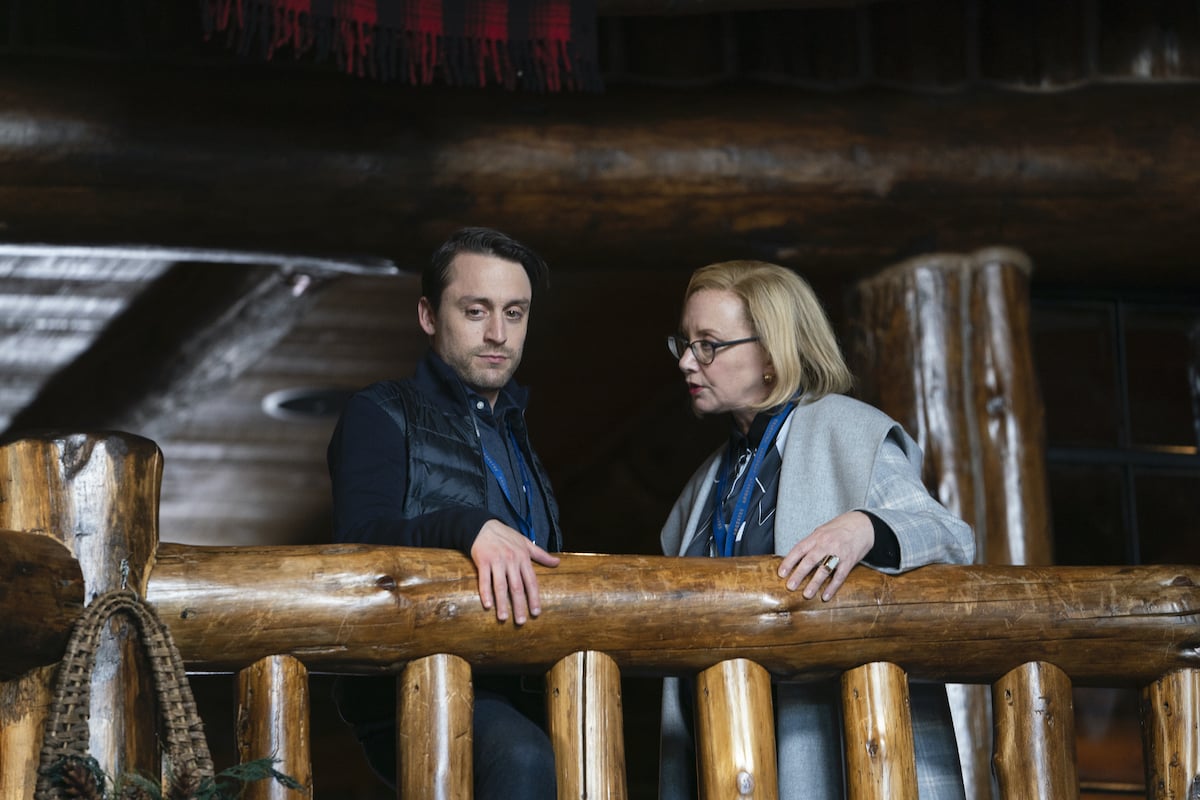 The intention is to end up selling the company, but with a scandal brewing after a report in New York Magazine, all the major players have to start thinking about damage control before the authorities start an investigation.
After Logan and Kendall appear together, Kendall uses stolen documents to try and position himself at the top, leading into season three. Spoilers ahead!
Smith-Cameron's thought on the character of Gerri
Smith-Cameron plays the often understated but indispensable Gerri on Succession. Her character is one of the few women in a leadership position, so she is often seen acting like one of the boys to stay in the boardroom, while still showing a softer side when necessary.
These softer moments are subtle but can be seen when she mentions that she has two daughters, or when it is revealed that she is Shiv's godmother (and reasonably assumed that she is the boys' godmother too). According to Smith-Cameron told Marie Claire, there are plenty of other great tidbits in Gerri's backstory, but they haven't made it to screen—yet.
When Gerri is trying to convince Roman to not spread incriminating photos around because it would make him look bad, he asks, "So you care?" Gerri responds to his question, asking him to think, "How does this advance my position? You have to be thinking about that 24/7."
"That is the very key line for Gerri," Smith-Cameron says. "That explains her whole character in a nutshell."
Fans have fallen in love with Gerri
It isn't just the fact that Gerri is playing the big leagues with strong, powerful men. The fans also love that Gerri can be witty and isn't surprised at herself when her sexual tension-fueled relationship with Roman nearly goes too far.
Fans are excited that Gerri is not a spring chicken, but is still given plenty of fun, sexy lines that play into the strange hand that she is being dealt with Roman.
What has taken place in season 3 so far
At the very start of season three, fans have gotten to see the direct aftermath of Kendall's change of heart when he drops a bombshell in a press event. This sends him scrambling to find a team on his side and a base of operations, and it makes Logan and his team try to find a safe harbor in case the worst happens.
From there, Kendall is determined to get everyone on his side—including his siblings, who are considering what they can get either from Kendall should his side prevail, or from Logan if things maintain a semblance of the status quo.
In the meantime, Gerri is put in the temporary top position of power. Tom is also in the mix, still trying to balance the fate of his career with Waystar and still be a good husband to Shiv.
While the Department of Justice makes their move, Logan and Kendall must meet face-to-face in order to help soothe the fears of a major investor in the company, with little success. And every fan is waiting to find out the fate of poor cousin Greg—does he toe the company line, or does he side fully with Kendall?
RELATED: 'Succession': Kieran Culkin Knows Exactly How Roman Would React if Gerri Finally Turned to Him and Said, 'Take Off Your Pants, Let's F**k'