'The Suicide Squad': James Gunn Shares BTS Video of the Time He Made John Cena Eat 36 Empanadas
Many actors have gone above and beyond to prepare for their superhero roles, but The Suicide Squad star John Cena might be one of the first to eat 36 empanadas because director James Gunn told him to. The actor spoke about the incident last year, citing it as one of the most difficult stunts he needed to do for the film. And Gunn revisited Cena's empanada challenge in a behind-the-scenes Instagram video that proves the people who brought us The Suicide Squad are just as comical as the film's characters.
Who does John Cena play in James Gunn's 'The Suicide Squad'?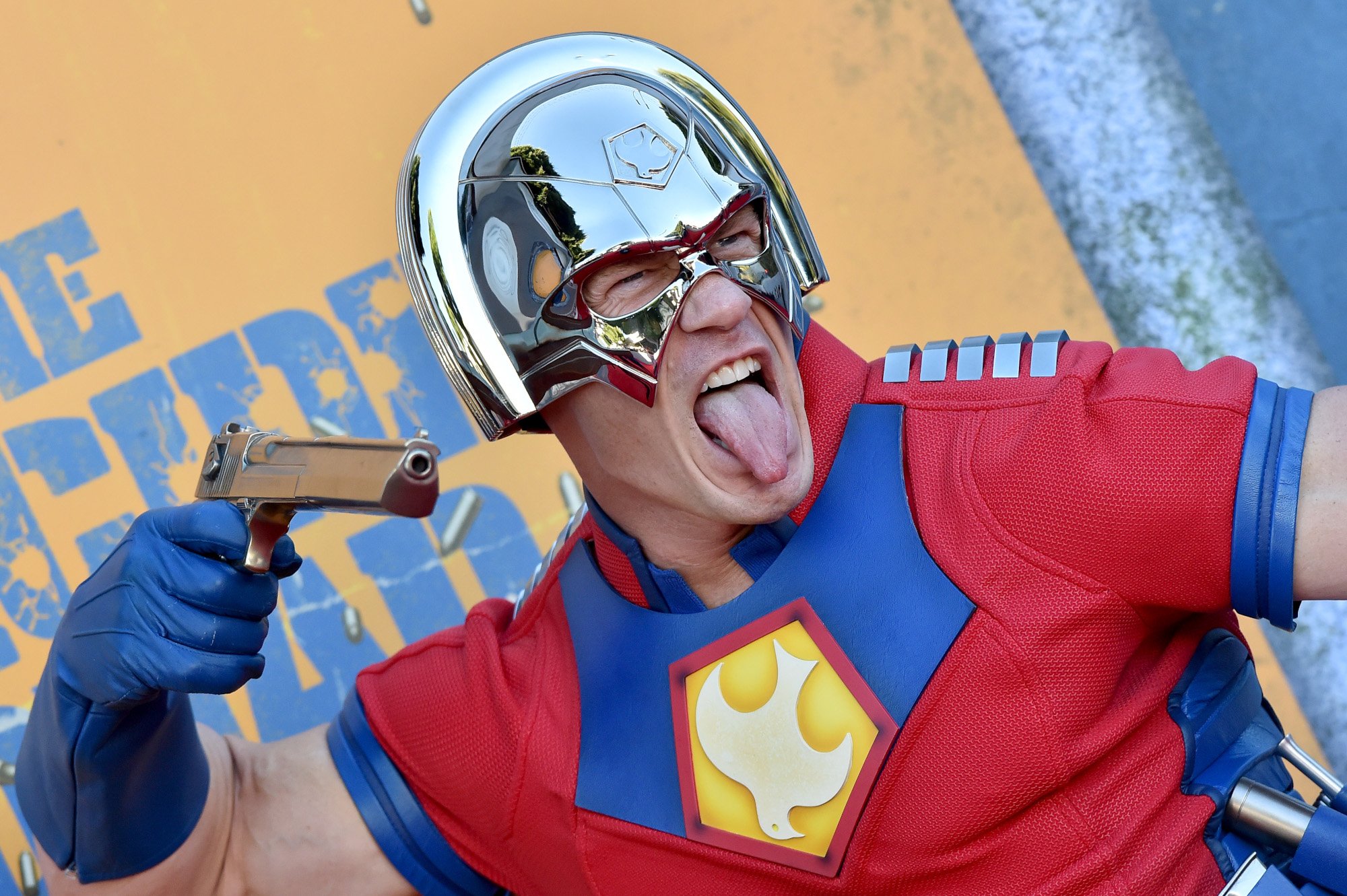 Cena plays one of the more interesting characters in The Suicide Squad, if only because of his dissonant morals. Peacemaker is introduced as a man looking to do exactly what his name implies: secure peace for his country.
Unfortunately, he proves he's willing to do despicable things for that cause — and look the other way when his leaders do the same. DC's description of the character sums him up perfectly: he "loves peace so much that he's willing to kill for it."
The character describes his dedication more comically during The Suicide Squad. He says, "If this whole beach was completely covered in d—-, and somebody said I had to eat every d— until the beach was clean for liberty, I would say, 'no problemo!'"
Of course, the character doesn't actually wind up doing that. However, Cena himself had to go on an eating spree for the movie. His story will make fans question whether he'll ever eat an empanada again.
John Cena once ate 36 empanadas on the set of 'The Suicide Squad'
Peacemaker might be willing to "eat every d—" for the sheer sake of freedom, but what about every empanada? As it turns out, Cena ate 36 empanadas on the set of The Suicide Squad for a stunt, something he recounted during an appearance on Jimmy Kimmel Live.
When Kimmel asked Gunn what the dumbest thing he made Cena do was, the actor answered for him. "It was this elaborate thing where I had to take an empanada out of a package and eat it. And it was really me doing it; it wasn't a stunt person."
The Suicide Squad star wound up eating 36 empanadas for the scene. During a CCXP Worlds 2020 panel, Cena admitted it took 31 takes to perfect. Per Ringside News, he said:
"There was a day where we shot on a rooftop where we're all eating. I had to eat an empanada and I took it upon myself to try to eat the entire empanada in a seamless take, thinking that it's gonna look great, but it was also a complicated shot for James. Thirty-one empanadas later, Jesus, we got it right."
As you might imagine, he nearly threw up from the effort. Now the actor looks back on the story and laughs, but what about when it happened? Well, Gunn fans can officially watch footage of the process.
James Gunn shared BTS footage of the Peacemaker star after eating dozens of empanadas
Eating that many empanadas in one sitting may sound brutal, but Cena looks like he handled it better than most. Gunn shared a behind-the-scenes video on Instagram showing the Peacemaker actor as he chows down on his 36th pastry.
"You're gonna have a great s— later," Gunn tells him in the footage.
"It's gonna be epic," Cena responds. "I don't know if it's gonna be great."
"If it's the end of my story, just mourn for me in the press," Cena added. "You know, tell people about me."
Fortunately, Cena lived to tell the empanada tale. And because of it, fans can enjoy fun backstage content from The Suicide Squad. Really, it's a win-win for everybody.