'Summer House': Are Lindsay Hubbard and Carl Radke Dating?
The Summer House season 4 trailer shows best friends Carl Radke and Linsday Hubbard hooking up. Cast members who are close to Radke and Hubbard worry the hookup could kill the friendship as previews hint to conflict between the two during the summer.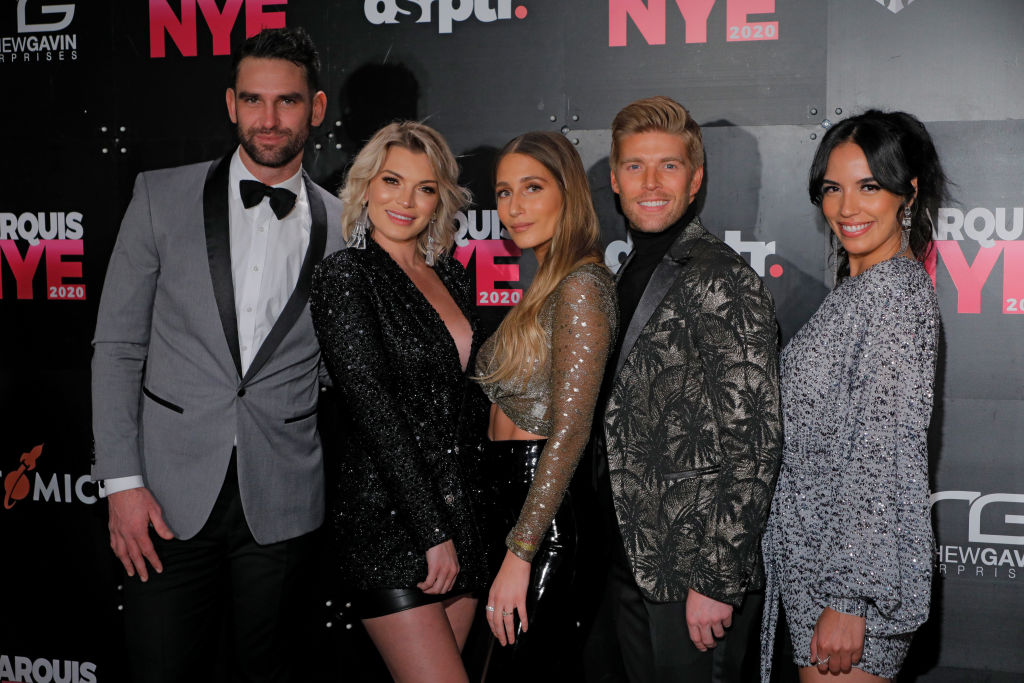 Kyle Cooke says, "I know how this is going to end." He then makes an explosion gesture with his hands. Radke and Hubbard certainly look cozy on more than one occasion in the previews. In fact, she appears to be jealous at some point during the summer when new cast member Jules Daoud catches Radke's eye.
According to the Summer House bio, Hubbard and Radke could be getting serious … or not. "After numerous fun and flirty summers, Lindsay is more ready than ever to settle down with the man of her dreams but who would have thought that her BFF, Carl would be her knight in shining armor? Will this dynamic duo make it through or will they say goodbye to their friendship forever?"
Radke found love
Radke did seem to finally find love … but not with Hubbard. Or with Daoud. But instead, he fell in love with Cooke's new startup drink, Loverboy. In the past, Radke was often filmed struggling in his career. Last season, he spent time working to meet a deadline goal at the house while everyone partied. He fell short of his goal and had to move on and find a new job.
While he appeared to meader quite a bit, he seems to have found a job that makes his heart sing. He joined forces with Cooke and is now works in sales development for Loverboy. He's been in the position for the past seven months and seems to be truly embracing the new job.
Radke also fills his Instagram with shots of the delicious beverage every chance he gets too. He recently posed with Cooke and new cast member Luke Gulbranson. Radke proudly holds up a can of Loverboy. He also repped the brand at BravoCon too. "When you find out @drinkloverboy is for sale at the bar @bravocon2019."
Hubbard also seemed to find love
While Radke's heart belongs to Loverboy, Hubbard appears to have found love with someone new. She's shared several sweet shots with Radke but they seem to be back to friendship status.
Instead, Hubbard has shared a number of photos with a new man in her life. "I came for the Bud heavy's  #Stravy," she wrote along with a photo of a mystery man kissing her on the cheek. The "mystery man" is Stephen Traversie, who is the senior director of marketing for Tao Group Hospitality. Since September, Hubbard and Traversie appear to be two peas in a pod.
The couple traveled to Barcelona in September. She also cheered Traversie on when he ran a half marathon.  "I am so proud of @stravy for running the Brooklyn Half marathon today‍♂️… and so proud of myself for my arts and crafts skills " By Thanksgiving, Hubbard shared a photo where she is kissing Traversie. "Thankful for this."
Hubbard and Traversie also wore matching Christmas shirts and posed for a photo on the beach. "If this were a Lifetime holiday movie, it would be called "Christmas at the Beach" (which I highly recommend everyone do at some point because it was so relaxing) ☀️2) @stravy hated every minute taking this photo (he's not the matching shirt kinda guy) but I found a super sweet millennial laying out to snap the perfect Christmas photo for me! I told Stravy that one day he would really appreciate my cheesy holiday spirit! 3) MERRY CHRISTMAS everyone!!! "