'Summer House': Does Hannah Berner Think Jordan Verroi Should Have Been Kicked out of the House?
Jordan Verroi from Summer House quickly packed his bags and departed amid Kyle Cooke's birthday party.
After deliberation about Verroi and Jules Daoud's status in the house, Carl Radke let it rip. He yelled at both Daoud and Verroi, telling them he didn't want either of them there that summer and said they both should leave. While Daoud dissolved into tears, Verroi became indignant but avoided getting into a big fight.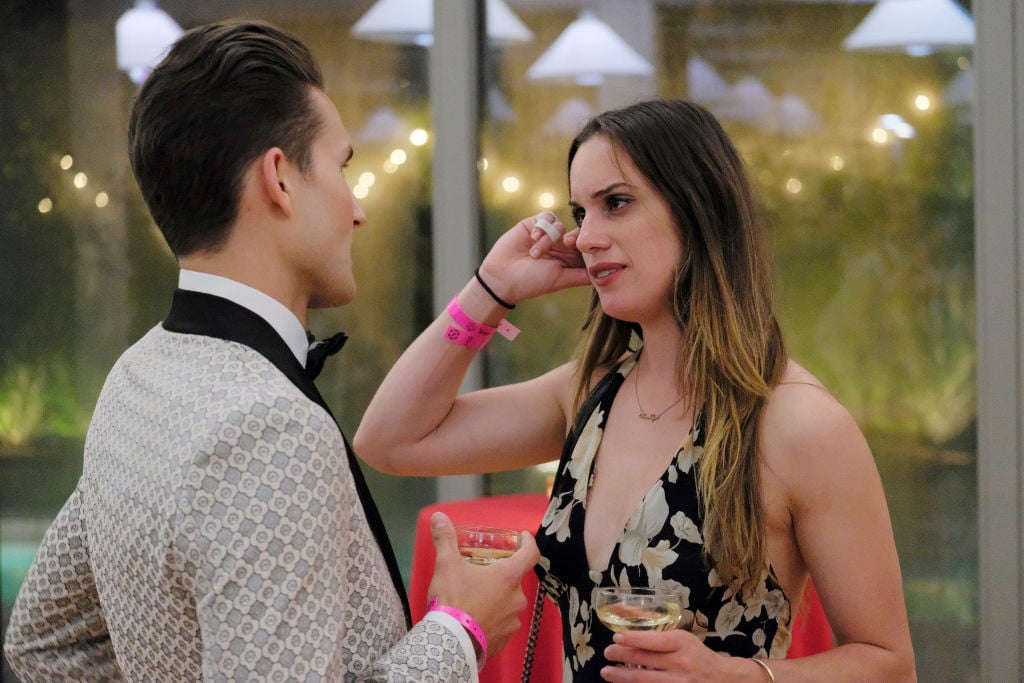 News that Verroi left the house traveled through the friends. When Hannah Berner learned Verroi left she seemed a little disappointed. She had the original connection to Verroi and appeared to have mixed feelings about his departure.
She thinks he did the right thing
Berner appeared on What What Happens Live with Andy Cohen. She was asked during the After Show if she thinks it was the right decision for Verroi to leave. "I think it was the right decision," she says. "Because it would have just been the same thing over and over again."
"We're trying to have a good time at the end of the day," she adds. Actor/comedian Paul Scheer also appeared on the segment and thought Verroi acted especially bizarre this season. "Do you think Jordan's getting more and more insane," he asked. "I feel like, this season I was like, 'Wow.' It seems to me like he's maxing it out. Like where he was from last season to here. It's different."
Berner laughs and so does Lindsay Hubbard from Summer House, also on the segment. "I think he's incredibly entertaining," Berner insists. "But I think he went back for redemption, and he tried too hard for redemption. And it smacked him in the face."
Early reports indicated Verroi was going to pack up early
Before the season dropped, news that Verroi refused to continue filming circulated. He was listed as a "friend" this season after being a main cast member last season. But reports that he left the show suddenly were revealed during the latest episode when he packed up and left mid-party.
He seemingly returned to the house this season only to visit. But then he hooked up with Daoud. Verroi only made a few visits to the house and quickly grew tired of Daoud. He expressed his boredom with the relationship to the rest of the cast, which caused the group to gossip. Some said that Verroi told them to choose between whether he or Daoud gets to stay that summer.
That's when Radke and Kyle Cooke insisted they both should leave. The rest of the group didn't object to both Daoud and Verroi leaving. But ultimately only Verroi left. Daoud still dealt with Radke lashing out at her. He told her no one had a connection with her and he didn't want her there.
Thankfully, Paige DeSorbo and Amanda Batula were there to comfort a sobbing Daoud. DeSorbo and Daoud had an outing together earlier in the summer in the city. And Daoud was trying to knit together friendships but told everyone they were a very tough group to get to know.
How does the rest of the summer go for Daoud? Summer House airs on Wednesday night at 9/8c on Bravo.