'Summer House': Kyle Cooke and Carl Radke Didn't Plan to Kiss
Summer House July 4th parties are somewhat of a "must-have" each season. Although the crew hosted their usual mullet-wearing, booze-fueled bash, this year's party also included a big kiss—between Kyle Cooke and Carl Radke.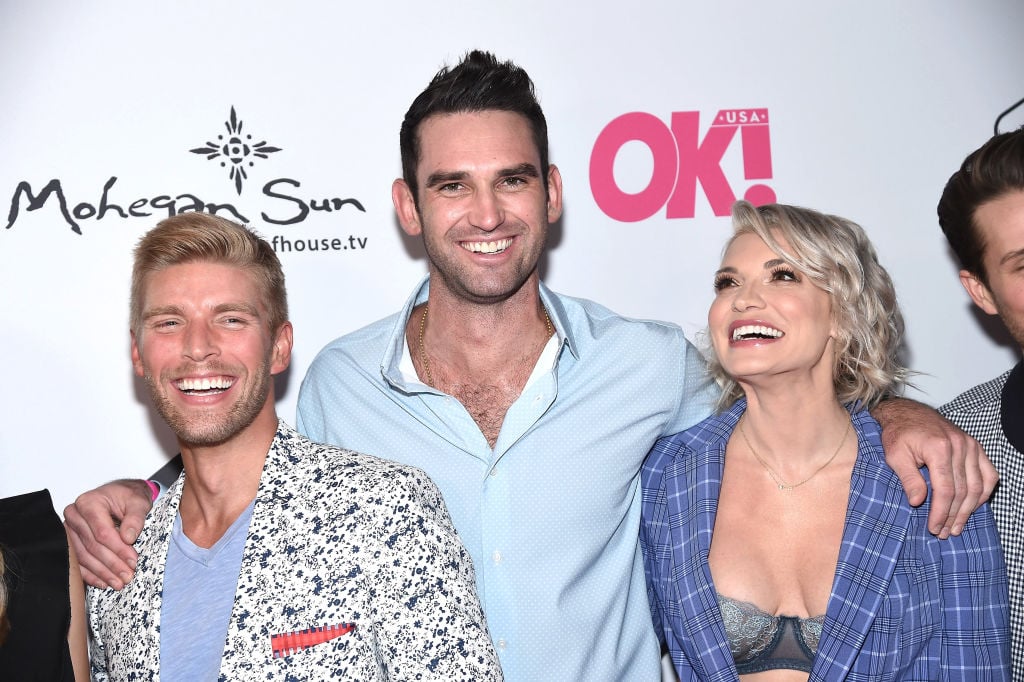 Both cast members are part of the original series. While Bravo has cut several cast members, Radke, Cooke and Lindsay Hubbard are the only remaining cast members from the first season. Cooke and Radke are also now working together as Cooke hired Radke to run sales for his new spiked beverage, Loverboy.
The guys decided to thank guests for coming to their big bash, but the speech ended in a kiss. On the lips. And apparently with tongue. Was the kiss staged for added impact? Cooke says it was completely spontaneous.
Radke and Cooke thank their guests from the balcony
As the party continued to rage, Cooke and Radke stood on the balcony at the house to thank their guests. "Thank you so much for coming to our Fourth of July-Palooza," Cooke says. "You know, we both started as boys. And in different points in time, we were f**kboys. Then we became Loverboys."
Cooke laughed and turned to Radke as both men held a can of the hard tea drink. They awkwardly look at each other smiling, ready to embrace. But instead, Cooke goes in for a full lip-lock as the guys pour the cans of tea over their heads.
Danielle Olivera laughs and puts her hands over her eyes, while the crowd cheers. Hannah Berner exclaims, "There was tongue!" Amanda Batula laughs and says she was happy it happened. Meanwhile, Lindsay Hubbard marches into the house while Batula laughs saying that she was going inside to confirm that Radke was still straight.
Cooke laughs, "My mouth was open!" Radke is doubled over laughing as Hubbard makes her way over to him so they could kiss. Cooke tweeted, "I think I just kissed Lindsay by way of Carl."
Well that was unexpected
Cooke tweeted during the episode and answered a fan's question about the kiss. "How did they f**k up that camera angle so bad on smoochies with @carlradke and @imkylecooke ?! We deserved better," the fan wrote.
"We didn't have a plan to kiss so the camera guys didn't have a heads up haha. Can't win every scene :)," Cooke replied. Just the look on Radke's face, which is where the camera seemed to catch, was proof enough that the kiss was pretty spontaneous.
Another spontaneous bro kiss on Bravo was between best friends Tom Sandoval and Tom Schwartz from Vanderpump Rules. The iconic scene is honored in a giant photo in the guys' restaurant TomTom, thanks to Lisa Vanderpump. Their kiss stemmed from a game of "spin the bottle" where the guys were "forced" to kiss. Schwartz shared that the kiss with Sandoval was the last time he was going to kiss someone as a single man. They both exclaimed, "No tongue!" before the (lengthy) liplock.
Couples now recreate the iconic moment under the massive portrait hanging in TomTom. What would be even more iconic is if Cooke and Radke did the same thing at the restaurant and hung a photo of their liplock in next year's Summer House.