Super Bowl 55: Who Is Amanda Gorman?
Super Bowl 55 isn't just about the game between the Kansas City Chiefs and the Tampa Bay Buccaneers. Before the Super Bowl kicks off in the early evening, CBS will feature hours of pre-game interviews, predictions, and analysis. There will also be a pregame show produced by Jay-Z and his Roc Nation entertainment company.
One of the performers will be 22-year-old Amanda Gorman. She will contribute something that NFL fans have never seen at a pro football game before.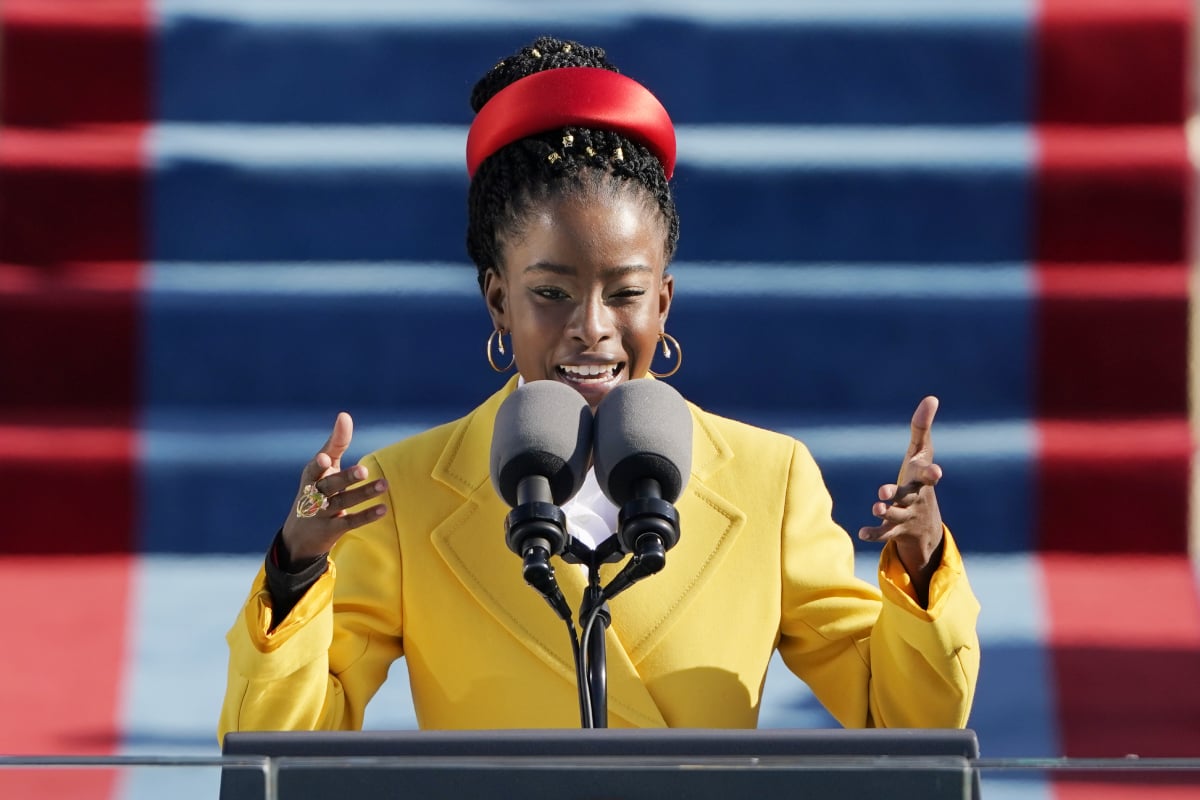 The NFL is using Super Bowl 55 to ramp up their social justice profile
In 2019, the NFL partnered with Jay-Z and Roc Nation to improve the league's social justice profile. The deal was for Roc Nation to produce big NFL events like the Super Bowl after the controversy surrounding former San Francisco 49ers quarterback Colin Kaepernick and his activism.
"I think we're past kneeling. I think it's time for action," Jay-Z said when announcing the deal alongside commissioner Roger Goodell.
It's not clear exactly what Roc Nation has planned for the entire pregame show. But, it has been announced that Gorman will be part of it after she went viral last month when she read her poem "The Hill We Climb" at President Joe Biden's inauguration.
Gorman will be reciting another poem that recognizes three honorary game captains that the NFL chose. They are Los Angeles teacher Trimaine Davis, Tampa nurse Suzie Dorner, and Marine veteran James Martin.
Amanda Gorman is the first National Youth Poet Laureate
Gorman is a cum laude graduate of Harvard University who became the first National Youth poet Laureate in 2017. When she recited her poem at the inauguration, she became the youngest inaugural poet in US history. Gorman studied sociology in college, but she's been writing since she was five.
So far, Gorman has written for the New York Times and The Edit. She also wrote the manifesto for Nike's Black History Month campaign in 2020. She's performed at events at Lincoln Center and the Library of Congress. She also has three books coming out through publisher Penguin Random House.
Gorman has also won numerous awards during her young career. She received a Genius Grant from OZY Media and won the Poets & Writers Barnes & Noble Writes for Writers Award. She's also the youngest board member of 826 National, the largest youth writing network in the country.
The Super Bowl 55 performer is excited about the Black art renaissance
While speaking with former First Lady Michelle Obama for Time Magazine, Gorman admitted that she is excited about the Black art renaissance that's been happening in recent years.
"We're living in an important moment in Black art because we're living in an important moment in Black life," Gorman noted. "What's been exciting for me is I get to absorb and to live in that creation I see from other African-American artists that I look up to. But then I also get to create art and participate in that historical record."
RELATED: 'The Pioneer Woman' Ree Drummond Has a Surprising Twist on Fries For Your Super Bowl Menu
Gorman says that all forms of expression of human life is seeing artistry informed by the Black experience. She sees it in fashion, the visual arts, dance, and music. And, she says she "can't imagine anything more exciting than that."
Amanda Gorman says her speech impediment made her a writer
Gorman has already done a number of speaking engagements during her young career. But she admits that they are still daunting. She says that speaking in public as a Black girl is "already daunting enough." But when you factor in her speech impediment, she's constantly wondering if what she is saying is good enough.
The author and poet says she has struggled with R sounds her entire life. And she couldn't even pronounce her own last name properly until three years ago.
"For a long time, I looked at it as a weakness," Gorman confessed. "Now I really look at it as a strength because going through that process, it made me a writer, for one, because I had to find a form in which I could communicate other than through my mouth. And two, when I was brave enough to try to take those words from the page onto the stage, I brought with me this understanding of the complexity of sound, pronunciation, emphasis."
Super Bowl 55 airs on Sunday, February 7 on CBS.