Super Bowl: Whitney Houston's Iconic Rendition of 'The Star-Spangled Banner' Was Recorded in One Take
Each year, a singing starlet takes the stage at the Super Bowl to show their chops off in their own rendition of "The Star-Spangled Banner." In 1991, Whitney Houston stood in front of thousands during Super Bowl XXV in Tampa, Florida to deliver what would become arguably the most famous two-minute performance of her career. Since Houston's performance, many have tried to top her showstopping vocals but fans say none have come close.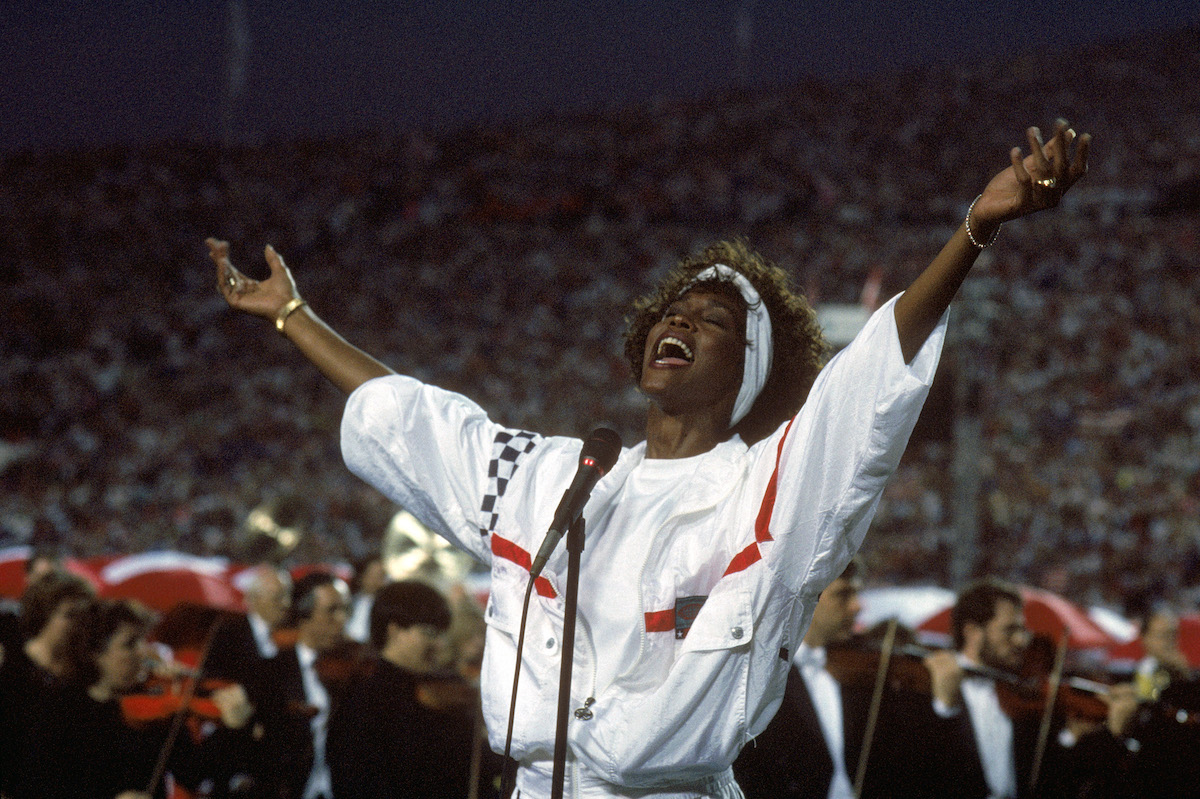 This year marks the 30th anniversary of Houston's Super Bowl performance. Arranged by Houston's longtime musical director and close friend Rickey Minor, Minor would later reveal that Houston's rendition was recorded in a single take.
Rickey Minor details Whitney Houston recording 'The Star-Spangled Banner' in one take
Minor and Houston began working together early on in her career and decided then that they'd take the music world by storm. When it came time for Houston to sing "The Star-Spangled Banner," Minor knew he had to come up with something that hadn't been done before.
Unfortunately, Houston's busy schedule put them at risk to not rehearse in enough time. Ever the professional, however, Houston rose to the occasion.
"That was one take. She hadn't studied because she had been doing screen tests for The Bodyguard and she came in, she was a half-hour late coming from the screen test, walked in the studio, hadn't even heard the arrangement yet," Minor told Access Hollywood Live after Houston's 2012 death. "And I said, 'Did you listen to it? I sent it to you.' – She said to me, 'No, I didn't have time…just play it, it'll be cool.' – So I play it and she listens and she says, 'OK, I got it.'"
Related: Whitney Houston Did Her First Studio Session With Another Legend When She Was 14
Minor says the original arrangement for what was to be Houston's rendition was different. The two discussed previous performances from artists who'd performed the song at the Super Bowl and elsewhere. Houston was always enamored by Stevie Wonder's version because she felt Wonder "took his time."
Per Minor, Houston wanted to make the song her own. As for why Houston's rendition is as timeless as it is, Minor says its due to the emotion behind Houston's performance.
"It's hard to top the emotion in that performance," he told Access. "It really is about her personal best."
Whitney Houston's version of 'The Star-Spangled Banner' becomes a best-seller
Houston's rendition stole the show and became the most talked-about portion of the game. It's considered to be one of the best musical moments in NFL history.
Related: Caitlyn Jenner's Ex-Wife, Linda Thompson, Co-Wrote One of Whitney Houston's Biggest Hits
Her version was released as a single in the US on February 12, 1991, during the Gulf War as a charity single to raise funds for impacted soldiers and their families. The single debuted at number 32 on the Billboard Hot 100 Singles chart.
Houston's version became her highest first-week chart entry at the time. Furthermore, it was the first rendition of the song to appear on the chart since 1968. 
Whitney Houston's lip-sync controversy of 'The Star-Spangled Banner'
Despite Houston's performance being praised as her best live performance, there were questions regarding whether she sang live during the Super Bowl.
Minor told Access that to hush her naysayers, he had Houston perform the first verse of the song acapella during a subsequent concert for soldiers that was to be recorded live for HBO.
"It shut it down, it just shut down all the talk," he said.
Houston performed the song several more times throughout her career. It was also included on two of her greatest hits albums.