Like 'Supergirl,' These TV Shows Sent Main Characters Away to Hide a Pregnancy
Sometimes, actors get temporarily written off shows for a good reason. These are a few instances in which, like in 'Supergirl,' a character left to hide a baby bump.
On the set of a TV series, pregnancy may not always "fit" with your storyline. This means that the writers must come up with creative ways to hide the baby bump. One example of a creative coverup happened when Supergirl actor Melissa Benoist was pregnant. But this isn't the only time it happened. Like Supergirl, these TV shows sent the main characters away to hide a pregnancy.
'Supergirl' crew decides how to hide a superhero's baby bump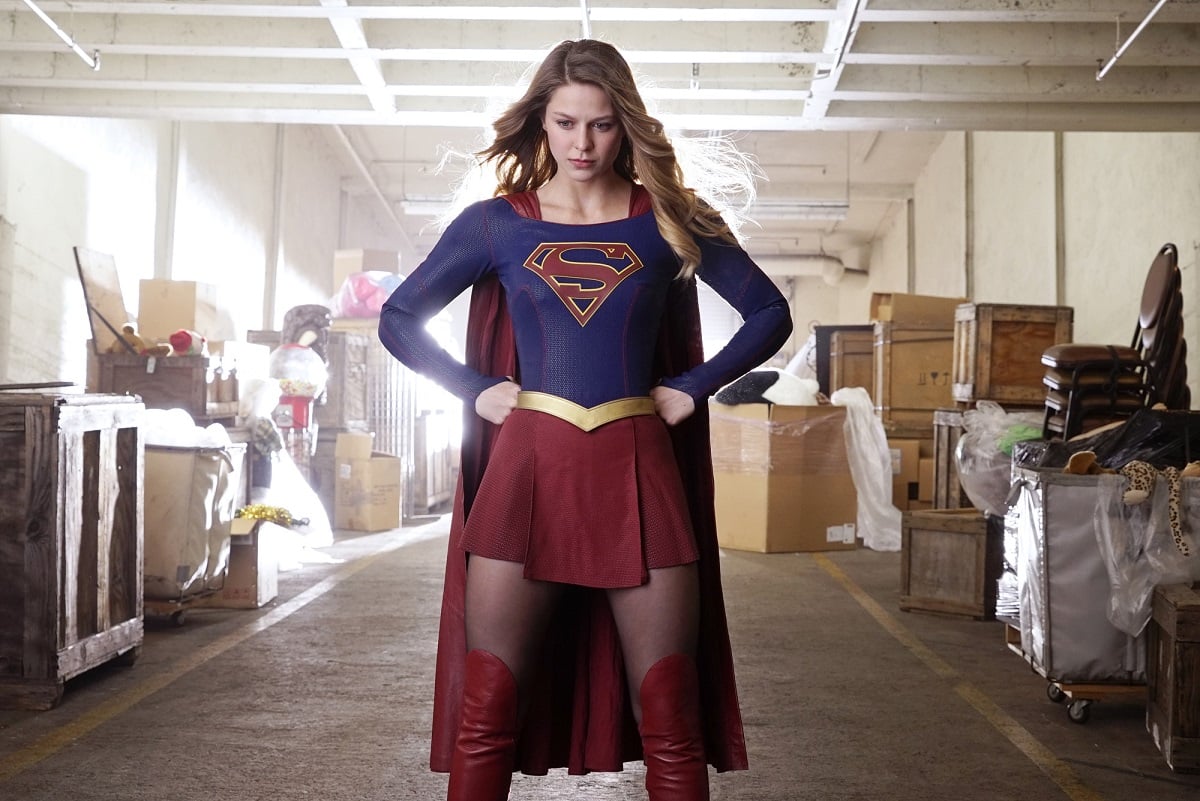 When Melissa Benoist revealed she was expecting, things got a little complicated for her show. Although some fans may have wanted to see her character, Kara, become pregnant, others felt it may make her appear "too human." After all, she's from another planet.
Therefore, the cast and crew made a few executive decisions, including disguising the bump with props. However, toward the end of season 5 and the start of season 6, when her baby bump was harder to hide, the storyline changed. They wrote into the script that Kara was trapped in the Phantom Zone, which allowed her to miss a few episodes and enjoy her maternity leave.
Other TV show pregnancy coverups and disappearing acts
Hollywood often requires behind-the-scenes tricks to cover up what the audience shouldn't see. Actor pregnancies pose a unique challenge for shows, and the results are often entertaining.
Throughout its many seasons, Grey's Anatomy has covered up several pregnancies for cast members whose storyline couldn't accommodate one. This includes three for Jessica Capshaw. The show sent her character, Arizona Robbins, to Africa when she was pregnant with her second child. And when Ellen Pompeo (Meredith Grey) became pregnant, they wrote it into the storyline that she donated a kidney to her father. This allowed her to be off the show, recovering while she was on maternity leave.
When Julia Louis-Dreyfus became pregnant, twice, on the set of Seinfeld, she was sent away once props and baggy clothing could not hide the baby bump. For two episodes at the start of Season 4, Elaine was "vacationing in Europe" while on maternity leave. They also used the same techniques of disguising her bump in season 8. However, she didn't need to go away for maternity leave.
Zooey Deschanel was filming New Girl when she became pregnant in 2015. To cover it up, Jessica Day was injured and rode around on a motorized scooter for much of her pregnancy. When it came time for maternity leave, they sent Jessica off the set to take care of jury duty.
Other creative ways to hide a baby bump on the set
Creativity is a part of making shows people will love to watch. Pregnancies often lead those TV writers to develop some out-there storylines for their characters. 
For example, when Phylicia Rashad became pregnant on The Cosby Show, writers made her character ill. She was bedridden for a little while. What makes it more entertaining is that they hollowed out the mattress so that her bump wouldn't stick out.
When Chyler Leigh (Lexie Grey) became pregnant in Grey's Anatomy, they used coverups and then wrote it into the story that she was binge eating from stress. This ensured they explained her weight gain in an entertaining way.
When Lauren Lane (C.C. Babcock) became pregnant on The Nanny, she wore baggy clothes. However, the producers also hid her behind some pretty fun props, including a poster for the musical Baby.
In other instances, the baby bump became a part of the show. This was the case when Lisa Kudrow (Phoebe Buffay) became pregnant on Friends. However, the story writers wrote it as Phoebe being a surrogate for her brother's triplets.
All this proves that sometimes writers and producers must think on their feet and make some hilarious decisions when real life and television's lines become a little blurry.