SuperM Wowed Viewers With Their Performance on 'Jimmy Kimmel Live!'
K-pop group SuperM performed on Jimmy Kimmel Live! on Feb. 11. The group performed their hit single "Jopping" and an unreleased song titled "Dangerous Woman." It's safe to say fans loved the performance, and are anxiously waiting for an official version of "Dangerous Woman" to drop.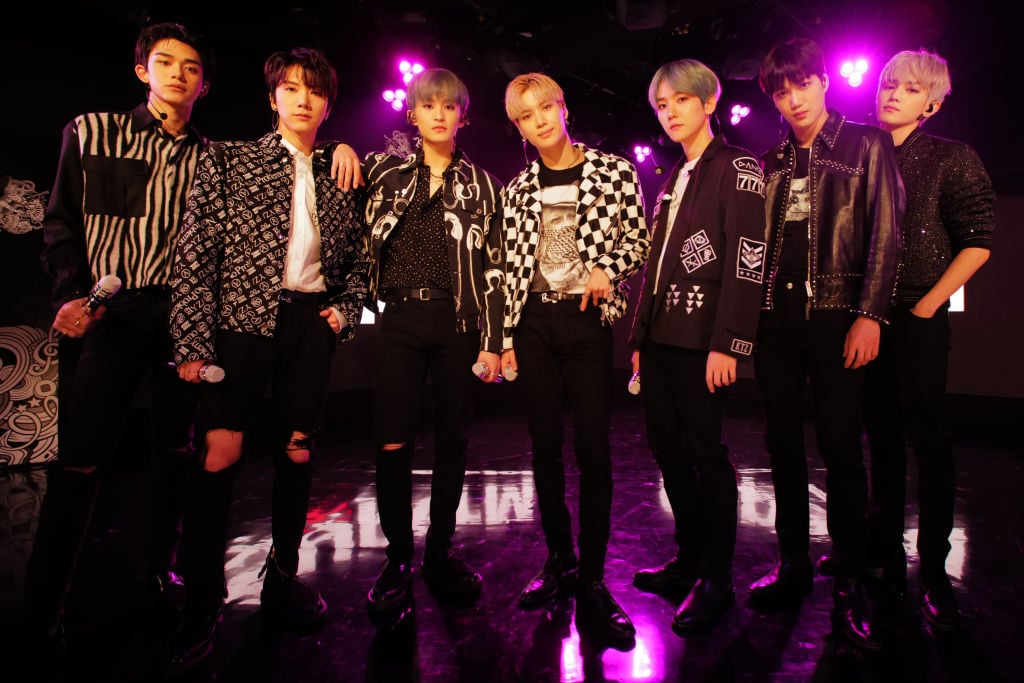 SuperM debuted in October 2019
In August 2019, SM Entertainment announced it partnered with Capital Music Group and its independent label Caroline to form SuperM. The partnership united the Korean and American music industries.
All seven members of SuperM are from already established groups under SM Entertainment. Taemin debuted in SHINee, Taeyong and Mark are from NCT 127, Baekhyun and Kai are from EXO, and Ten and Lucas are from NCT's China-based sub-unit WayV.
SuperM released their first EP in October 2019, and became the first K-pop group in history to debut at No.1 on the Billboard 200 chart. When Kimmel announced SuperM's performance, he mentioned SuperM's Billboard accomplishment.
"'first kpop group to debut at #1 on the billboard chart' superm did THAT #SuperMxJimmyKimmel," a fan tweeted.
SuperM performed 'Jopping' on 'Jimmy Kimmel Live!'
The group's debut single is titled "Jopping," a fun combination of the two words "jumping" and "popping." The showstopping song features dynamic choreography, and the SuperM members did not disappoint during their performance on Jimmy Kimmel Live! Throughout the performance, the SuperM members seemed to effortlessly move through the choreography while impeccably singing live.
"@superm said: we're SINGERS. we SING. #SuperMxJimmyKimmel," one fan tweeted.
"The way i, a mezzo-soprano, cannot hold an F#5 with nearly this much ease. baekhyun is a monster #SuperMxJimmyKimmel #백현," wrote a Twitter user.
"It's the way it's hard to be surprised because superms performances are consistently good, the icons they are! #SuperMxJimmyKimmel," wrote a fan on Twitter.
The group performed a new song
Shortly after releasing their debut EP, SuperM went on tour around the world. Their EP SuperM – The 1st Mini Album features five songs and two instrumental tracks. For the tour, the members of SuperM debuted a few new songs that do not have official studio releases.
"Dangerous Woman" is one of those songs. On tour, the members of SuperM would sing the opening notes a capella before dancing together and interacting with audience members.
On Jimmy Kimmel Live!, SuperM showed their chemistry as they sang "Dangerous Woman" to the audience. While the song does not have intense choreography like "Jopping," SuperM still displayed how skilled they are at singing. Based on the audience's reaction, a studio version of the song will hopefully be released soon.
"Can we talk abouthow amazing this was, @superm the audience needs dangerous woman yesterday #SuperMxJimmyKimmel," one fan tweeted.
"SuperM is truly a group of aces and visuals! I'm so stunned with Taemin and Baekhyun's high notes followed by Lucas and Mark's rap and just watching Kai, Taeyong and Ten feel the song. They're all so charismatic," wrote a Twitter user.
"Superm performed dangerous woman on jimmy kimmel live!!! it's so good please release it T_T," a fan tweeted.