SuperM Makes an Appearance on Nickelodeon's 'All That'
This is everyone's daily reminder to stan SuperM. On April 4, 2020, the K-pop super group appeared and performed on Nickelodeon's All That. SuperM acted in a skit and then performed their song "Jopping."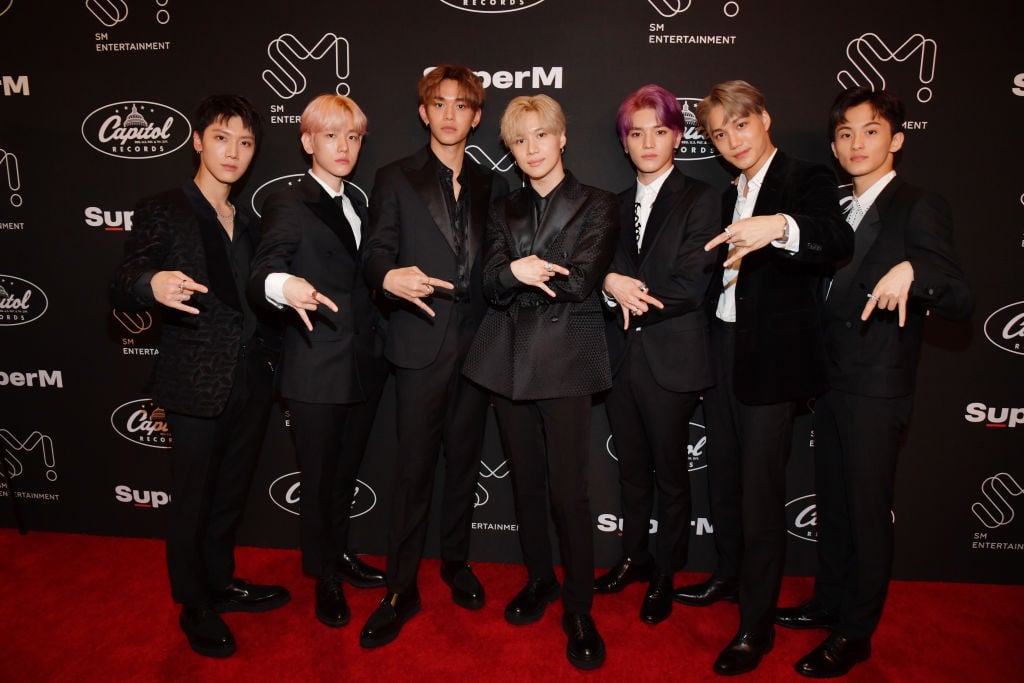 What is 'All That?'
All That is a sketch comedy show on Nickelodeon that is known as Saturday Night Live for a younger audience. It originally aired on the network from April 1994 to October 2005. In 2019, a revival of the series was announced. Two of the show's original cast members Kel Mitchell and Kenan Thompson serve as executive producers.
Ryan Alessi, Aria Brooks, Reece Caddell, Kate Godfrey, Gabrielle Green, Nathan Janak, Lex Lumpkin, and Chinguun Sergelen are the current cast members and featured performers on All That. In addition to SuperM, the Jonas Brothers, Kane Brown, Ella Mai, Ciara, H.E.R., Tyga, Bad Bunny, and Why Don't We are some of the artists who have performed as musical guests on the show since it was revived.
SuperM performed 'Jopping' on 'All That'
In the skit, some of the cast of All That meet the SuperM members after breaking into their tour bus and stealing some of their personal items.
"Congrats on being named the All That cast member of the week," Mark tells Caddell.
"Hey, is that my shirt?" Baekhyun interrupts.
"Is that my wallet?" Taeyong asks. "Where did you get it?"
"Definitely not your tour bus while you were taking a nap," Godfrey replies.
Caddell then asks if SuperM will perform a song on the show for her.
"Can you give us a second?" Lucas asks.
The SuperM members crouch together and talk about what to do.
"Guys guys, that's not cool. That's my favorite wallet! My mom gave it to me!" Taeyong says.
"Bro, calm down!" Ten tells Taeyong. "My mom's gonna get you a new one."
Baekhyun protests that the cast took his favorite shirt, which prompts Taemin to tell him it's "just a shirt" in a moment that inspired countless memes on social media. Mark insists that Caddell is a big fan and they should perform for her.
Kai tells the cast of All That the group will perform. SuperM then performed "Jopping" on the sketch show, and as always the performance was legendary because one can never have too much "Jopping."
SuperM fans loved the appearance
As SuperM appeared on All That, fans used the hashtag #SuperMxAllThat to show their support for the group and discuss the performance on social media.
"How cute was SuperM on All That tonight?! It made me so happy to see them having fun! Thank you @Nickelodeon for hosting them! Well done @superm for the excellent English, the amazing vocals, and the incredible dancing! #SuperM#SuperMxAllThat," tweeted a fan.
"The serve. THE SERVE. Impeccable. American TV hasn't heard vocals like this in a while I can say that much. #SuperMxAllThat," wrote a fan on Twitter.
"Watched #SuperMxAllThat with my korean mom just now (who I recently converted into a czennie). She is beyond shocked that we've come to a point where a Korean group is on a local American kids' tv channel. This is GROWTH. Also @superm is fantastic as usual," one fan tweeted.
"honestly I'm so proud of @superm! they went on an american national tv show, learned lines in english, and im assuming had to act in front of a live audience. well done!! #SuperMxAllThat," wrote a Twitter user.
"SuperM said lemme flex one time for the kids! Can you imagine being a child and that's your exposure to KPop?!? That's the first group you ever saw??!? THE POWER AND THE FLAVOR SuperM hold! Start these kids out with TASTE! #SuperMxAllThat," a fan tweeted.