'Superman & Lois': Is a Morgan Edge and Lucy Lane Romance on the Horizon?
Jenna Dewan returns to the Arrowverse as Lucy Lane in 'Superman & Lois' Season 2. And ahead of her arrival, some fans are speculating she could end up in a romance with Morgan Edge.
Superman & Lois is bringing Jenna Dewan's Lucy Lane back for season 2. And pointing out all the similarities she shares with Clark's (Tyler Hoechlin) brother Morgan Edge (Adam Rayner), some fans of The CW series think the two would make a good couple.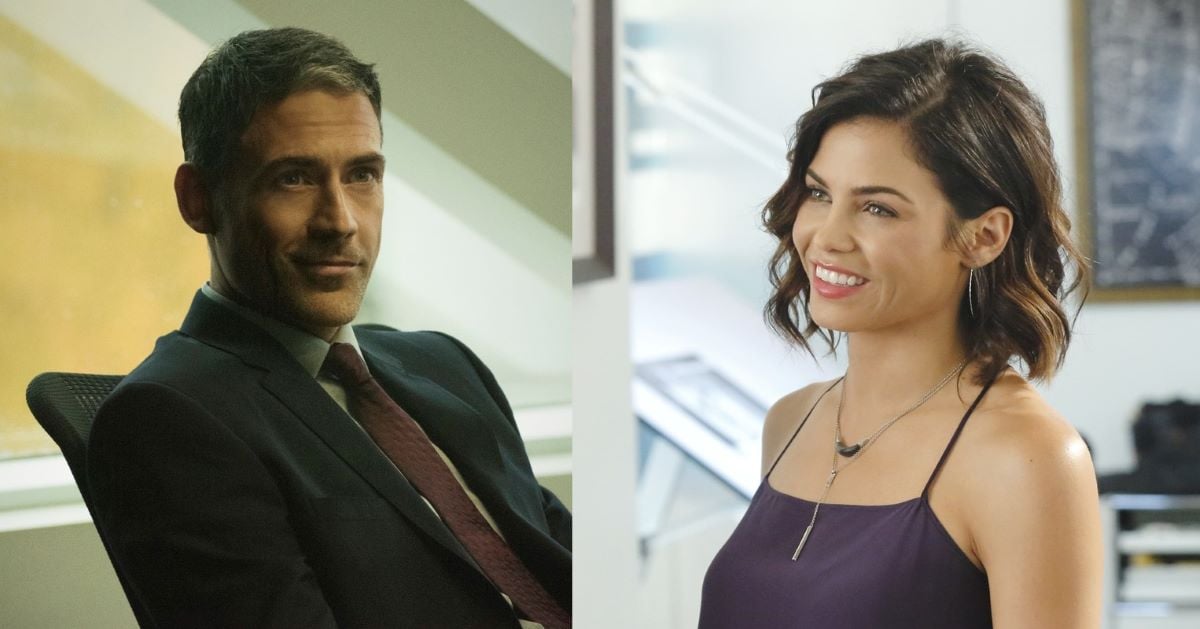 Morgan Edge and Lucy Lane have a few things in common 
Lucy Lane first appeared in Supergirl as an army Lieutenant who was dating James Olsen and had a strained relationship with her father, General Sam Lane. In Season 2 of Superman & Lois, her sister, Lois (Bitsie Tulloch), reveals that Lucy got involved with a cult. 
Lois suggests their mother's abandonment has marred both sisters. And she notes Lucy stopped talking to her after she ran a story exposing the cult leader, Ally Allston. 
Morgan Edge, aka Tal-Rho, was introduced as Clark's half-brother in season 1 of Superman & Lois. Like Lucy, he feels like his mother abandoned him. And he also doesn't get along with his only sibling. 
Morgan Edge and Lucy Lane seem to have a lot in common. They share a family, including nephews Jordan (Alex Garfin) and Jonathan (Jordan Elsass). Both are portrayed as outsiders. And after their individual experiences, they two may need to start looking toward growth and redemption. 
Some 'Superman & Lois' fans wonder if Morgan Edge and Lucy Lane could find romance
Knowing Lucy will be back in Clark and Lois' lives, and seeing sparks of redemption in Morgan Edge / Tal-Rho's eyes, some Superman & Lois fans are discussing if the two will connect this season. And a few even think the pair could end up in a relationship. 
"If in the future Tal Rho has a redemption arc, do you think it is possible for him to have a relationship with Lucy Lane?" one Reddit user speculated.  
"I think an Uncle Morgan/Aunt Lucy relationship is possible," another Redditor wrote. 
One fan noted that it would be a stretch for the two to get together. But they also pointed out Lucy could fulfill Tal-Rho's agenda. 
"From a purely practical Kryptonian genetic point of view, one can see that Tal might seek Lucy out as a genetic mother for his children given that Jordan's manifested powers," the fan shared on Reddit.
'Superman & Lois' star Adam Rayner hints he wants to see Tal-Rho explore relationships
In a recent interview with Looper, Morgan Edge / Tal-Rho actor Adam Rayner talked about the future of his character. And he suggested he may end up exploring new relationships as the season progresses. 
"We've seen him as this Kryptonian trying to dominate the world and take over and reestablish Krypton," Rayner said. "We know he has this human side and this human need: a desire for family, a desire for relationships, all those kinds of things."
"I'd be interested if he was allowed to explore those desires more and those things that he's buried so far in his life," the Superman & Lois star added. "Because he's been buried under the weight of this Kryptonian mission he was on. He's free of all that now — all that's over."
New episodes of Superman & Lois air Tuesdays on The CW.