'Supermarket Sweep': What Happens to All the Food?
'Supermarket Sweep' has officially returned and is quickly becoming everyone's favorite game show. Still, fans are concerned about the potential for food waste. While the grocery store that contestants run around isn't real, the food they gather is. Thankfully, those food products head to local charities when filming is completed.
The Supermarket Sweep reboot has officially returned for its second season. The beloved 1990s game show has gotten an all-new look but maintains nostalgia for fans of the original series. 2021 is a much different time than the 1990s, though. With serious consideration now being given to sustainability and food waste, fans of the grocery store competition series want to know exactly what happens to all the food featured on Supermarket Sweep. Don't worry; none of it is being wasted. 
'Supermarket Sweep' is not filmed in a real grocery store 
While a version of the famed game show was once filmed in real-life grocery stores, the modern-day Supermarket Sweep doesn't film inside an actual supermarket. Instead, ABC has opted to film the game show inside an airplane hangar, which has enough space for the production team to recreate the look and feel of a real grocer. According to the Cinemaholic, the 35,000 square foot hangar is transformed into an aisled store, complete with frozen foods and shelves of meat, for the show. 
ABC isn't using just any old airplane hangar, though. The show is filmed at Barker Hangar at Santa Monica Airport. Barker Hangar serves as an entertainment venue. According to the property's official website, Barker Hangar is used for music, film, and television productions. It has also served as a concert venue and hosted the circus.
What happens to all the food, then? 
While the show might not be filmed inside a real supermarket, the food on the show is absolutely real. ABC trucks in tons of food for the show's production, but what exactly happens to it when production wraps? Thankfully, ABC isn't wasting perfectly good food and product. When the show is over, a crew breaks down the fictitious grocery store and sends perishable and non-perishable items off to various charities.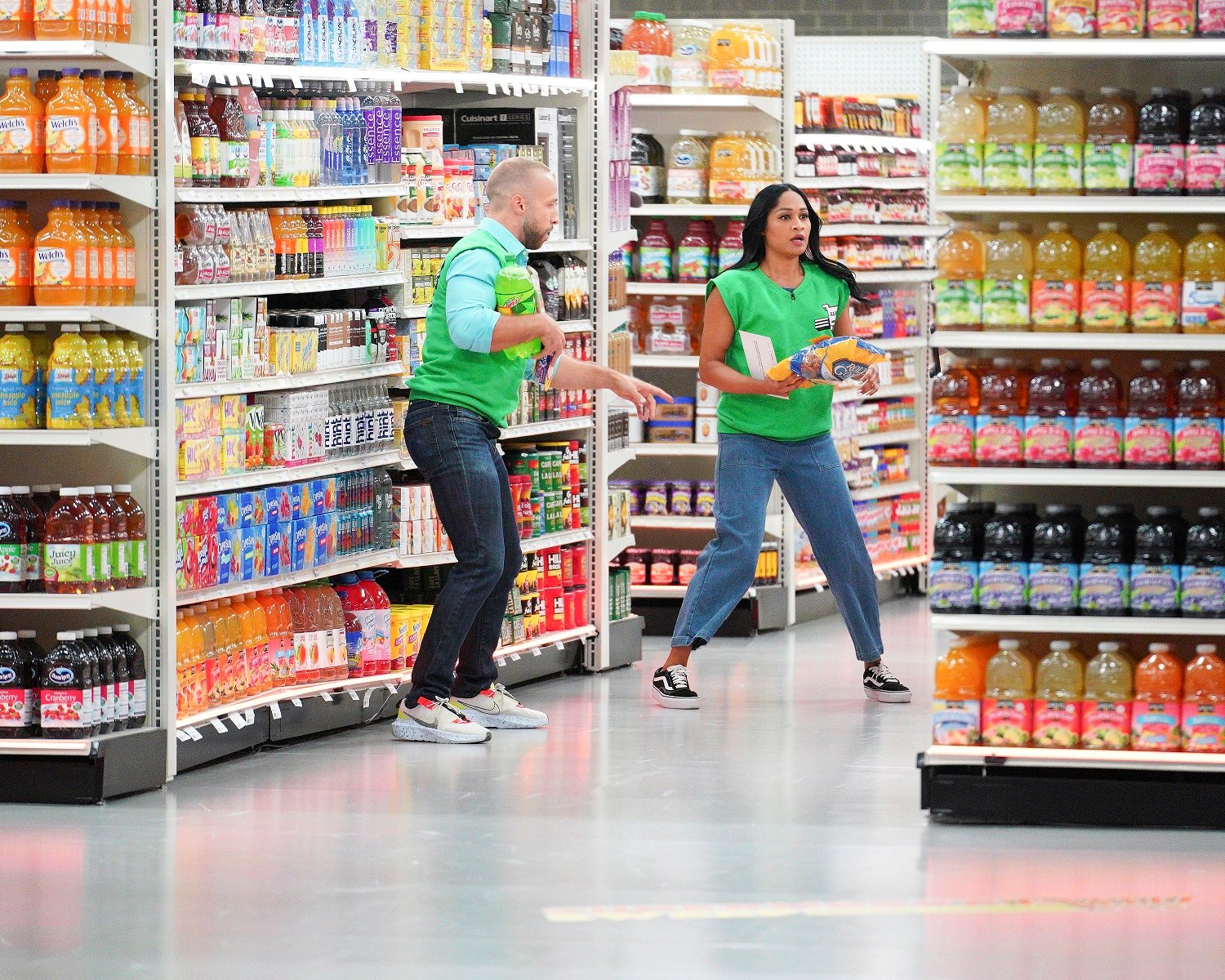 According to Today, ABC donates most food products to charities around Los Angeles. Food Cycle LA, Food Finders, and the Downtown Woman's Shelter are some of the beneficiaries. Pet products and meat products are donated to pet and wildlife charities. 
How do you become a contestant on 'Supermarket Sweep'? 
With all of the excess food going to a good cause, fans can feel comfortable indulging in all the new episodes of Supermarket Sweep. Is watching enough, though? The series does bring ordinary people together to compete in a mind-bending and physically exhausting competition. So, how do you get a chance to fight it out in the produce aisle? 
ABC hosts casting calls for potential contestants. In July 2021, ABC announced that they were looking for outgoing teams of two to compete on Supermarket Sweep. You must be a legal resident of the United States and at least 18 years old to be eligible. The casting application asks Supermarket Sweep hopefuls to share a photo of themselves and their teammate. ABC casting agents also want to take a look at your social media.