'Superstore': What Ben Feldman Said About Amy and Jonah's Relationship After America Ferrera Leaves
In February 2020, American Ferrera announced she planned to leave Superstore at the end of its fifth season. The NBC comedy has already been renewed for a sixth season, so the show will continue without her character Amy Sosa. In a recent interview with TVLine, Ben Feldman, who plays Jonah Simms in Superstore, commented on what Amy's absence will be like.
[Spoiler Alert: This article contains spoilers for the most recent episode of Superstore.]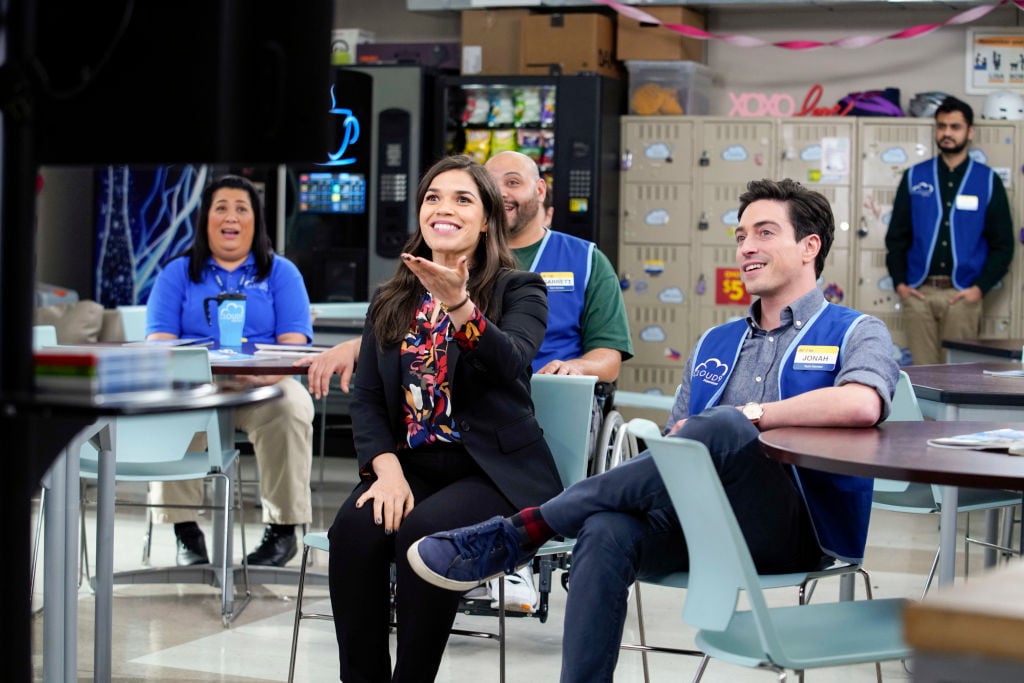 America Ferrera announced she is leaving 'Superstore'
On Feb. 28, Ferrera announced she planned to leave Superstore at the end of the current season. The actress posted photos with her fellow cast members along with an emotional farewell to the show on Instagram.
Ferrera's Instagram post reads:
"The last five years on Superstore have been some of the most rewarding, enriching and enjoyable years of my career. Producing, directing and acting with this wonderful cast and crew has given me opportunities to grow as a person and storyteller. I'm so grateful to my partners at NBC and Universal Television for the support and belief they have always placed in the show, and I'm most thankful to the brilliant Justin Spitzer for creating the funny, smart and relevant world of Superstore and inviting me to be a part of it. As I start the next chapter for my family and career, I wish only the best, and much continued success, to my beloved Superstore family."
How Amy will be written out of the show
At the end of the most recent episode of Superstore, "Customer Safari," Amy receives a call from Zephra asking her to interview to be the Director of Customer Experience. She's told that if she got the job, she would have to relocate to Palo Alto, Calif.
The next episode of Superstore is called "California Part One" and it will air on April 23 on NBC. Because of the coronavirus (COVID-19), the season has one less episode than originally planned and "California Part One" will act as the fifth season's new finale. Feldman told TVLine that Ferrera plans to return for the next season to complete Amy's story line.
"[America] has every intention to come back," Feldman said. "She wants to see a proper send-off for Amy, so my guess is that'll be worked into next season. Of course, she's pregnant, so we'll have to figure it out. Then it just becomes a scheduling thing."
What this means for Amy and Jonah in 'Superstore'
Ever since Ferrera announced her planned exit, fans have wondered what will happen to Amy and Jonah's relationship. In an interview with TVLine, Feldman did admit that it would be sad to not see Amy and Jonah in the same way going forward.
"… when I think about the two characters… it's a little melancholy and kind of sad [because it's the] end to that romance — or, potentially, just a new version of that romance. It's an end to watching them together, which is a sad thing," Feldman said.
However, the Superstore actor said that there are satisfying moments between Amy and Jonah in the upcoming season finale.
"There are two Amy/Jonah scenes that we shot towards the end of the [final week in production]. Once we shot [them], everybody breathed a sign of relief and was like, 'There's something here. We've got something here,'" he said. "I feel like people will be surprised by how much they get from Amy and Jonah considering that this isn't the [actual] finale."