'Superstore': Do Amy and Jonah End up Together?
When America Ferrera announced that she planned to leave Superstore, the relationship between Amy Sosa (Ferrera) and Jonah Simms (Ben Feldman) was left up in the air.
Ferrera departed from the show at the beginning of Season 6 of Superstore, resulting in Amy and Jonah breaking up. Throughout the rest of the season, Jonah attempted to move on. In the second-to-last episode of the season, Amy returned to Cloud 9. So did Amy and Jonah get back together in Superstore?
[Spoiler Alert: This article contains spoilers for Season 6 Episode 15 of Superstore.]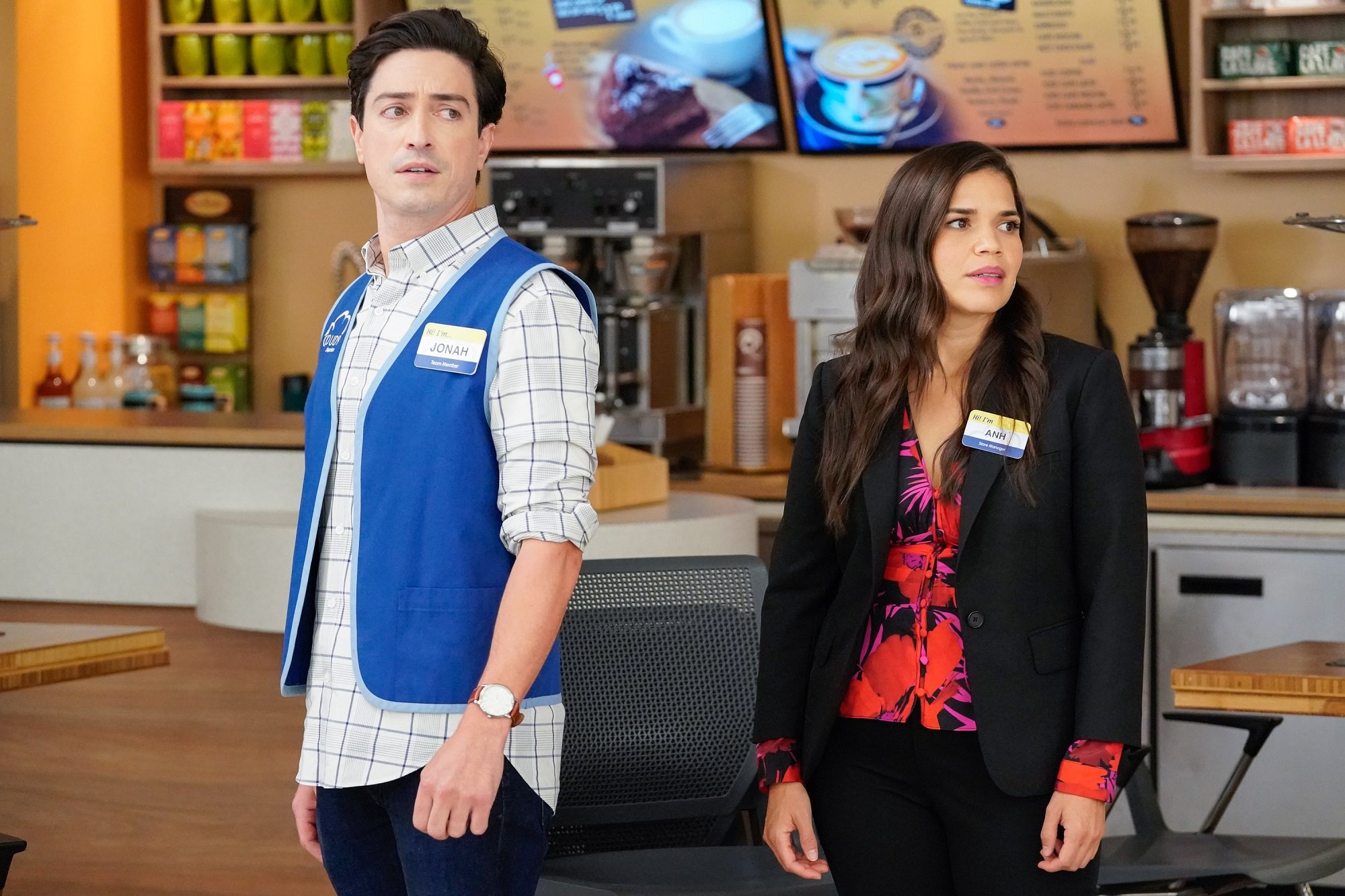 Jonah got a new love interest in 'Superstore'
Midway through the sixth season, the producers of Superstore learned that the TV series would not return to NBC for a seventh season. In an interview with Entertainment Weekly, showrunners Jonathan Green and Gabe Miller shared how they planned to reunite Amy and Jonah.
"We actually got the news as we were about to go into a casting session for Jonah's love interest, Hannah (Maria Thayer)," said Green. "… for a second we were like, 'Are we still even doing this relationship? If we're going to explore whether Amy's coming back, do we even want to?'"
In the end, Green and Miller decided to let Jonah have a love interest while Amy was in California. However, the plan was always to have Amy and Jonah reunite in the end.
"… we had always thought that they would end up together. But when America was leaving at the beginning of this season, we had assumed there would be at least an additional season to have distance between when she left to when we would get them back together," Miller said.
The 'Superstore' showrunners asked America Ferrera to come back
The writers and producers of Superstore planned to have a whole season to reunite Amy and Jonah instead of a few episodes. Green and Miller explained that in order to realistically have Amy and Jonah get back together, they had to fit a lot of emotional work into two episodes.
"… so learning that it was all going to be in the same season, based on the way we left it, we had a little emotional distance to travel, or at least some work for Amy to do to earn Jonah's trust back a little. That was a challenge, how to do that believably," Miller told Entertainment Weekly.
The showrunners then had to ask Ferrera to return for the end of the season.
"One of our first calls when we found out this would be the final season was to America to see if she would be willing and available to come back, and when the story started to take shape we realized it would really help to have her back for two episodes to have time to tell that story," said Miller. "Fortunately, she was willing to do it and was great."
Amy and Jonah get back together in the finale
After their emotional breakup at the start of the season, Amy and Jonah awkwardly reunite when Amy returns to Cloud 9 to help out for the day in Season 6 Episode 14, "Perfect Store."
At the end of the episode, Amy quits her corporate job with Zephra meaning she no longer has to be based in California. The series finale, "All Sales Final," takes place a month later.
Amy returns to the store and admits she made a mistake breaking up with Jonah and moving to California without him. At the end of the episode, it is revealed that Jonah is running for city council while Amy is an executive at another company. The two are together and have a child named Carter.