This 'Superstore' Episode Makes It Seem Like Amy and Jonah Won't Break Up When America Ferrera Leaves
On Feb. 28, America Ferrera announced she will be leaving Superstore at the end of the fifth season. Ever since her announcement, some fans have worried about what will happen to the relationship between her character Amy Sosa and Ben Feldman's character Jonah Simms.
[Spoiler Alert: This article contains spoilers for the most recent episode of Superstore.]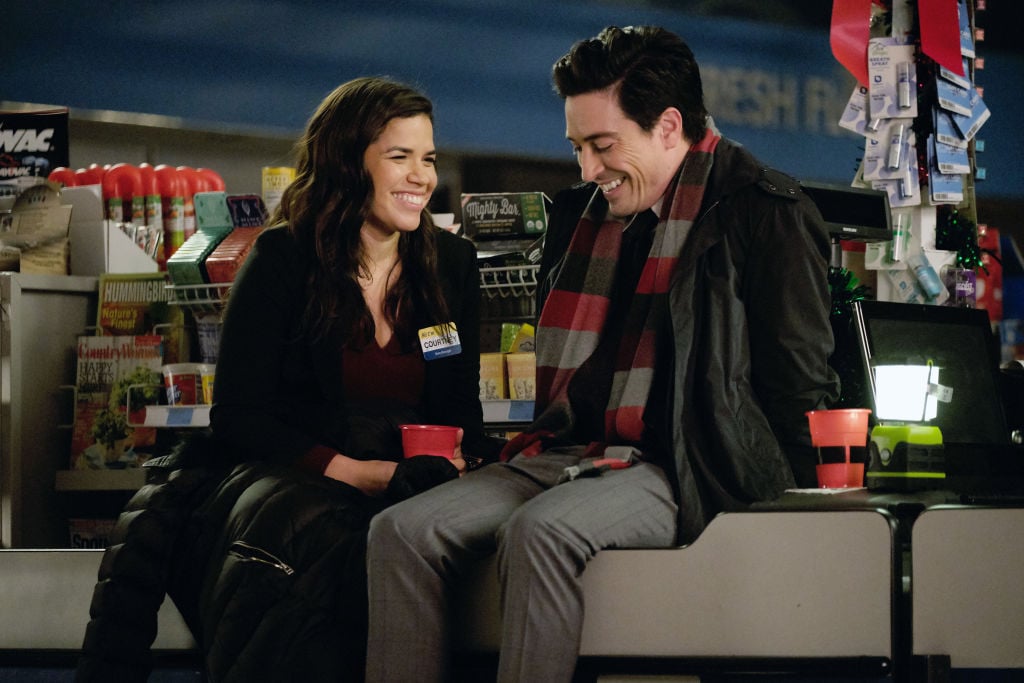 America Ferrera is leaving the show
Ferrera posted about her departure from Superstore on Instagram. The actress shared multiple photos with the cast along with an emotional farewell to the show.
The Instagram post reads:
"The last five years on Superstore have been some of the most rewarding, enriching and enjoyable years of my career. Producing, directing and acting with this wonderful cast and crew has given me opportunities to grow as a person and storyteller. I'm so grateful to my partners at NBC and Universal Television for the support and belief they have always placed in the show, and I'm most thankful to the brilliant Justin Spitzer for creating the funny, smart and relevant world of Superstore and inviting me to be a part of it. As I start the next chapter for my family and career, I wish only the best, and much continued success, to my beloved Superstore family."
On March 13, Ferrera shared a video on her Instagram story. Because of the coronavirus (COVID-19) outbreak, Superstore shut down production, resulting in the fifth season having one less episode than originally planned.
"So today is unexpectedly my last day shooting on Superstore for the season. We're shutting down production," she said in her Instagram story. "I'm about to go shoot my last scene. None of my cast members are here, and this is not how we expected to be ending the season. I assume [this] means we'll be coming back when things clear up to finish Amy's storyline."
Some 'Superstore' fans worried Amy and Jonah might break up
Ever since Ferrera announced she is leaving Superstore, people have tried to guess how Amy will be written out of the show. Fans have also tried to speculate what will happen to Amy and Jonah's relationship.
So far, season 5 of Superstore has hinted that Amy could eventually be offered a job at corporate. This would allow her character to evolve and physically move away from the Cloud 9 store fans know. If this ended up being the case, fans worried that Amy and Jonah would break up if Amy moved away.
One fan tweeted, "what am i supposed to do now that i know amy won't be on s6? how am i supposed to watch the rest of s5 knowing amy and jonah could break up at some point? and the proposal? and the wedding? and all the teasing and foreshadowing? WHAT WAS THE REASON???"
What happened on a recent 'Superstore' episode
In the newest Superstore episode, "Playdate," Amy had to bring her son Parker to work because his daycare unexpectedly closed. This gave viewers a chance to see how solidified Amy and Jonah are in their relationship.
While Jonah is not Parker's biological father, it's clear that he is the main father-figure in Parker's life. The Superstore episode showed a brief glimpse of Amy and Jonah's life outside of Cloud 9, and it's a life co-parenting Amy's kids. They take care of Parker together, and reference his future that is years away, showing Amy knows Jonah will be in Parker's life years from now.
Because of this, breaking up the couple would not feel right or earned. They are clearly happy and envision a future together. Amy and Jonah are a couple who seem closer to getting engaged or married, not breaking up. Hopefully, their relationship is able to continue after Ferrera leaves, even if it's off screen.