'Superstore' Got a Title Change at the Last Minute
Superstore ended in 2021 after six seasons. The series was a hit, focusing on the interpersonal relationships between employees at the big box store, Cloud9. Considering that the store served as the backdrop of every episode, the name of the series makes perfect sense. Superstore wasn't always the title, though. NBC requested a last-minute change that might have changed the way viewers perceived the show.  
'Superstore' was almost named 'The Greatest Love Story Ever Told'
As a workplace comedy, Superstore just works. The point of the series wasn't always so direct and easy to decipher. Before filming the pilot, NBC asked show creator, Justin Spitzer, to change the title of the series. The request is what led to the series being called Superstore.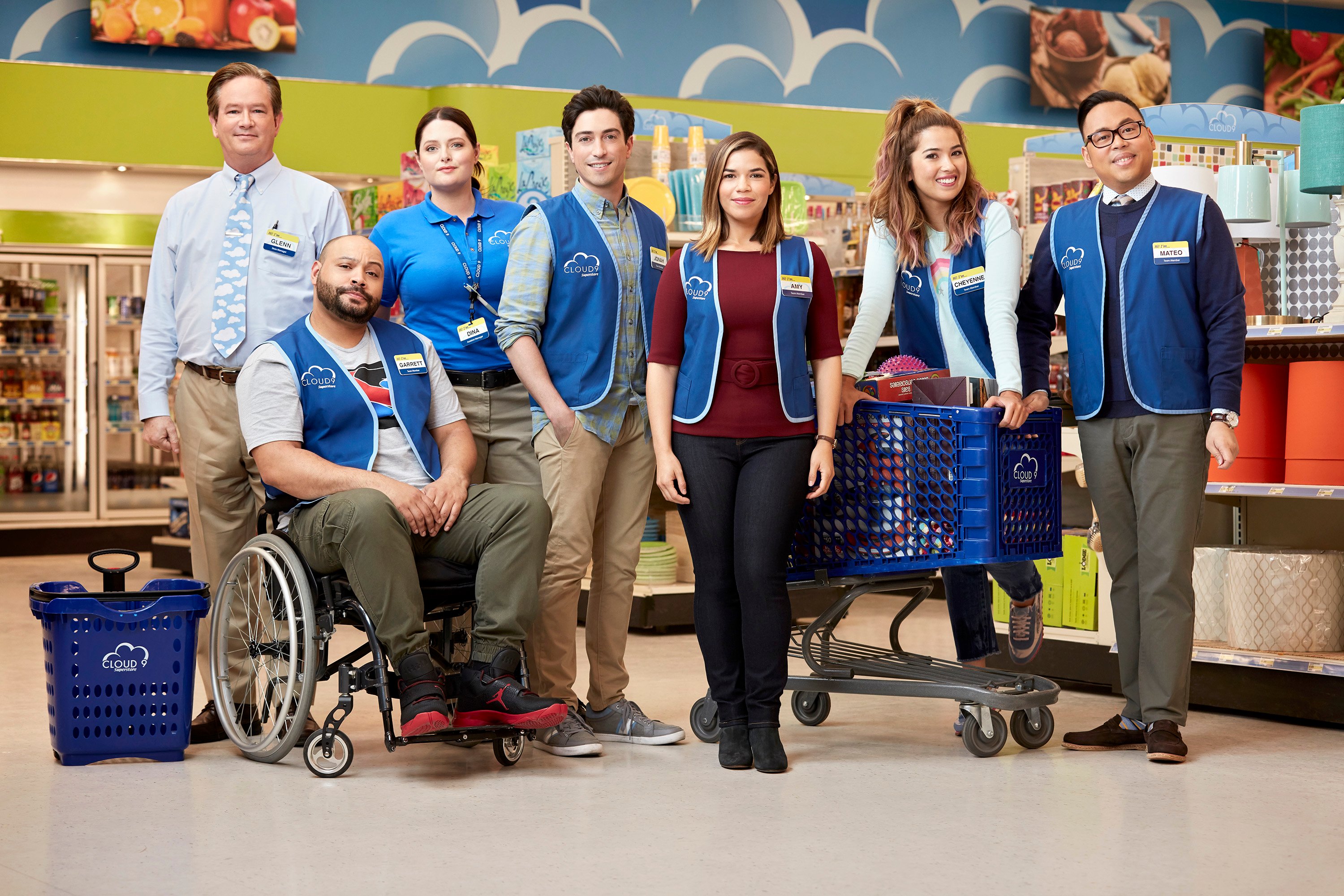 Before the request, Spitzer planned to title the show The Greatest Love Story Ever Told. Speaking to GiveMeTheRemote, Spitzer said the original title was purposefully misleading because it's difficult to sell a workplace comedy. Spitzer did note that Jonah and Amy's will-they-won't-they story arc always existed, though. 
NBC asked for a title change after a series of flops
The original title might have gotten Spitzer in the door with NBC, but it was that very title that caused a potential problem. Spitzer had noted that the network was always interested in the concept but worried the title could turn off viewers. Executives called him and asked him to consider something less romance-focused.
According to Spitzer, he was trying to get Superstore off the ground around the time that several romantic sitcoms had flopped. NBC had its own failure with A to Z, a romantic sitcom featuring Ben Feldman. Because of the past failures, the network wanted to avoid romantic conotations. Feldman signed on to join Superstore as Jonah. 
Why was 'Superstore' canceled?
NBC's decision to cancel Superstore at the end of season 6 took fans by surprise, mostly because the show was still successful. While it is believed that America Ferrara's decision to leave the series factored into the cancelation, NBC has not publicly stated that. Still, the rest of the cast seemed sad and surprised to see Superstore come to an end. 
In December 2020, shortly after NBC announced the show would end, Lauren Ash, the actor who played Dina, took to Twitter to share her thoughts. Ash noted that the cancelation was sad, but working on the show had been a "dream." Colton Dunn and Nichole Sakura, the actors who portrayed Garrett and Cheyenne, also issued statements.
RELATED: 'Superstore': What is Dina's Job Title and How Much Would She Make in Real Life?