'Superstore' Recap: Amy Officially Leaves Cloud 9
It's official. Amy Sosa, played by America Ferrera, has left Cloud 9 for a corporate job at Zephra in Superstore. This occurred due to Ferrera deciding to leave the show after five seasons. Because of the coronavirus (COVID-19) pandemic, production was temporarily halted, and Ferrera returned for the first two episodes of the sixth season to wrap up Amy's storyline.
On Nov. 5, "California Part 2" aired on NBC, showing Amy saying goodbye to all of her coworkers for her new job in California. So where does this leave the show?
[Spoiler Alert: This article contains spoilers for Season 6 Episode 2 of Superstore.]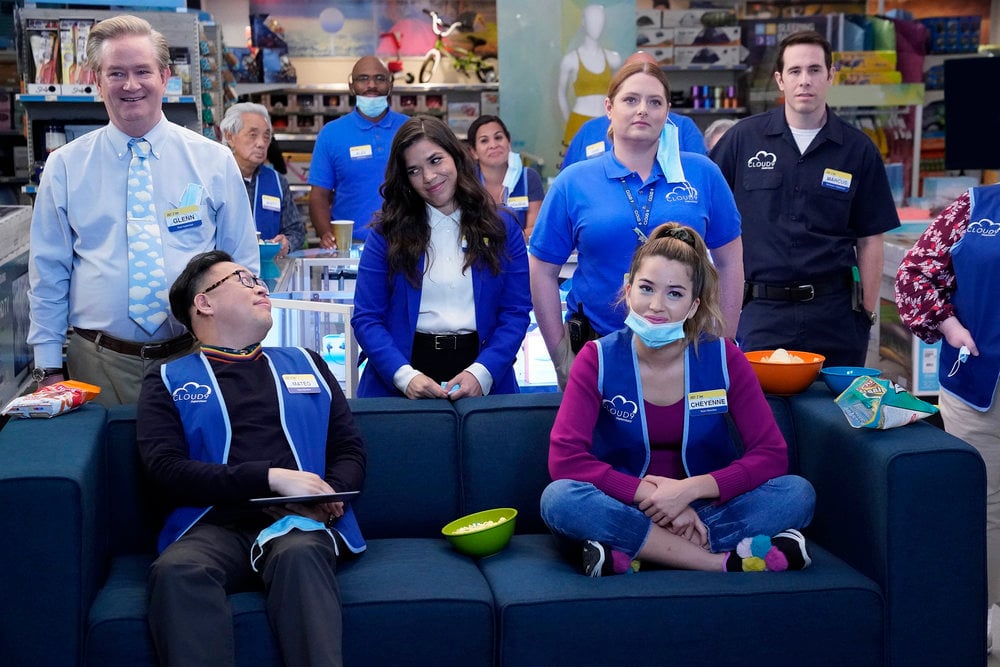 Amy feels uncomfortable about her future with Jonah
Because of the coronavirus, Amy was having to work two jobs, managing Cloud 9 and her new corporate position at Zephra, before moving to California. At the end of the first episode of the season, "Essential," Amy finally finds out that the company is ready to have her move.
This announcement of course foreshadowed "California Part 2." In the final moments of "Essential," Jonah (Ben Feldman) is excited to move to California with Amy, while Amy seems less than enthusiastic at the idea of Jonah joining her.
"California Part 2" begins on Amy's last day, and it's revealed that Jonah will move out with her a few days after she leaves. Amy then reveals to Dina (Lauren Ash) that she is worried Jonah plans to propose to her as she does not feel ready for that step.
How the rest of Cloud 9 handles Amy's last day in 'Superstore'
While Amy worries about her future with Jonah and wrapping things up on her last day, Glenn (Mark McKinney) and Mateo (Nico Santos) plan a special surprise for Amy.
One by one, the Cloud 9 employees each record video messages to say goodbye. In a humorous moment, Mateo and Glenn ask a new employee who just started working at Cloud 9 to record a message. Despite their insistence, Nia (Franchesca Ramsey) is unable to say much.
Meanwhile, Dina tries to figure out which Cloud 9 employee will be her replacement best friend once Amy leaves. Toward the end of the episode, everyone gathers around the TVs in the store and Amy watches the filmed goodbye messages. For his video message, Mateo sings both parts of "For Good" from the musical Wicked.
Amy and Jonah break up in 'Superstore'
Amy and Jonah breaking up was something Superstore fans feared as soon as Ferrera announced she planned to leave the show. While "California Part 1" in the fifth season ended with Jonah and Amy deciding to move to California together, their relationship took on a different tone at the start of the sixth season.
The first two episodes take place over several months, and distance grows between them. As Jonah goes over the benefits spouses get under Amy's new job, she finally snaps. Jonah interprets Amy getting mad that he was joking about her dying, while Amy was upset at Jonah for acting like they were married.
Amy asks if they can just move to California and see how things go, and Jonah refuses as they already live together and raise Amy's son Parker together.
"Do you want to marry me?" He asks.
"I don't know!" Amy says.
"That's not an answer! Yes or no?" Jonah presses.
"Then no!" Amy answers.
Amy asks Jonah what will happen if she realizes turning him down and moving to California is a mistake and he replies, "I'm guessing you'll know where to find me."
At the end of the episode, Amy sits with Dina and watches a fireworks show over the store. Dina asks how she is handling the breakup and Amy replies, "Feels pretty bad, but also not wrong, so… I'll miss him."