'Superstore' Recap: Garrett Tries To Fight Systemic Racism at Cloud 9
Superstore returned to NBC on Jan. 14 with its newest episode, "Hair Care Products." In the Superstore episode, Cloud 9 stops locking up beauty products for Black customers, and Garrett (Colton Dunn) attempts to make the employees at Cloud 9 realize how systemic racism affects Black employees and customers.
[Spoiler Alert: This article contains spoilers for Season 6 Episode 5 of Superstore.]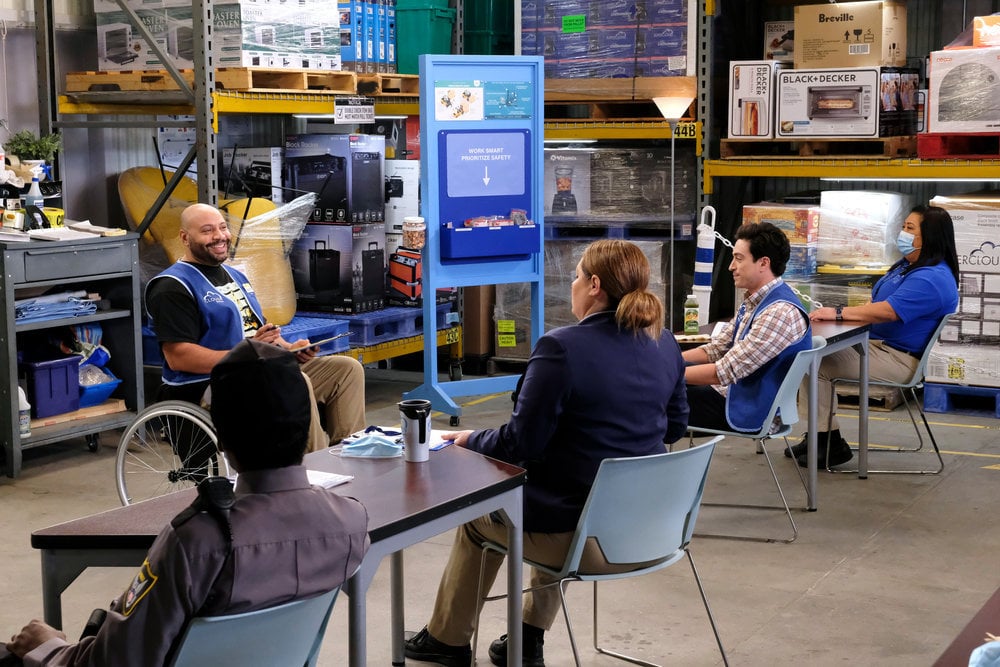 Cloud 9 made a policy change in 'Superstore'
At the start of the episode, Dina (Lauren Ash) leads an employee meeting as Glenn (Mark McKinney) is still quarantining after being exposed to the coronavirus (COVID-19). In the meeting, she announces that Cloud 9 will no longer be locking up beauty products for Black customers.
"Oh yeah, it takes a lot of courage to make a gesture this small this late in the game," Garrett says after some employees applaud the policy change.
Dina asks Garrett to hold a meeting with employees and compile a list of racist actions Cloud 9 takes part in to send to corporate. Garrett initially refuses, and Jonah (Ben Feldman) offers to lead the meeting in his place, but Garrett changes his mind and leads the meeting.
Throughout the meeting, Nia (Franchesca Ramsey), Janet (Carla Renata), and Ken (Baron Vaughn) attempt to discuss the microaggressions they face to help Garrett form a list to send to corporate. However, the other employees' interruptions stop the meeting from being productive.
Mateo and Cheyenne try to hang out with Sandra
In the episode's B-plot, Mateo (Nico Santos) and Cheyenne (Nichole Bloom) discuss their plans to get together with friends to watch an outdoor movie. Sandra (Kaliko Kauahi) approaches them and makes conversation while wearing a mask, and the two pretend they were talking about something else so they do not have to invite her along.
Mateo and Cheyenne have a change of heart and invite Sandra, but she turns down the invitation because she does not think Mateo and Cheyenne take the coronavirus seriously.
This rubs Mateo and Cheyenne the wrong way, and they spend the rest of the episode trying to prove to Cheyenne that they are safe to hang out with. They drive to Illinois to get rapid tests done and agree to change the movie they planned to watch, and Sandra agrees to attend.
The employees make life harder for Garrett in 'Superstore'
Nia encourages Garrett to keep trying to make changes at Cloud 9, and he holds a second meeting. Meanwhile, Glenn feels guilty about Cloud 9's previous beauty products policy and sends pizza to the store as reparations.
Glenn then feels guilty that the white employees are not able to take part in the pizza party, and he asks Garrett if the pizza can act as reparations for the white employees too.
Dina apologizes for Glenn's behavior, but Garrett tells her that she has been just as misguided by putting all of the burden on him. Garrett gives Dina a list to give to corporate, and she tells him that it will take three to five weeks to know if corporate will actually do anything.
At the end of the Superstore episode, he decides to take matters into his own hands and throws away Cloud 9's mascot, MC Cool Cloud.
When Dina asks why the cardboard cutout of MC Cool Cloud was in the box crusher, Garrett replies, "Because it's racist and I was tired of looking at it. And I wasn't going to wait three to five weeks for someone else to come fix it."
"Got it," Dina says, and she proceeds to take MC Cool Cloud back to the box crusher.