'Superstore': The Stars Reveal Their Favorite Improvised Moments From the Series
Hilarious sitcoms like NBC's 'Superstore' feature plenty of improvised moments. The cast recalled some of their favorites at Comic-Con.
When it comes to situation comedies like The Office and Parks and Recreation, many of the actors are also skilled at improvisation. And fortunately for us, the writers and directors of such series work with their casts to get these hilarious improved moments onto film. Such is the case for another NBC sitcom, Superstore. At San Diego Comic-Con, the cast spoke about their favorite improvised moments from Seasons 1-4.
Dina's now-infamous sandwich
Dina (Lauren Ash) and Garrett (Colton Dunn) had a sexual relationship early in the series. This is briefly rekindled in Season 4 when Garrett comes to tell Dina that he was the one who released her birds, and they end up sleeping together. This situation resulted in a hilarious improvised moment that, sadly, didn't make it to screen.  
"Sitting on the couch post-coital, chowing on a sandwich, we've never felt [their chemistry] more," said Ash of Dina and Garrett. She continued, "You know, Mark [McKinney, who plays Glenn] directed that episode, and he let me do a take where, for a good two minutes, I just ate the sandwich in silence. First of all, it was a delicious sandwich. Second of all, it was a great bit!' 
Ash and Dunn continued to joke that the clip was "streaming on Hulu." "It has its own web series: Dina's food."  
Jerry proposes to Sandra
Amidst all of the commotion in the Season 4 finale with Mateo's ICE storyline, Jerry proposes to Sandra. Actress Kaliko Kauahi didn't even know it was going to happen. "I found out when I actually watched the episode that that was kept [in]" said Kauahi of Jerry's proposal to Sandra. "Justin just came up to us — it wasn't in the script — and he came up to us while we were shooting like, 'Why don't we do one where Jerry proposes?'"
But she had reason to doubt that it would make it in. "At the end of Season 3, we had Jerry propose to Sandra, and then cut it," said producer Justin Spitzer. So when he asked them again, "they were like 'Every year, you're just going to cut this proposal.' So at that point, I was like, 'No, now I'm going to keep it in.'" 
Cheyenne's ice cream joke
Some of the best ad-libs seem to occur in these serious episodes. Actress America Ferrera, who plays Amy, explains that in the Season 4 finale, as Mateo is being taken away, Cheyenne asks him if he wants to take his ice cream with him. "That was ad-libbed, wasn't it?" asked a producer. "That was improvised, yes," said Santos.
The stars on how talented everyone is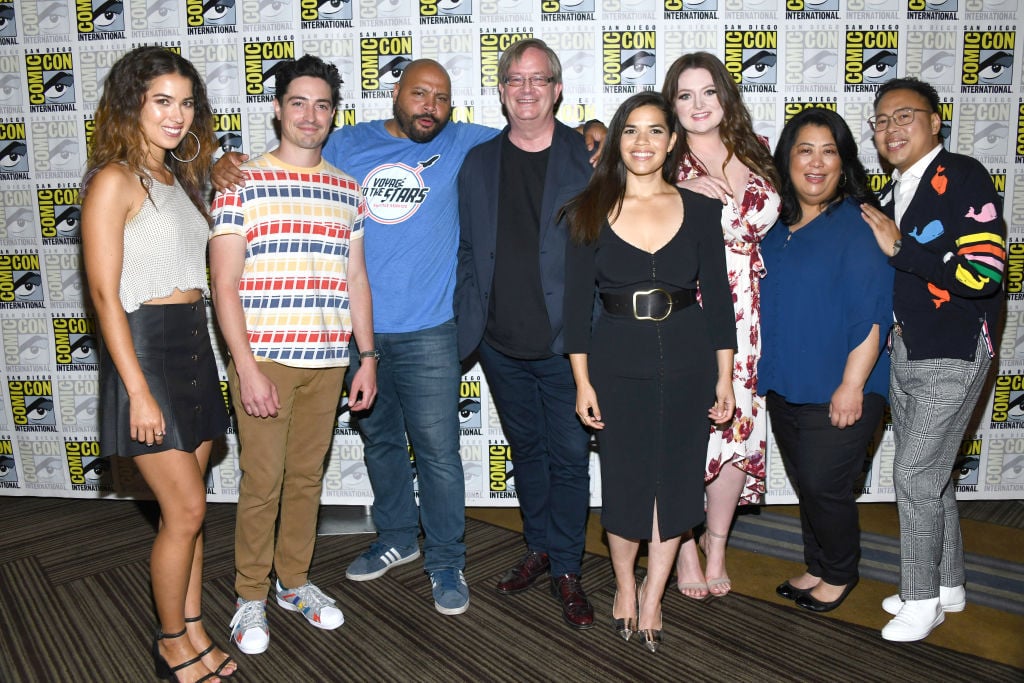 Among the cast, Ferrera, McKinney, and Ben Feldman (Jonah) have directed episodes. And they learned a lot about their co-stars from the experience. "For me, I didn't think I could be more in awe of this group of people," said Ferrera. "But when you get behind the camera… you're so grateful this script is already so funny. And it's really hard to screw it up. But then you think it's your job as a director to make it work. With this cast, it's your job to just to sit back and not mess it up." 
Feldman agreed. "You sit back and watch these people go. And they're improvers — some of the greatest improvers ever, doing these incredible, magical things," he said. "And you're just blown away at how easy your job becomes as a director. Because these people, they've got it."