'Superstore': What Did the Showrunners Have Planned for Season 7?
After six seasons, Superstore officially ended on March 25. The NBC comedy originally premiered in 2015 and starred America Ferrera, Ben Feldman, Lauren Ash, Colton Dunn, Nico Santos, Nichole Sakura, Mark McKinney, and Kaliko Kauahi.
Because Superstore ending after its sixth season was unexpected, showrunners Jonathan Green and Gabe Miller had started planning for the seventh season.
[Spoiler Alert: This article contains spoilers for Season 6 Episode 15 of Superstore.]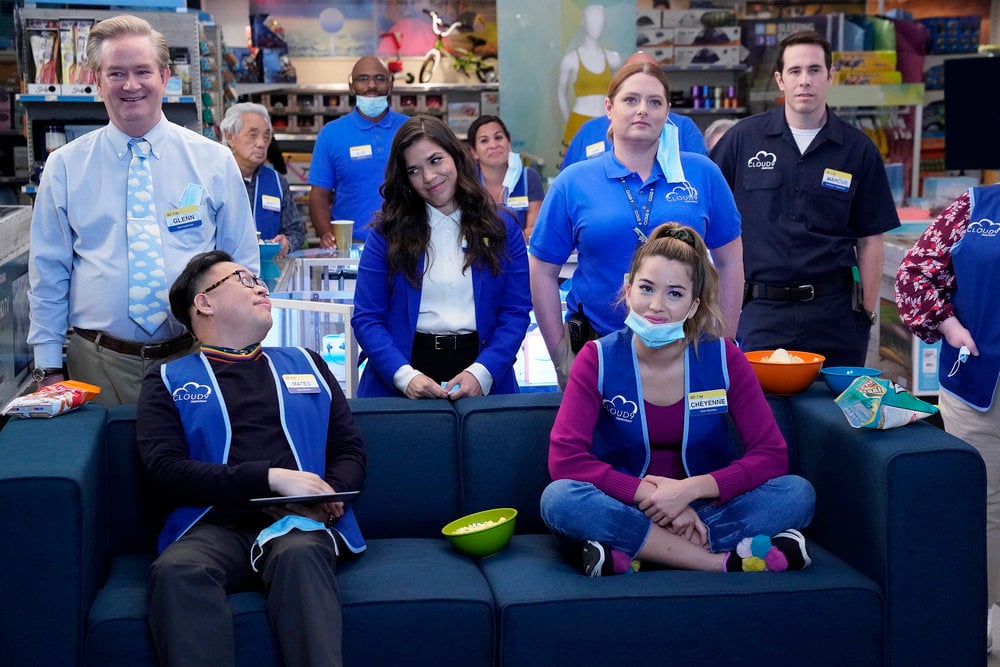 Season 6 was the last season of 'Superstore'
Throughout its run, Superstore received critical acclaim for its portrayal of retail workers. The workplace comedy explored timely topics like gun control, the effects of capitalism and corporations, unions, and immigration reform. 
Midway through its sixth season, it was announced that Season 6 would be the show's last. In an interview with Entertainment Weekly, Green and Miller discussed what it was like working on the final season.
"We found out around Thanksgiving that this would be the last season. We had already shot nine episodes and we were preparing for episode 10, and we had a whole different end of season, a different arc that we were setting up," Miller said.
He continued, "Then when we found out, we had to think about what would be satisfying endpoints as opposed to a big reveal that brings up questions. So we had to quickly recalibrate and start brainstorming."
What would have happened in Season 7
Because Green and Miller did not find out Superstore would end with its sixth season until midway through the season, preparations for a seventh season were already underway.
Speaking with Entertainment Weekly, Green and Miller shared some of their initial plans for a hypothetical seventh season.
"One thing we had talked about doing in season 7 was we were setting up for Dina and Garrett to be together as a couple, really embracing the fact that they were an actual romantic couple and just seeing what that looks like for the two of them," said Miller. "That seemed like a fun setup for some romantic and comedic stories."
Green added, "We still thought there was a lot more to mine from Sandra (Kaliko Kauahi) being a mother, just seeing what she's like as a mom. With every character I think we could name stuff. We had sort of barely started to see their potential."
What was left out of the sixth season
While the Superstore finale showed that Garrett (Colton Dunn) and Dina (Lauren Ash) rekindled their relationship, Green and Miller actually had more planned for Garrett than what was originally shown.
"… this season we had him mention that he had applied to GameStop four times and never got the job and that was sort of his dream job. We had a whole story line of Glenn helping him get the job at GameStop," Green told Entertainment Weekly.
He continued, "… we talked about seeing him in a flash-forward where he had finally gotten his dream job at GameStop and we reveal that he's already on his phone just totally checked out, back to old Garrett even at the job he's always dreamed of doing."