Surprising Facts About the Making of 'Interview With the Vampire'
With an Interview With the Vampire series in the works at AMC, the popular 1994 film based on Anne Rice's novel has been on fans' minds recently. And while Interview with the Vampire is an epic and memorable piece of cinema, there were certainly some unexpected things happening behind the scenes.
Tom Cruise and Brad Pitt probably felt like real vampires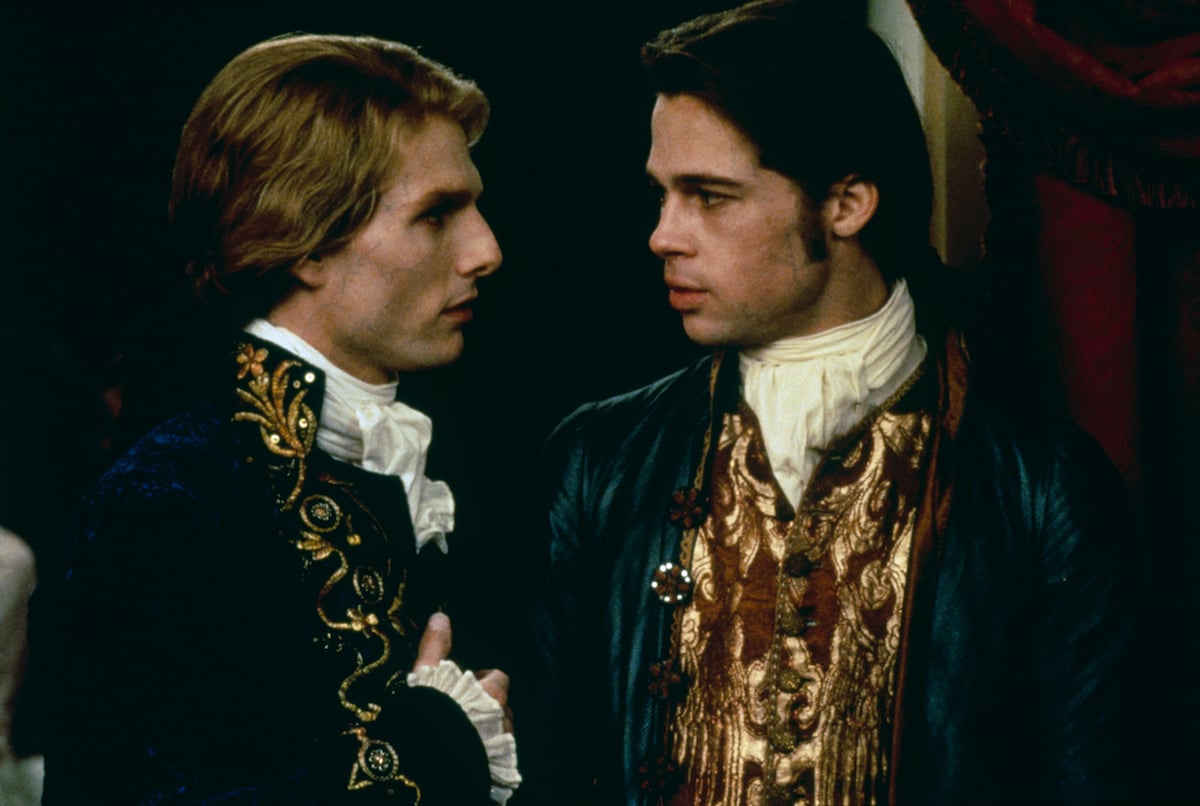 As method actors will assert, sometimes the best way to really get into the head of your character is to try to mimic their daily lives. On the set of Interview With the Vampire, Tom Cruise, who plays Lestat, and Brad Pitt, who plays Louis, had to do that whether they wanted to or not.
Since vampires, of course, can't go out during the day, much of the film was shot at night, according to The Independent. The production took place in New Orleans and at Pinewood Studios in London in a building that, according to Pitt, was somewhat lacking in the window department. Pitt described the building as feeling like a "mausoleum." Spending long hours in the dark day in and day out couldn't have been pleasant, but it might have helped them get into a more vampiric headspace.
What's more, the actors' pallor was real, too. Cruise and Pitt were apparently instructed to hang upside down for 30 minutes at a time to achieve the ghostly complexion of the undead. 
Anne Rice didn't support casting Tom Cruise at first
At the time, Cruise had the reputation of being an upbeat, loveable hunk. As the Los Angeles Times reports, Rice referred to Cruise's public persona as "mom and apple pie." She felt that this was at odds with a character who was supposed to be a tortured, murderous creature of the night.
Rice said she was "stunned" by the casting decision. She added that Cruise was "no more my vampire Lestat than Edward G. Robinson is Rhett Butler."
However, she changed her tune after the film screened. According to producer David Geffen, Rice said the movie "went way beyond her expectations" and that Cruise was "wonderful." She even reportedly called Cruise to tell him she had been wrong.
Some big names turned the film down
Sometimes, actors turn down a movie that winds up being a big hit, and you have to wonder if they're kicking themselves later. Some big Hollywood names took a pass when it came to Interview with the Vampire.
If Rice wasn't thrilled at first about Cruise as Lestat, who did she want for the role? Her first choice was Daniel Day-Lewis, who turned it down. Alexander Godunov, Christopher Walken, and Jeremy Irons were high on her list, as well. And, perhaps most surprisingly, Rice had Cher in mind for the role of Louis, she told Movieline. Another possibility for a female Louis was Anjelica Houston, but of course, the film went a different direction.
"This was a woman who dressed like a man, and otherwise it was exactly the same as Interview With the Vampire," Rice said.
Some of the top picks for director declined, as well, including Ridley Scott and David Cronenberg. Ultimately, Neil Jordan snagged the director's chair. According to The Independent, he impressed Geffen with his portrayal of fluid sexuality in Crying Games.
The Interview With the Vampire series will premiere on AMC and AMC+ in 2022.