The Surprising Person Who Could Make Tom Holland Do 'Lip Sync Battle' Again
Once upon a time, in the year 2017, the most magical thing that has ever happened before or since occurred: Tom Holland's performance on the reality competition show Lip Sync Battle. It was beyond explanation, and a once-in-a-lifetime moment (which you can relive again and again below). But could the magic ever be recreated? Holland thinks it's possible.
Tom Holland's 'Lip Sync Battle' performance made history
First thing's first: The entire episode is gold. We can't make that available to you here, but rest assured: The three performances that came before this one were amazing. Holland's Spider-Man: Homecoming co-star Zendaya performed a beautiful rendition of "Tyrone," and Holland took us all back to the early '00s with Nelly's "Ride Wit Me." Finally, Zendaya perfectly channeled Bruno Mars' look and essence with "24K Magic."
On any other day, Zendaya likely would have won this. But up against Holland's "Singin' In the Rain/Umbrella" mashup? There was no chance. Holland has you hooked from the first second and continues to top himself over and over until that stunning final fall. And the world was never the same.
He has said he doesn't like to talk about it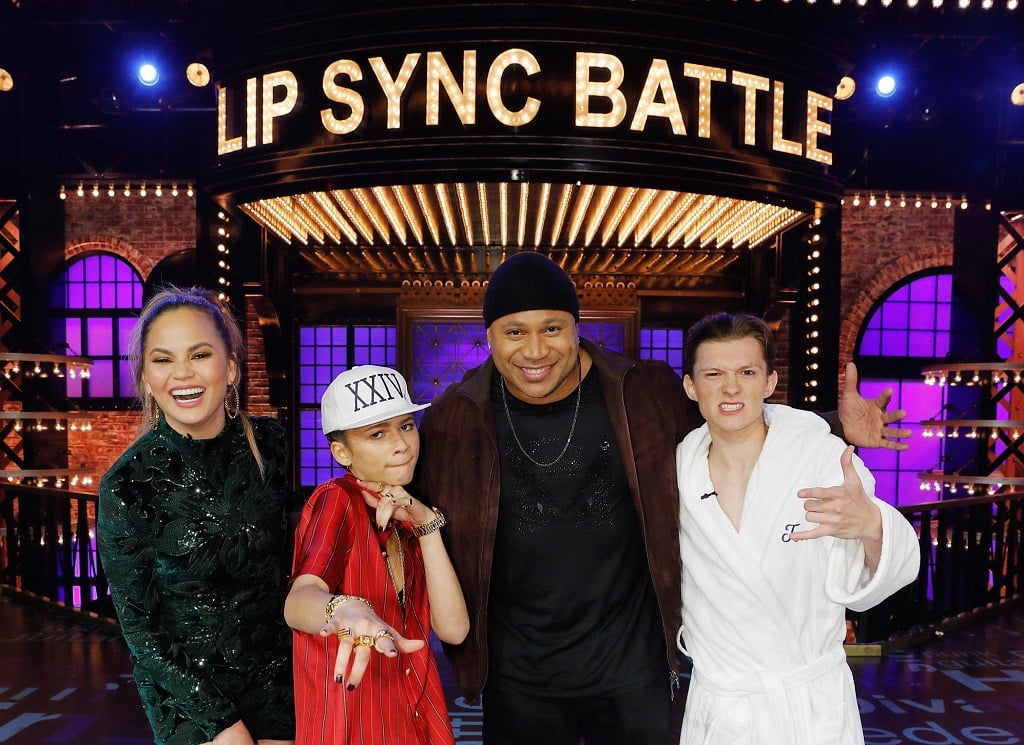 Two years later, when promotion began for Spider-Man: Far From Home, Holland and Zendaya began to get more questions about the performance, as well as requests for a repeat. Both gave solid "no" responses to this, sadly, with Zendaya calling it "the most stressful experience I think of my life."
As for Holland, frankly, he's sick of being asked about it. "I get more comments on the Lip Sync Battle [episode] than I do any of my actual work, ever," said Holland during an interview. "To the point where I'm like, over it. When someone brings up the Lip Sync Battle, I'm like, "Don't. Bring up. The Lip Sync Battle."
Holland would want to work with this other 'Lip Sync Battle' champion
Fortunately, Holland has embraced that he will continue to be asked about Lip Sync Battle until the end of time. In a recent GQ interview, he replied to a fan's question about what Rihanna might have thought of his performance, joking, "I'm sure she thought it was pretty mediocre." He continued, "But I've never met Rihanna. I don't know, I think she probably liked it."
Someone else wrote on Facebook, "I would love to see a [Lip Sync Battle] between Tom Holland and Channing Tatum [because] he brought out Queen B." Holland agreed, to a degree. "See that's why Channing is the winner. He wins the Lip Sync Battle. But I would love to do a Lip Sync Battle with Channing Tatum, but as a team," said Holland.
What did Channing Tatum's 'Lip Sync Battle' performance look like?
Tatum's performance isn't quite as well-known as Holland's. Still, it's another of the best Lip Sync Battle has ever given us. Given his dancing background, it's no wonder that Tatum — as well as his competitor, then-wife Jenna Dewan — knocked it out of the park.
Unlike many, Tatum went for broke not once, but twice. His first performance was a complete fairytale, as he performed "Let It Go" from Frozen dressed as Elsa. And if you thought he wouldn't crossdress twice — well, you were wrong. He topped it all off by channeling another Disney queen: Beyoncé.
And at the end of "Run The World (Girls)," Bey herself came out. In other words, he won without question. Now let's get that Tom Holland-Channing Tatum pairing we deserve!