The Surprising Reason Prince Charles Wore a Blue Suit Instead of Black for Princess Diana's Funeral
There is a specific reason Prince Charles wore a blue suit to his ex-wife Princess Diana's funeral (and the answer will surprise you).
More than two decades ago on Aug. 31, 1997, news broke that Princess Diana had died following a car crash in Paris. One week later on Sept. 6, 1997, she was laid to rest. Her funeral was seen by millions around the world and became one of the most-watched TV events in history.
A heartbreaking image from that day etched in the minds of many is of her two sons Prince William and Prince Harry, then just 15 and 12 years old, walking behind Diana's coffin with their Uncle Charles Spencer, Prince Philip, and Prince Charles. Something a number of people watching also noticed was that the Prince of Wales' suit was not black. His sons, father, and brother-in-law all wore black suits to show mourning yet Charles had on a navy suit instead. Because of his contentious relationship with his ex-wife and their divorce a year earlier, some wondered if that choice was just an accident while others viewed it as a sign of disrespect. But there is actually a very specific reason Prince Charles wore a blue suit that day and the answer might surprise you.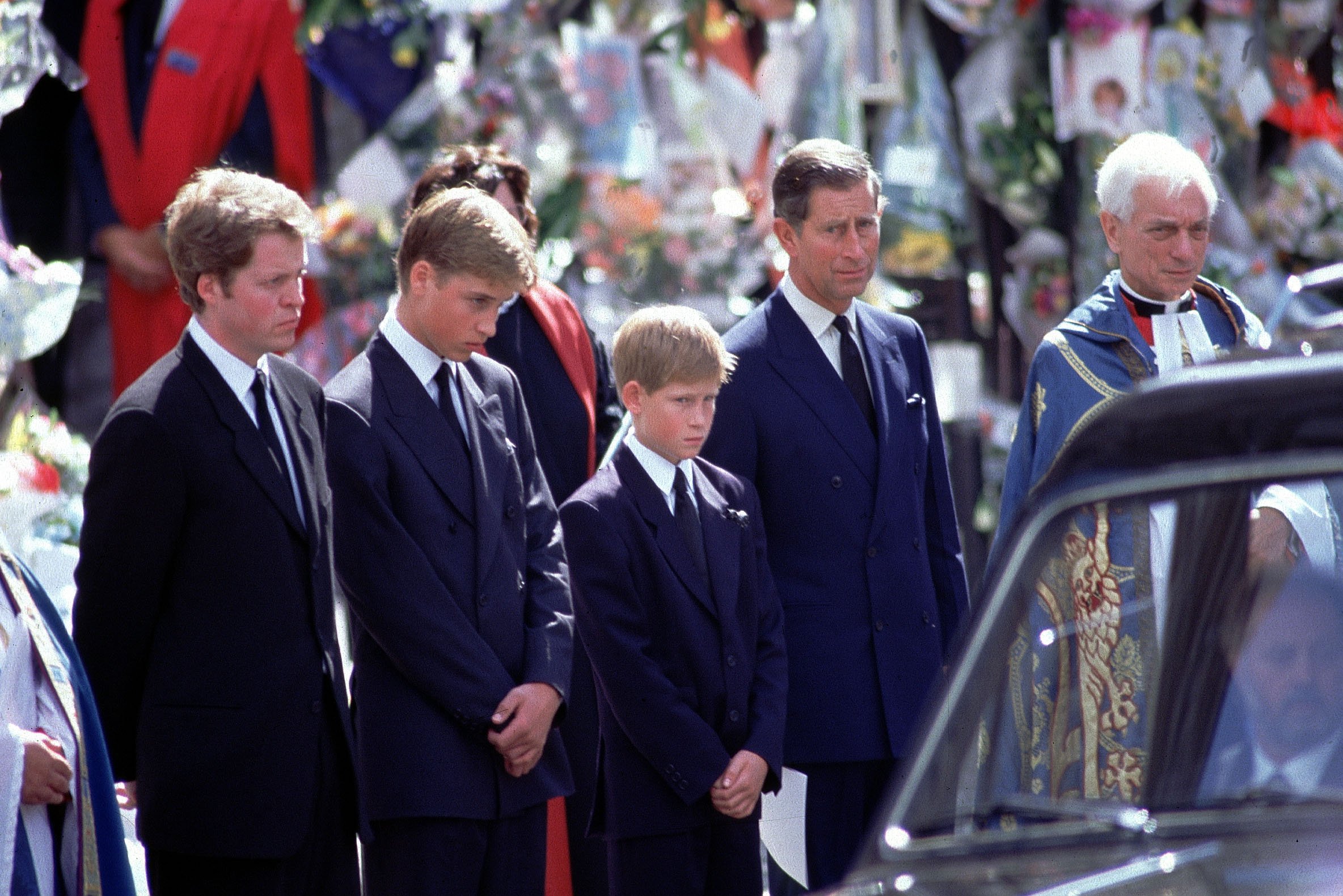 Royals usually wear black when mourning
Black is a color many people associate with death and mourning, and the royals are no different. They even have to bring a black outfit along on all their travels in case they get word that a loved one has died while they're away.
"Generally it is thought that black is not usually worn unless in mourning although Diana, Princess of Wales did occasionally wear it for evening functions, and the Duchess of Cambridge has been known to do so [too]," English Manner Chief Executive Alexandra Messervy told InStyle.
However, the men in the family tend to only wear the color for black-tie affairs and banquets or when mourning, which is why some were confused to see Prince Charles wearing a blue suit to the princess's funeral.
Why Prince Charles wore a blue suit for Diana's funeral instead of a black one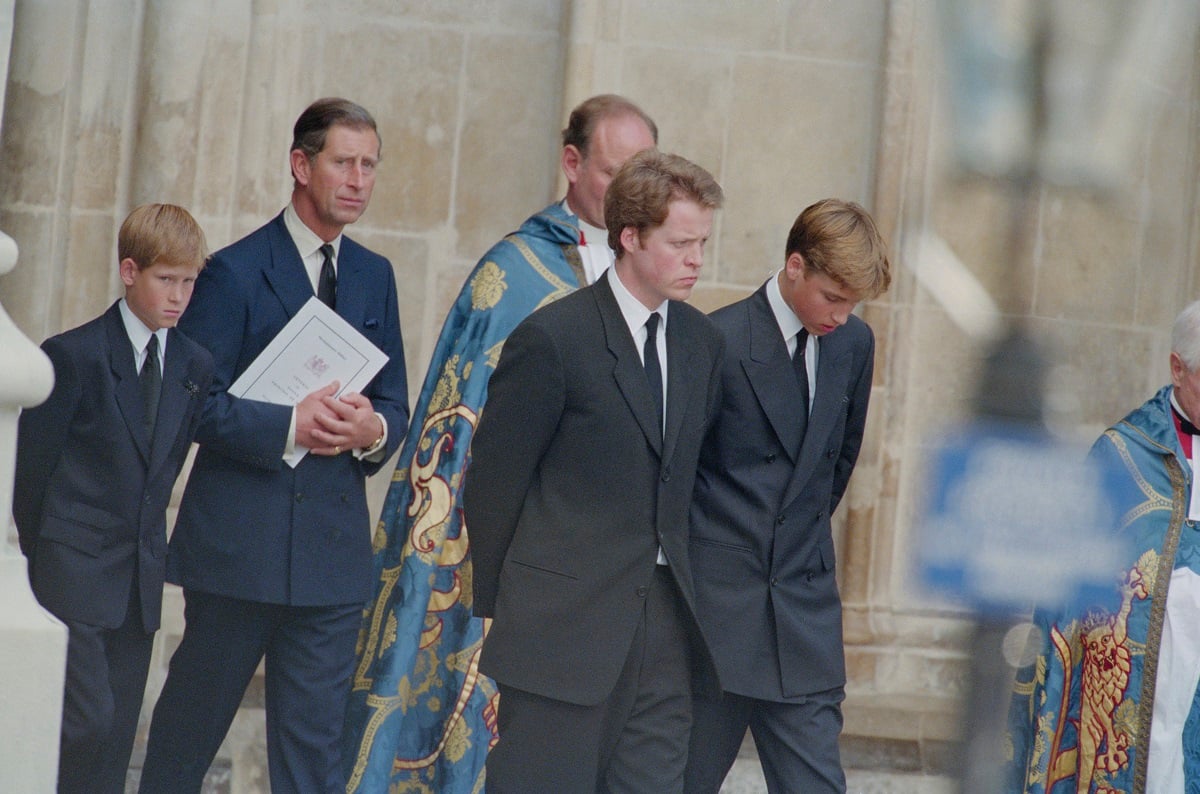 The Prince of Wales' color choice on the day of his former wife's funeral was deliberate and chosen as a tribute to the princess. He decided to wear navy blue because Diana loved that color on him.
"If you look at Prince Charles at her funeral, he didn't wear black, he wore a navy suit and that's because Diana liked him best in navy," Daily Mail editor Richard Eden told Palace Confidential.
The royal expert added that since Diana's favorite suit for a man was navy both of her sons wore dark blue suits in 2021 when they unveiled her statue in the Sunken garden at Kensington Palace.
"You might have noticed they were both wearing navy suits and Harry has been stuck to his grey suit ever since he met Meghan. I think she suggested, 'you look good in grey' and he's always worn it," Eden explained. "But on this occasion, he wore navy."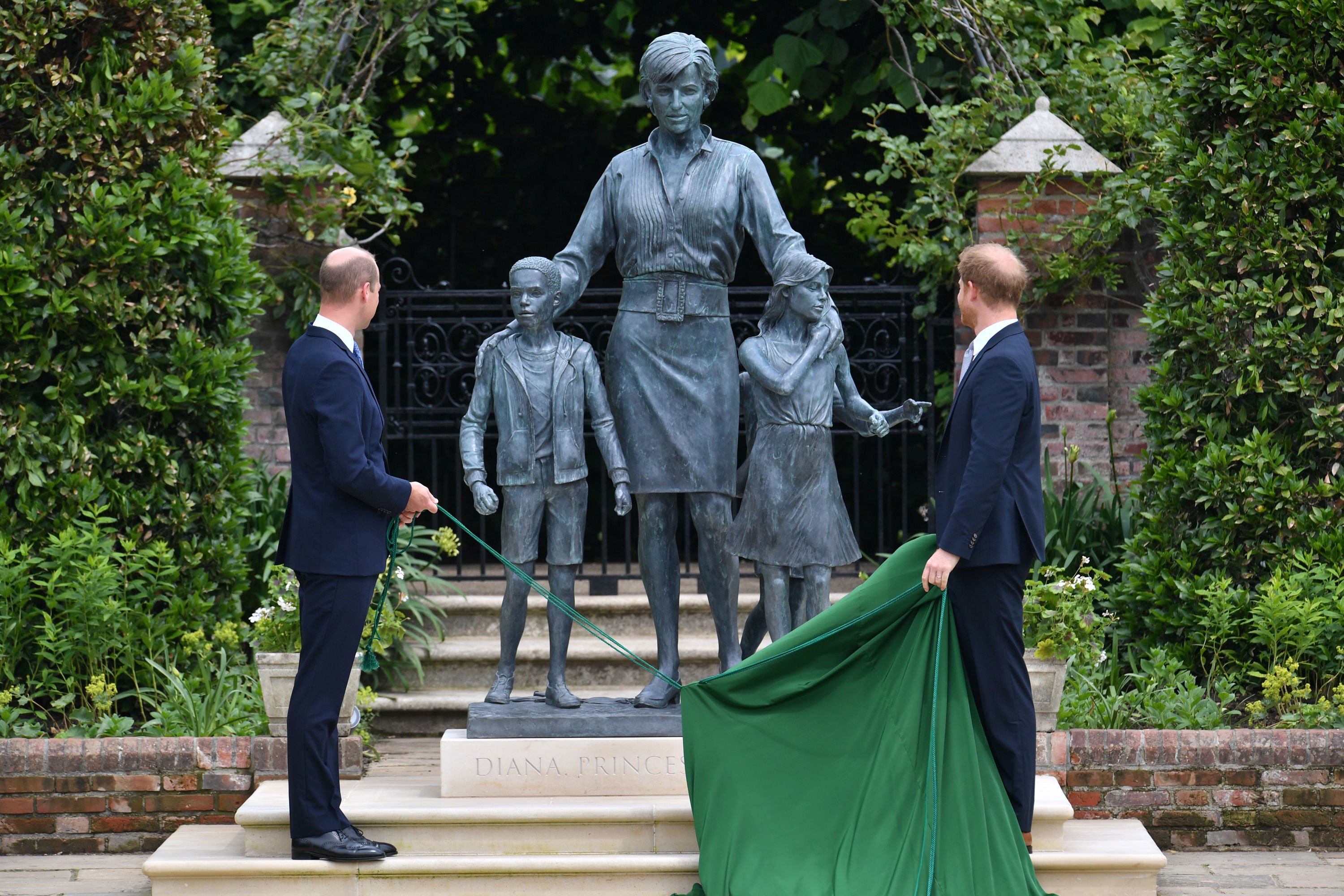 Where is Princess Diana buried?
Following the Princess of Wales' funeral on that somber day, many royal fans have wondered where she is buried and if anyone can visit her grave.
Diana was laid to rest at the Althorp Estate in Northampton, which has been the Spencer family home for centuries. Her grave is located on a small island in the middle of what's known as Round Oval and it is off-limits to the public. However, those who want to pay their respects to the People's Princess can do so at a memorial site located on the grounds.
"We all agreed that, with its beauty and tranquility, this was the place for Diana to be," Charles Spencer said of the site where his sister's grave is located.