'Surviving R. Kelly Part II': How Do These Four Alleged Survivors of R. Kelly Feel About Him Now?
On the three-part Lifetime docuseries Surviving R. Kelly Part II: The Reckoning, several survivors of R. Kelly's alleged sexual, emotional, and physical abuse came forward to discuss the allegations against him in more depth. Kelly's pending trial will begin in Apr. 2020, but he has denied all the accusations that have come his way.
As the five-episode docuseries concluded on its third night, Surviving R. Kelly Part II interviewees spoke out about their feelings about the R&B singer today. In particular, they were asked about R. Kelly's 2019 arrest on federal charges for sex crimes, kidnapping, child pornography, and obstruction of justice. 
The alleged R. Kelly survivors had very different takes on Kelly's arrest, how they relate to their memories with him now, and where they want to go from here.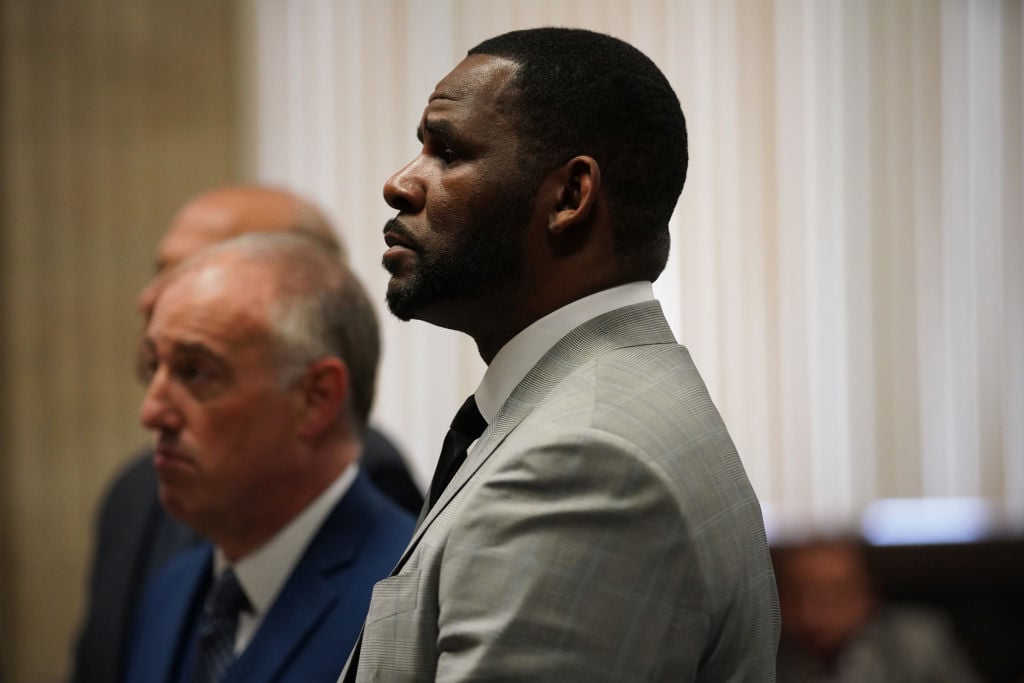 Asante McGee
Asante McGee, now 39, dated Kelly for two years and even moved in with him briefly. She accused him of emotional and sexual abuse over the course of their relationship, including what she described as an extreme level of control over her every move.
McGee said at the end of Surviving R. Kelly Part II: The Reckoning that she had no tender feelings for Kelly at all. "My feelings for Rob? I hate him to his guts," she said adamantly. "I don't want to see him. His voice scares me. The fact that federal charges have come against him, that is a huge step."
And despite the imminent possibility of what she would consider a form of justice, McGee said she was forever changed by what Kelly allegedly did to her. "But, I mean, I feel like he's ruined my life," she said.
Lizzette Martinez
Lizzette Martinez claimed R. Kelly began to coerce her into a sexual relationship when she was a 17-year-old high school student. According to Martinez's allegations, R. Kelly took her virginity when she was still under the age of consent in her state and was physically abusive to her on several occasions. The two bonded over their shared history of childhood molestation, which seemed to affect her current mixed feelings for the singer.
On Surviving R. Kelly Part II, Martinez said she considered Kelly's arrest "karma." However, she also pushed back at trolls who claimed she was lying about her story or that she just wanted to see him hurt. 
"I think I will always care about him, and I will always love him. Even though it was terrible, it's like, I love the little soul, the little boy. And I am not happy, and I am not boasting, 'Oh, I took him down.' That was not my intention," Martinez said on the docuseries. "My intention was just to tell my story, to maybe reach to him and say, 'There's something wrong with me. I've been doing this for too long.' That was my point in telling my story…I don't want to hear from the trolls anymore, I don't want to hear from anyone."
Martinez even said she had forgiven Kelly for wronging her and that she hoped he got the help he needed. "I'm telling you myself, I will always love him. That's it. The good part of him, the little boy that's wounded. Because I still have a little girl inside me that's wounded. And he hurt me. But I forgive him. I forgave him," she said, breaking down in tears.
Kitti Jones
Kitti Jones was 33 when she began dating R. Kelly. Jones alleges that, over the course of their relationship, Kelly coerced her into sexual acts against her will and manipulated and controlled every aspect of her day after she moved in with him.
Jones had mixed feelings about Kelly as a person, although she was relieved by his arrest as she hoped it meant he couldn't continue his alleged behavior. 
"I don't think people realize that that was somebody that I loved at one point. And it wasn't a celebration…to watch him lose everything," Jones said on Surviving R. Kelly Part II. "But I knew if I didn't say something, that it would keep going."
Tiffany Hawkins
Tiffany Hawkins is often known in the media as "Kelly's first victim" because she was the first to sue him for allegedly having sex with her when she was underage. Hawkins had hoped to work with Kelly musically, but she claimed that, instead, he controlled her and sexually manipulated her.
Although Hawkins, like Jones, was relieved that Kelly was arrested, she hinted that she didn't know if he was fully aware of the damage he had caused. "I think that he's sitting in jail, and it's like having a 14-year-old boy sitting in jail," she said on the docuseries. "And there are a lot of people that are footloose and fancy-free right now that should be there too."