'Surviving R. Kelly Part II': Should People Still Listen to R. Kelly? Industry Experts, Including Beyoncé's Dad, Debate
Lifetime's three-part, five-episode docuseries Surviving R. Kelly Part II: The Reckoning, which dives deep into the decades of sex crime and abuse allegations against R&B singer R. Kelly as he awaits trial, concluded on Jan. 4. (R. Kelly has denied all allegations against him.)
The docuseries closed with a call to take sexual violence allegations more seriously and to consider the role of celebrity culture in ongoing sexual abuse. In particular, on Surviving R. Kelly Part II, performers and activists alike debated the #MuteRKelly movement. Oronike Odeleye and Kenyette Barnes began the movement, which sought out to criminally convict Kelly and to end financial support for his music career, in 2017. 
Some documentary interviewees believed that "muting" R. Kelly was the only ethical response to the allegations against him. Others believed they could separate art from artist.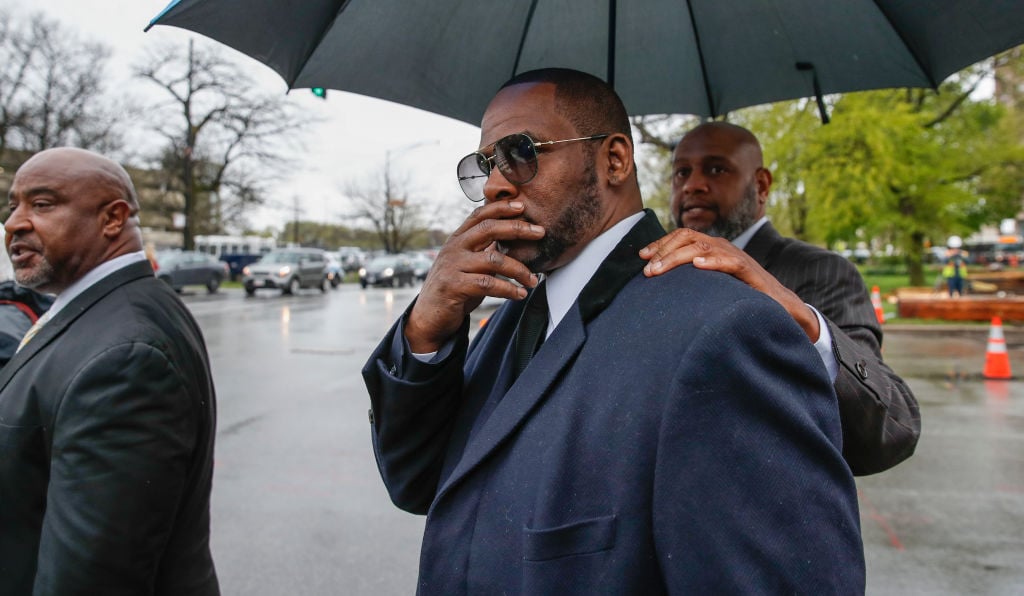 An influential nonprofit founder asked listeners to consider turning off R. Kelly's music
Joanne Smith, President and CEO of the nonprofit Girls For Gender Equity, argued on Surviving R. Kelly Part II that those who have no problem continuing to listen to R. Kelly and support him financially need to examine their intentions. 
"If you can still listen to his music knowing what he has done, you may need to come to terms with your own survivorship around sexual violence and your own contentment around the way in which girls are treated," Smith asserted. "You are choosing R. Kelly over black women and girls who are in your family, who you may have birthed, who may have raised you."
She also said that the fact that many alleged R. Kelly survivors have supported the #MuteRKelly movement should be taken into account. "In my opinion, his music is violent," Smith said on the docuseries. "His music is triggering for so many. That's enough for me to know that this music isn't healthy or something that I should be listening to."
In support of Smith's view, some advocates have pointed out that R. Kelly's music was in many ways linked to his alleged sexual abuse. He produced Aaliyah's album Age Ain't Nothing But a Number around the same time he (illegally) married her when she was just 15. What's more, the wealth he gained from producing and performing music reportedly allowed him to confuse and impress young girls, as well as to sweep his alleged actions under the rug by hiring an extensive legal team.
A few interviewees believed R. Kelly's music had nothing to do with his alleged crimes
Actor/producer/author Sheryl Lee Ralph argued that R. Kelly's troubled past couldn't be easily separated from his musical talent. "You know, there are a lot of artists who have the genius mind, and they're just in a different state," Ralph said on Surviving R. Kelly Part II. "But their music, their art, their words, they live on. I mean, we could go down a whole list of great artists just as troubled as could be. But they left us gems and jewels…so I don't know if we could separate the two." 
Mathew Knowles, a music industry executive as well as a professor, author, and public speaker (and father of Beyoncé and Solange), made a similar "art for art's sake" argument, suggesting that R. Kelly's music could be appreciated entirely separately from his personal behavior. "I could see how some could maybe feel that way, that we should not support R. Kelly with his art," said Knowles. "But it is to me just that, art. When I look at a painting on the wall, the first thing I think of is not who painted that art, it's how it makes me feel."
Some experts called for a middle ground
Jim Derogatis, a journalist, broadcaster, professor, and author of Soulless: The Case Against R. Kelly, has been following the R. Kelly allegations for 20 years. He argued that, while it might be acceptable to listen to R. Kelly's music for your own reasons, people should be aware of the context and make a note of the pain he allegedly caused in others' lives. 
"Nobody's saying, 'Burn his records.' They're saying, be aware of the context," Derogatis said on Surviving R. Kelly Part II. "Be aware of what he's really saying in that canon of music. Be aware of the pain that he's caused to people."
Jimmy Maynes, a music industry professional and veteran artist manager who worked with R. Kelly, wondered aloud if we should ask artists who would have made money from R. Kelly's songwriting and production to "put that money to use and give it to a family so that this doesn't happen again." "Are we gonna do that?" he asked. "Maybe we should."