'Survivor 40: Winners at War': Boston Rob Mariano Reunites With Amber on the Edge in Bonus Scene
During Survivor: All-Stars, Boston Rob Mariano, and Amber Brkich Mariano met and fell in love. Sixteen years and four kids later, the married couple returned to Survivor for the first all-winners season, Survivor 40: Winners at War, but were both voted out pre-merge.
Boston Rob reunited with his wife on the Edge of Extinction in a bonus scene.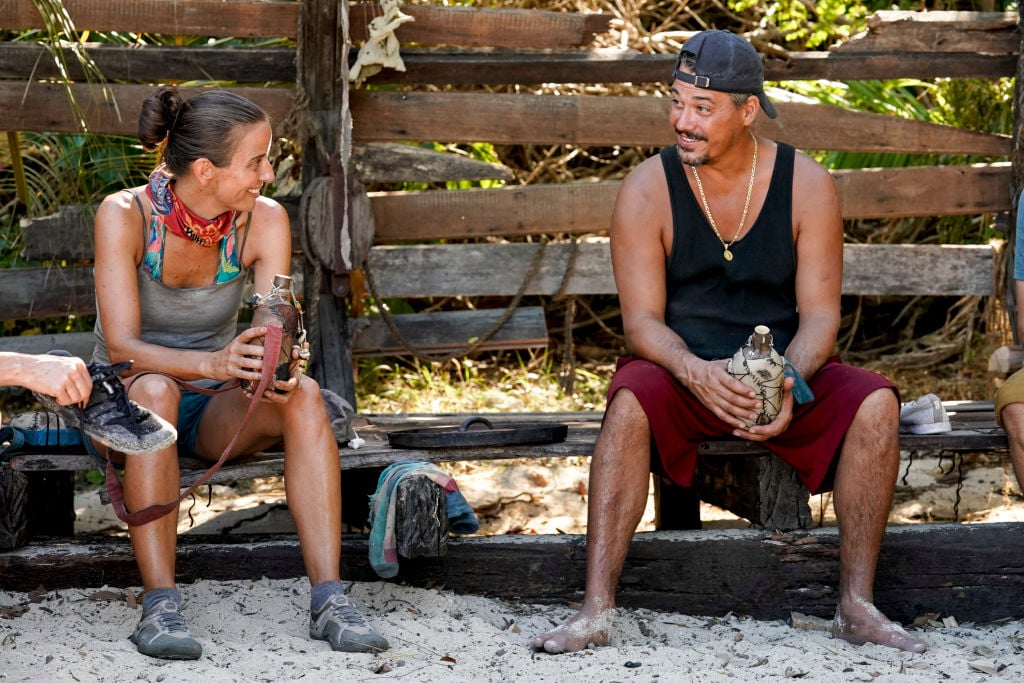 Boston Rob and Amber Mariano voted out pre-merge
In the premiere episode, Dakal lost the second immunity challenge, sending the tribe to Tribal Council that night. After doing his homework on fellow competitors before the season started, Yul Kwon realized Sele tribemates Boston Rob Mariano and Jeremy Collins along with Dakal members Tyson Apostol and Kim Spradlin-Wolfe competed together in a poker tournament last year.
He then spread the information around the Dakal tribe to paint targets on their backs, causing Tyson and Kim to scramble. The tribe unanimously decided to eliminate Rob's wife, Amber, because she was a part of the "poker's alliance" by default, and her bond with the Redemption Island winner proved way too strong.
The Robfather controlled his Sele tribe until he was blindsided by the elimination of his ally, Ethan Zohn. He then swapped to an expansion tribe, Yara, with two Sele members he didn't trust, Ben Driebergen and Adam Klein.
Even though Rob seemingly sat in the majority over Sarah Lacina and Sophie Clarke, he resorted to his old strategy of the "buddy system," which didn't go over well with the Yara tribemates.
While Adam and Ben listened to the Robfather and refused to have side conversations with the ladies, they still unanimously voted him out, without the former Dakals having to use their advantages.
Boston Rob and Amber Mariano reunite at Edge of Extinction in bonus scene
On Night 14, Boston Rob arrived at the Edge of Extinction, asking, "Is this where the party's at?" Amber immediately stood to greet her husband, and they kissed and embraced.
In a confessional, Rob admitted he was "optimistic" heading into Tribal Council, "but they got me." He also noted he doesn't plan on being on the Edge long; he's just "taking a vacation to see his friends and wife."
While Amber hugged Rob, she claimed she "didn't want to see" him, but admitted she was "beaming" and "very happy" to reunite with her husband in a confessional.
Rob explained to the group that Adam "pretended" like he wanted to work with the Redemption Island champ the whole time, and called the Millennials vs. Gen X winner a "smart" and "astute" competitor.
His "old school" ally, Ethan, asked why the tribe eliminated him, and Rob answered, "to hurt me." The Africa champ then pretended to look hurt and joked, "so it wasn't anything personal?" Rob laughed and told his friend to "get yourself together."
Then, Tyson asked the five-time player who he bequeathed his fire tokens to, and Rob explained he gave them to his number one ally, Parvati Shallow because she "has a rough road ahead of her."
In a confessional, Amber said she "really hopes" her husband "gets back in" because she believes in him and knows he "has an amazing heart for this game."
Rob promised being on the Edge does not curtail his zeal to compete because he "loves the game" and will "figure out a way" to "make it to the Final Two" with Amber again.
The scene ended with the married couple cuddled up, and Rob joked that he had his wife while the others didn't. Survivor 40: Winners at War airs Wednesdays at 8 p.m. EST on CBS.