'Survivor 40': Nick Wilson Named Several Alliances Again but They Didn't Make the Show
In Survivor: David vs. Goliath, winner Nick Wilson famously named several one-on-one alliances, similar to the Big Brother tradition. He also named several partnerships in Winners at War, including a few with eventual winner Tony Vlachos. However, the alliances nor their names made it into the show.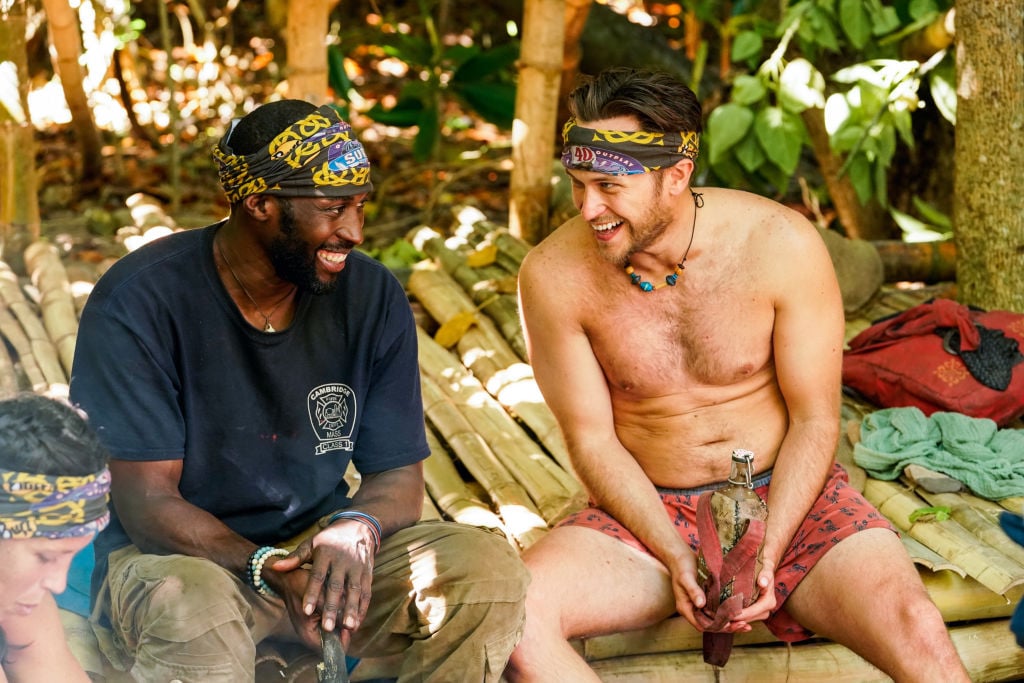 Nick Wilson named alliances on 'Survivor 37: David vs. Goliath'
After barely surviving the first elimination, Kentucky-based public defender Nick Wilson began creating several alliances with different castaways.
A huge Big Brother fan, he wanted to incorporate a lot of strategy from the CBS reality series, including the tradition of naming alliances. The "David" quickly aligned with tribemate Christian Hubicki and called it the "Mason-Dixon Alliance" because of where the two lived.
He also created the "Thoroughbreds" with Elizabeth Olson as they're both from the country. During this time, Nick also became close to Davie Rickenbacker, who formed the "D**k Alliance" by combining their names. Davie shared the racy name on his Instagram account after the season as it didn't make the show.
The Kentucky-native later aligned with Mike White, collectively the "Rockstars," Alec Merlino, together "Surf 'N' Turf," Carl Boudreaux, together the "Rattlers," and John Hennigan, collectively the "Torch Snuffers," although the latter were never able to work together in the game.
Nick Wilson returned for 'Survivor 40: Winners at War'
Not even a year after Nick won David vs. Goliath, in a 7-3-0 vote, the 29-year-old attorney returned for Winners at War to compete against 19 other former champs.
Initially placed on Dakal, Yul Kwon quickly recruited Nick, Wendell Holland, and Sophie Clarke to join his alliance of unconnected players. In the tribe swap, Nick switched in the majority alongside Yul and Wendell.
After they voted together to eliminate Parvati Shallow, allies Nick and Wendell turned on Yul and sent the Cook Islands champ to the Edge of Extinction.
At the merge, many castaways mentioned Nick's name as an easy vote or someone else to place votes on in case of an idol. Nonetheless, he consistently found himself as the swing vote, mainly due to his alliance with Tony Vlachos.
After Tony caught Nick lying to him, he began not to trust the recent winner and blindsided him at the Final Six. Nick failed to win the last re-entry challenge and joined the jury, where he eventually cast his vote for Tony.
Nick Wilson also named alliances in 'Survivor 40: Winners at War'
In an interview with The Survivor Specialists, Game Changers winner and Winners at War castaway Sarah Lacina explained that Nick named several alliances during Season 40 that didn't air.
According to the Iowa-based police officer, he had one with Sandra Diaz-Twine, Wendell, Tony, and Sarah named The System during their early days at the Dakal tribe. Later, she and Nick had an alliance he named Law and Order due to their professions.
His final alliance included Ben Driebergen, Sarah, and Tony, and he called it the Brigade. Nick most likely also had other named alliances with castaways excluding Sarah, so hopefully, he reveals the rest of them.