'Survivor 40: Winners at War': Why Fans Are Defending Wendell Holland's 'Showboating' in Puzzle Challenge
Wendell Holland rubbed his 'Survivor 40: Winners at War' tribemates the wrong way when he began 'showboating.' Fans explain why he called for Jeff Probst.
Survivor: Ghost Island champ Wendell Holland has rubbed fans the wrong way lately with his "cocky" demeanor this season, and they don't like the way he treats ex-girlfriend and tribemate, Michele Fitzgerald. During the most recent immunity challenge, Wendell continually called out to Jeff Probst in a way ally Nick Wilson described as "showboating." Fans are defending Wendell's reasoning for calling out to Jeff in the immunity challenge as they understand why he did it.
[SPOILER ALERT: This article contains information released in Survivor 40: Winners at War Episode 7.]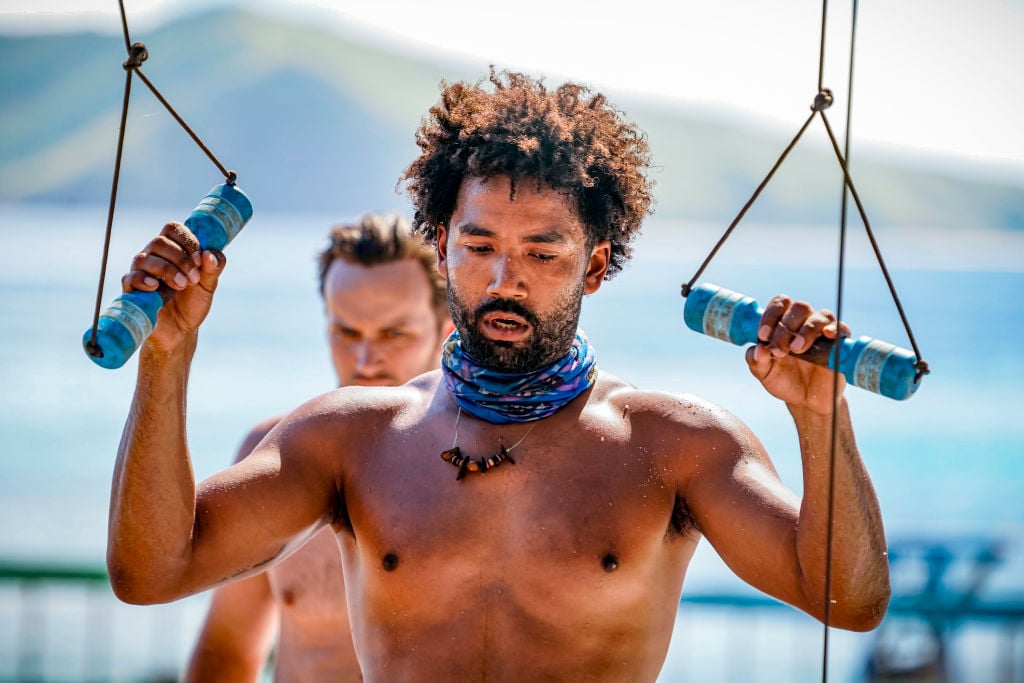 Wendell Holland on 'Survivor 40: Winners at War'
Almost two years after he won Survivor: Ghost Island in one of the closest votes in the franchise, Wendell Holland returned to compete against 19 former champs in Survivor 40: Winners at War.
Season 13 Cook Islands champ Yul Kwon almost immediately started a "free agents alliance," which consisted of himself, Sophie Clarke, Nick Wilson, and Wendell Holland.
They were going strong until Yul, Nick, and Wendell swapped to NuSele, joining Michele Fitzgerald and Parvati Shallow. The three voted together to send Parvati to the Edge of Extinction, but the group divided once Wendell made it clear he was willing to do anything to win. 
NuSele put off by Wendell Holland 'showboating' in puzzle challenge
In Survivor 40: Winners at War Episode 7, the castaways competed in an immunity challenge, first seen in David vs. Goliath. The contestants had to fill a sizeable disc-shaped bowl with water and then pour it into a shallow well, which released a bag of puzzle pieces when full.
Then, the first two teams to complete the puzzle on the disc-shaped bowl earned immunity and avoided Tribal Council. While carrying the container to the well, Jeff Probst pointed out how much water they lost, and Wendell told him to "not exaggerate."
The expansion tribe, Yara, quickly won, followed by NuDakal and NuSele, who were neck and neck. When Wendell and Michele had two pieces left, he told Jeff Probst they were "almost done."
Nick advised him to focus on the puzzle, but Wendell explained he needed the executive producer's attention. The team lost to NuDakal in only a matter of seconds, and Nick and Yul blamed Wendell's "showboating" for the loss. 
Why fans are defending Wendell Holland
In Wendell's season, Ghost Island, he won an individual immunity challenge, but another castaway and his ally, Laurel Johnson, got Jeff Probst's attention first, and he declared her the winner.
In an Entertainment Weekly article, the executive producer admitted they do not look at replays to confirm who won the challenge. Instead, they have spotters and a team of producers who help him decide if needed.
Therefore, a Reddit user believes "it was perfectly reasonable if not advisable for Wendell to try to call Jeff over a little bit before they finished the puzzle" because the executive producer stood across the way next to NuDakal.
While some agreed, many pointed out that the Ghost Island winner talked back to Jeff Probst while they were on the balance beam, which also could have annoyed his tribemates.
Several fans think he had a logical reason to call Jeff over a few seconds before they finished. However, Yul and Nick saw it as "showboating" that cost them the win. Survivor 40: Winners at War airs Wednesdays at 8 p.m. EST on CBS.