'Survivor 40: Winners at War': Amber Mariano Catches Her First Fish in a Deleted Scene
After competing in The Australian Outback (2001) and All-Stars (2004), Amber Mariano has never caught a fish. In a deleted Survivor 40: Winners at War scene, the All-Stars champ finally captured her first fish and immediately wanted to share the news with fellow competitor and husband, Boston Rob Mariano.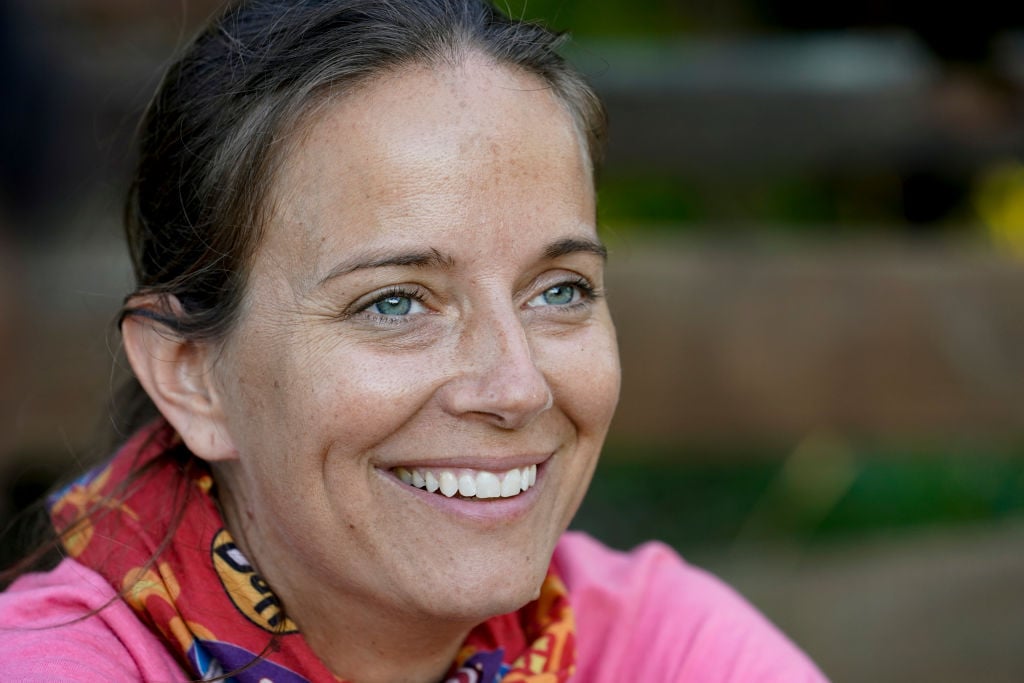 Amber Mariano before 'Survivor: Winners at War'
In 2001, Amber made her Survivor debut on the second season, The Australian Outback. She, alongside her close ally Jerri Manthy, were in the majority alliance and easily made it to the merge.
However, their alliance blindsided Jerri at the Final 8, leaving Amber on the bottom. Her tribemates then voted to eliminate her two Tribal Councils later because her social game and under-the-radar strategy presented a threat.
She returned six seasons later for All-Stars and immediately aligned with Boston Rob Mariano. Even though she initially flirted with him as a strategy, it quickly turned into a real thing, and the two made it to the Final Tribal Council.
Due to Rob's cutthroat approach, which rubbed the jury the wrong way, they awarded the win to Amber in a 4-3 vote. Rob proposed to Amber at the live reunion, and they competed on Amazing Race Season 7 as an engaged couple, placing runner-up, before marrying in 2005.
The couple also parents four daughters together: Lucia Rose (10), Carina Rose (9), Isabetta Rose (7), and Adelina Rose (5).
Amber Mariano on 'Survivor: Winners at War'
After a 15-year hiatus, Amber re-emerged to compete on the first all-winners season, Survivor 40: Winners at War. Separated from her husband and Survivor legend, Boston Rob Mariano, Amber attempted to navigate throughout the game.
Even though it looked like she built good connections on her Dakal tribe, the unbreakable bond she shares with the first five-time player proved too much of a threat, and her tribemates promptly voted her off first from their tribe.
Amber greeted Natalie Anderson at the Edge of Extinction, and the two tried to find a clue for a fire token or a hidden immunity idol. Even though both seemingly searched every edge of the island, Natalie found the advantage she eventually sold to ally Jeremy Collins in the water well alone.
In a deleted scene, Amber caught her first fish in her Survivor history without any help.
Amber Mariano caught her first fish in three seasons of competing
On Day 6, Amber went fishing on the Edge, "bound and determined to get something." She explained she first tried to catch something with a "pretty big hermit crab" as bait and waited for around half an hour.
Then, she thought she felt a fish catch, but when she pulled the hook back up, her bait disappeared. Unfazed, the All-Stars winner found another hermit crab, this one only a baby, and put it on the end of her hook, not expecting to catch anything.
However, after ten minutes, she reeled in a decent-sized parrotfish and "never felt so excited." Of course, Amber wanted to immediately "pick up a coconut phone" and notify her husband, "you don't have to worry about me; I'm doing just fine!"
She ended her moment by telling the camera she knows how proud her husband will be of her, and she "can't wait for him to find out." Watch Survivor 40: Winners at War Wednesdays at 8 p.m. EST on CBS to see if Amber or Rob Mariano will win their second title.