'Survivor 40: Winners at War': Kim Spradlin-Wolfe Comforts a 'Traumatized' Sarah Lacina in Bonus Scene
After Survivor 40: Winners at War Episode 4, CBS uploaded a bonus scene featuring a homesick Kim Spradlin-Wolfe crying on Sarah Lacina's shoulder. Seven episodes later, the tables turned, and Kim consoled a crying Sarah, who didn't want to walk away from the game "feeling like a bad person."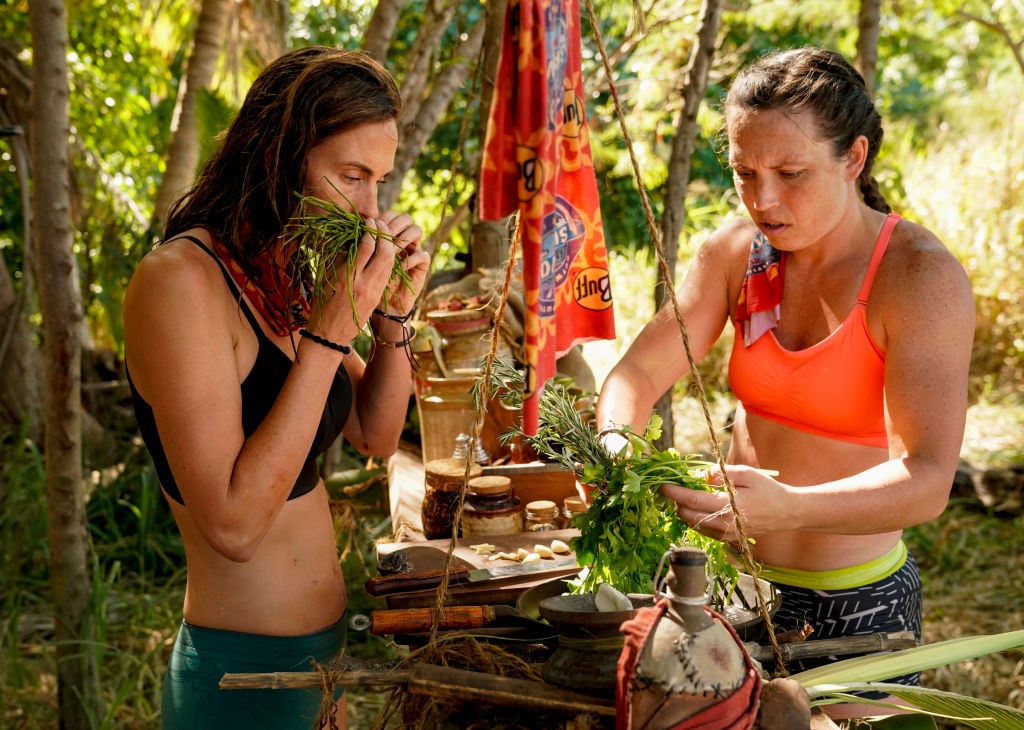 Sarah Lacina and Kim Spradlin-Wolfe returned for 'Survivor 40: Winners at War'
37-year-old Texas-based bridal shop owner Kim Spradlin-Wolfe and 35-year-old police officer from Iowa, Sarah Lacina, returned for Survivor 40: Winners at War to compete against 18 other former champs.
Both were initially placed on the dominating Dakal tribe but seemingly a part of different alliances. Even though they haven't defined their working relationship, the two hung out on the tribe often and were seen together in a few deleted scenes.
In one, Sophie Clarke and Kim taught Sarah how to french braid Tyson Apostol's hair. In another emotional bonus clip, the bridal shop owner cried on Sarah's shoulder as she feared her kids wouldn't understand her month-long absence due to their young age.
After the merge, the two were on separate alliances. Despite being on opposing sides, the two came together for the Iowa-based police officer's fashion show in Episode 11, where Kim modeled one of her designs.
Sarah Lacina opened up to Kim Spradlin-Wolfe
On Night 26, presumably right after Sarah's alliance blindsided Kim's ally at Tribal Council, the two talked at the water well. The bridal shop owner assured the police officer she's "playing a great game," but Sarah explained that "it's turned personal," which is exactly what she tried to avoid.
The Game Changers champ said the "same thing happened" when she won, so she debated on returning because of the "bad rep" she received from her aggressive gameplay.
After listening intently, Kim told her friend that she has "PTSD" from her last experience as the bridal shop owner revealed she went through something similar.
According to the One World winner, she also had a traumatic experience after her win, as many people made her feel like a "bad person." However, Kim explained they're both good people and reminded her that "everyone signed up for this."
In her confessional, the bridal shop owner admitted she didn't initially trust Sarah because she's "such a hustler" and good at deceiving people. After becoming friends with the police officer and hearing her story, Kim understands that people made Sarah "feel like a terrible person" and thinks her friend has been "carrying that around with her ever since."
However, she wants Sarah's experience to be different this time because none of them are bad people even though they are playing a "nasty" game.
Kim Spradlin-Wolfe comforted a crying Sarah Lacina
As Sarah sat on the ground crying, Kim stroked her hair and repeatedly reminded the Game Changers champ that "it's just a game," and "you're not a bad person." The police officer explained she "tries to protect everyone" but has realized she can't. Kim understood but told Sarah that's "too heavy" to carry and that the Iowa-native is only responsible for herself.
In her confessional, the police officer explained she won Game Changers because the jury felt like she "played the best game." But, they took her gameplay personally.
Therefore, Sarah didn't want to return for this season as she "walked away" from her victory, "feeling like a bad person." However, she noted that Kim "freed me to continue to play hard" because this season "deserves to have good players."
According to Sarah, the only way to be a "good player" is if you're "willing" to win by any means necessary. So, that's what she intends to do. Survivor 40: Winners at War airs Wednesdays at 8 p.m. EST on CBS.