'Survivor 40: Winners at War': Kim Spradlin-Wolfe Cries on Sarah Lacina's Shoulder in Emotional Deleted Scene
In 2011, Texas-based bridal shop owner and interior designer Kim Spradlin dominated Survivor: One World and won the Sprint Player of the Season, earning her another $100,000.
Even though some disregard her win because of the cast she competed alongside, she still put forth an incredible physical performance, winning four individual immunity challenges.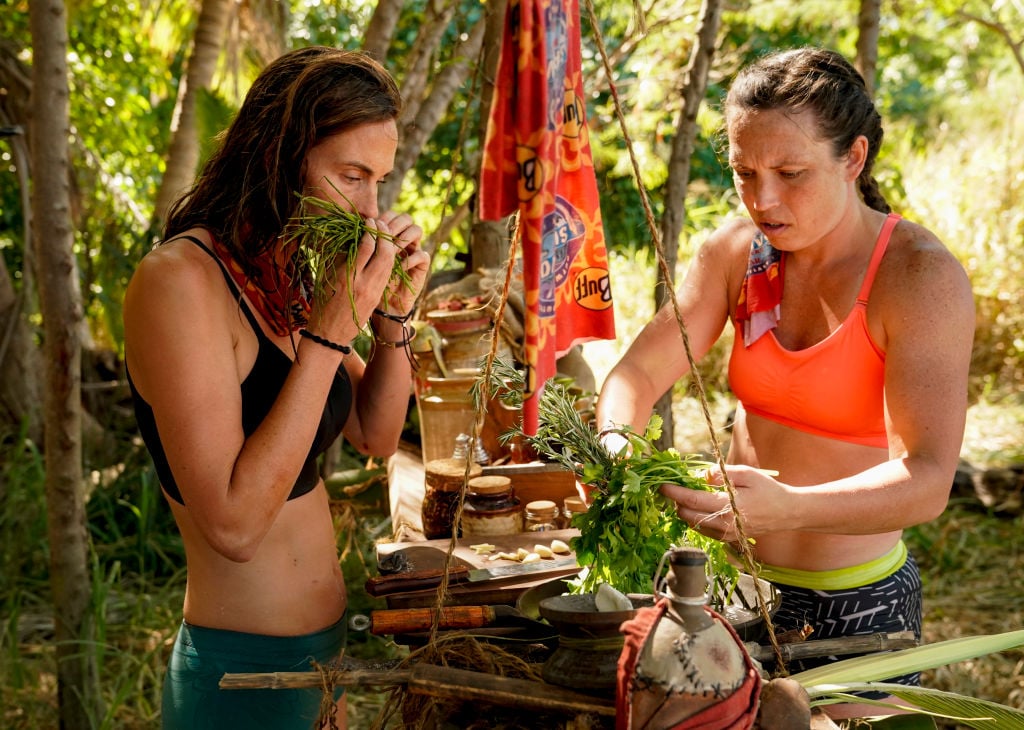 The One World champ returned eight years later for Winners at War to compete for another Sole Survivor title and a historic $2 million grand prize.
After nine days on the island, Spradlin-Wolfe began missing her family and leaned on Sarah Lacina for emotional support in a deleted scene.
Kim Spradlin-Wolfe on 'Survivor 40: Winners at War'
In 2013, two years after her dominating win in the 34th season, One World, Kim Spradlin married Bryan Wolfe. Her tribemates Kat Edorsson and Alicia Rosa attended. In February 2014, she and her husband welcomed their first son, Michael, followed by daughter August in May 2015, and then their youngest, Walt, in June 2016.
Two years later, she competed in a poker tournament alongside Survivor legends Boston Rob Mariano, Tyson Apostol, and Jeremy Collins.
In 2020, she returned to Survivor for the first time since her win for the 40th season, Winners at War, to compete against 19 other former champs for a record-breaking $2 million.
Unfortunately, the bridal shop owner's participation in the poker tournament put an immediate target on her back, and she quickly landed on the bottom for the first time in her Survivor life.
Her tribemates spared her and decided to send Amber Mariano to the Edge of Extinction as her connection with her husband, Rob, made her the biggest threat at the time.
The One World champ then found an idol that required her to give half of it to another competitor. Spradlin-Wolfe chose Sophie Clarke, who warned in a confessional the bridal shop owner shouldn't "trust the devil."
Because the Texas-native is on the dominating Dakal tribe, viewers haven't seen much of her. However, a bonus scene showed her crying on Sarah Lacina's shoulder when she began missing her family.
Kim Spradlin-Wolfe cried on Sarah Lacina's shoulder in deleted scene
While Lacina stood in the water, the bridal shop owner walked over to her, visibly upset. The two embraced, and Spradlin-Wolfe revealed she missed her husband and children.
Additionally, she feared her kids aren't "old enough to understand" her absence. In a confessional, the One World champ opened up more and explained she didn't have a family the first time she played.
However, now she's a mother and admitted leaving her three kids was "one of the hardest things I've ever had to do." The Texas-native also noted she played a more strategic game in One World, but this season she is "giving herself permission to be emotional, to be different, to cry on Sarah's shoulder."
Spradlin-Wolfe concluded by pointing out that even though she'll have a "different journey" this season, she still plans on overcoming her emotions and "playing my a*s off every day to stay here."
Survivor 40: Winners at War airs on Wednesdays at 8 p.m. EST on CBS.