'Survivor 40: Winners at War': Michele Fitzgerald Calls Parvati Shallow Her 'Best Friend' in Bonus Scene
In 'Survivor 40: Winners at War' Episode 5, original Sele tribemates Michele Fitzgerald and Parvati Shallow bonded in a bonus scene.
Around the summer of 2018, 36-year-old furniture company owner Wendell Holland and 29-year-old travel consultant Michele Fitzgerald briefly dated. In Episode 5 of Survivor 40: Winners at War, the former lovers swapped to the same tribe. Michele confided in original Sele tribemate, Parvati Shallow, regarding her feelings towards her ex, bonding the two. In a bonus scene, Michele referred to Parvati as her "best friend out here."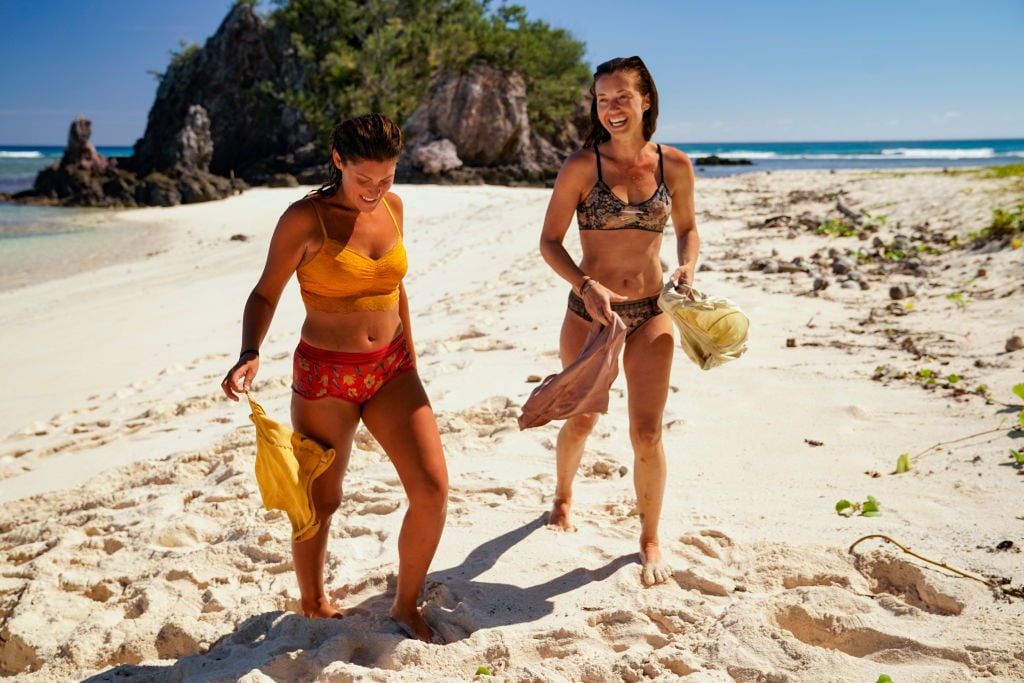 *SPOILER ALERT* This article contains information revealed in Survivor 40: Winners at War Episode 5.
Michele Fitzgerald and Wendell Holland briefly dated
Survivor: Kaôh Rōng champ Michele Fitzgerald and Ghost Island Sole Survivor Wendell Holland dated briefly after his season. It's unknown how long they dated, how serious they were, or why they broke up, but she recently posted pictures of them, presumably while they were still together, for his birthday.
In one photo, the two posed with each other in Times Square, and in another, they sat next to each other with Wendell's arm draped around Michele's leg. She also uploaded a video to her Instagram Story of the Ghost Island champ reading his "Fitzisms," or phrases Michele frequently says.
Michele Fitzgerald and Wendell Holland swapped to the same tribe
In Survivor 40: Winners at War Episode 5, the contestants "dropped their buffs" and swapped into three tribes. Former Sele members Michele and Parvati Shallow joined former Dakal tribemates and allies, Nick Wilson, Yul Kwon, and Wendell, to form NuSele.
Exes Michele and Wendell seemingly started on the wrong foot as the Kaôh Rōng Sole Survivor felt like he was keeping his distance from her. Michele vented her frustration in a confessional as she explained she felt Wendell "burned" her and "broke my trust."
Additionally, she made it clear she would not let her past relationship get in the way of her quest for the $2 million cash prize. While Michele described their relationship as "dating," Wendell said they "kicked it" in a confessional.
Even though the Ghost Island winner hinted it would be "awkward," he doesn't seem too bothered by his ex. Although the two were working in separate alliances on the old Sele tribe, Michele and Parvati bonded over the Kaôh Rōng Sole Survivor's "uncomfortable" predicament in a bonus scene.
Michele Fitzgerald calls Parvati Shallow her 'best friend' in bonus scene
When the ladies left to go to the water well, Michele admitted her ex is "bothering" her, and she's not "totally cool" about being "stranded on this island" with him.
However, the New Jersey-native claimed she'd "come to terms" with it, and Parvati said she felt bad for Michele's situation. In a confessional, the Kaôh Rōng champ shared the Micronesia Sole Survivor helps her "make light of the fact" that she's stuck with her ex, turning it into a "silly thing" rather than an emotional situation.
While retrieving water, Michele told Parvati it's "on my agenda" to give Wendell "a reality check." The Micronesia winner suggested cutting his hair "with a machete while he sleeps," but Michele revealed she wanted to "sabotage" his game instead.
The ladies started laughing, and Parvati helped pick out the coconut from Michele's teeth. Michele also noticed her "tendroils" for hair, causing them to laugh harder, so Parvati suggested they take "humor breaks to the well" more often.
Michele called the Micronesia champ her "best friend out here" because they "giggle, laugh, and have fun." She also described their friendship as "two peas in a pod." Will the new best friends go far in the game together?
Watch Survivor 40: Winner at War Wednesdays at 8 p.m EST on CBS to find out.