'Survivor 40: Winners at War': Parvati Shallow Teaches Ethan Zohn How to Lie in a Deleted Scene
In a deleted scene from 'Survivor 40: Winners at War,' Parvati Shallow taught ally Ethan Zohn how to lie. How did it go? Keep reading to find out.
Survivor legends Parvati Shallow and Ethan Zohn both won at least one season despite playing very different games. Parvati's cutthroat strategy won her the title in Micronesia, whereas Ethan solidified the victory in Africa with his social game.
In Survivor 40: Winners at War, the two are working together, and the stakes are higher, meaning Ethan might have to lie. In a deleted scene, Parvati coaches Ethan on how to tell a convincing lie.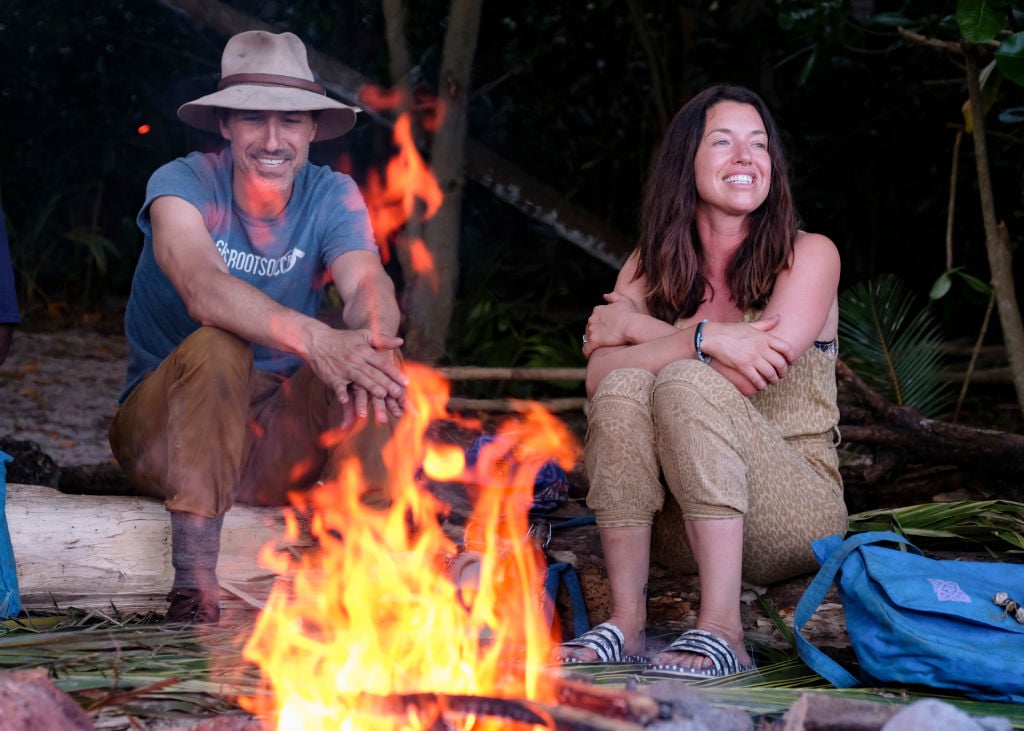 Parvati Shallow and Ethan Zohn before 'Survivor 40: Winner at War'
Ethan Zohn first competed on Survivor in 2001 for the third season, Africa. He created an alliance with Tom "Big Tom" Buchanan and strategic threat Lex van den Berghe which lasted throughout the game.
To their surprise, Kim Johnson won the last two individual immunity challenges, and his two original alliance members were eliminated. His social game earned him the title of Sole Survivor over Kim in a 5-2 vote.
Ethan came back five seasons later for All-Stars. His status as one of the only previous winners to return placed a target on his back. Even so, he outlasted all the other former champs when he was eliminated in 11th place.
Two years later, Los Angeles-based boxer Parvati Shallow made her Survivor debut on Season 13, Cook Islands. After ending up in the minority, her tribemates voted her out due to her reputation as a "manipulative flirt" in sixth place.
As a fan-favorite, she returned three seasons later for Micronesia. Parvati formed the Black Widow Brigade after the merge, and the four women dominated the rest of the competition.
They also convinced Erik Reichenbach to give up immunity at the Final Five in one of the most memorable moments in Survivor history. Her ally, Amanda Kimmel, took her to the Final Tribal Council, where Parvati won in a 5-3 vote.
She came back for Heroes vs. Villains as part of the Villain tribe and quickly aligned with newcomer Russell Hantz. Despite having the biggest target on her back, she successfully navigated throughout the game but lost to Sandra Diaz-Twine in a 6-3-0 vote due to her close alliance with Hantz. 
Parvati Shallow and Ethan Zohn aligned on 'Survivor 40: Winners at War'
Ethan and Parvati both returned for the only all-winners season, Winners at War. Even though the two haven't competed since 2004, or 2009 for Parvati, they jumped right in and joined an "old school" alliance on the Sele tribe led by Boston Rob Mariano.
While Parvati and Boston Rob are "number one" allies, Ethan is an integral part of the group and has created connections with a few new school players, including Ben Driebergen and Adam Klein.
In the most recent episode, the three took out Guatemala winner Danni Boatwright after she asked Boston Rob to help her blindside Parvati. In a deleted scene, the Micronesia champ coached Ethan on how to lie in case Danni asked him if he planned on voting her out that night.
Parvati Shallow teaches Ethan Zohn how to lie in a deleted scene
On Day 6, Parvati and Ethan were in the woods alone, strategizing about their alliance. She told him they "have to look out for each other" no matter what happens in the game, and he agreed because he knows it's going to get "crazier."
She advised him to "play smart" and reminded him, "the plan is Danni." He jokingly asked if he should tell the Guatemala champ they're voting her out, and Parvati sternly told him not to, although she knows he "wants to be straight-up and honest."
In a confessional, Ethan admitted he's "not the greatest liar in the world." Therefore, he wanted to "role play with Parvati," so he wouldn't look too suspicious if Danni asked him who he planned on voting for.
Parvati then pretended to be Danni and asked whose name he would write down, and Ethan jokingly bit his nails, looked all around, and stuttered. Parvati then faked as she slapped him in the face, causing them both to erupt in laughter.
They tried it again, and Parvati still didn't think he was convincing. While he felt it went "alright," Parvati believes they need to keep working on it. Watch Survivor 40: Winners at War Wednesdays at 8 p.m. EST on CBS.