'Survivor 40: Winners at War': Sandra Diaz-Twine Admitted Her 'Greed for a Fire Token' Led to Her Downfall
After mentoring the new castaways on Survivor: Island of the Idols, Sandra Diaz-Twine returned for the following season to compete against 19 other former Survivor champs for a $2 million cash prize. Even though Sandra came into the game with the biggest target on her back as the only two-time winner, no one mentioned her name, and she seemingly sat pretty in the majority. However, she admitted her "greed for a fire token" led to her untimely downfall.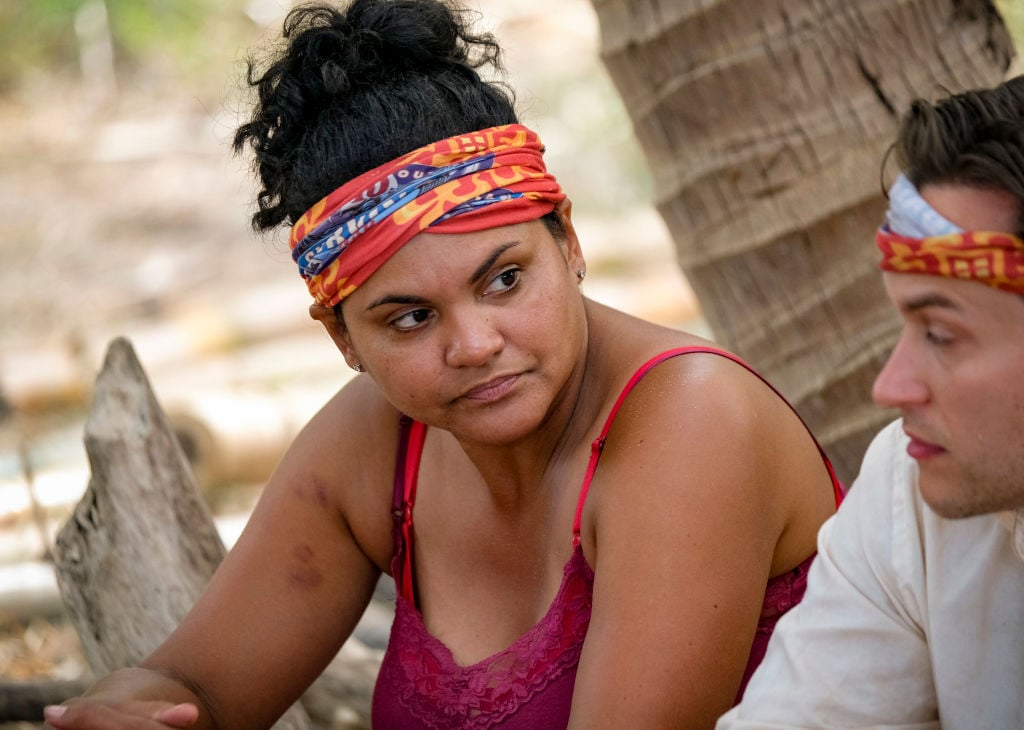 [SPOILER ALERT: This article contains information released in Survivor 40: Winners at War Episode 6.]
Sandra Diaz-Twine voted off 'Survivor 40: Winners at War' Episode 6
In Episode 5, the tribes swapped, and NuDakal consisted of former Dakal members Sandra Diaz-Twine, Kim Spradlin-Wolfe, and Tony Vlachos with former Sele tribemates Jeremy Collins and Denise Stapley.
They won their first immunity challenge but lost the second, sending them and another tribe to Tribal Council in a double elimination. Because Sandra sat comfortably in the majority and had an immunity idol that would have no power after that night, she struck a deal with Denise Stapley.
The ladies agreed Sandra would trade her immunity idol to Denise, not knowing the Philippines champ already possessed her own idol, for two fire tokens; one before Tribal Council and one after.
Sandra informed Denise that everyone would write her name down, and she needed to eliminate her original tribemate, Jeremy. Instead, Denise played Sandra's idol on herself and her other idol on Jeremy, and she wrote Sandra's name down, single-handedly sending The Queen to the Edge of Extinction.
In a pregame interview with Entertainment Weekly writer Dalton Ross, the contestants were asked who they would eliminate if they could vote someone out right then. Fittingly, Denise wrote down Sandra's name because she's the "original queen" but wants to end her "reign." 
Sandra Diaz-Twine admitted her 'greed for a fire token' led to her downfall
In an Inside the Episode, the two-time champ explained she always played by the renowned "anybody but me" game style but chose to "switch it up" and tried to make a move. However, she noted, "it screwed me royally."
Sandra explained she knew her idol would lose its value after the following Tribal Council and that Denise had two fire tokens. Therefore, she made a deal with Denise, not knowing the Philippines winner already had immunity.
The Washington-native admitted she wanted Jeremy gone because he bonded with Tony over their work professions, and she got jealous. Sandra also thought she was "saving" Denise, but the Philippines champ did not need it.
Additionally, Denise wrote her name down as a pre-vote out before the game began. Therefore, Sandra believes Denise was "out to get me from day one" and acknowledged the Iowa-native "played" her.
Even though the two-time champ was voted out on Day 16, the same day of her "demise" on Game Changers, this time was more "miserable" for her because she "did it to myself." Sandra admitted her "greed for a fire token consumed her" instead of sticking to her proven "anybody but me" method.
Survivor 40: Winners at War airs Wednesdays at 8 p.m. EST on CBS.