'Survivor 40: Winners at War': Sarah Lacina 'Reinforces' Connections at Camp by Braiding Tyson Apostol's Hair in Deleted Scene
Sole Survivors Sarah Lacina and Tyson Apostol both won their seasons strongly due to the incredible social game they played. In Game Changers, Sarah sat next to her longtime ally, Troyzan Robertson, in the Final Tribal Council, and Tyson took Gervase Peterson and Monica Culpepper, both of whom he formed very close bonds with, to the end of Blood vs. Water as well.
The two have returned for Survivor 40: Winners at War and are both playing that same type of game again. While they haven't explicitly put themselves in an alliance together, Sarah and Tyson bonded with each other and a few other Dakal members over braiding hair in a deleted scene.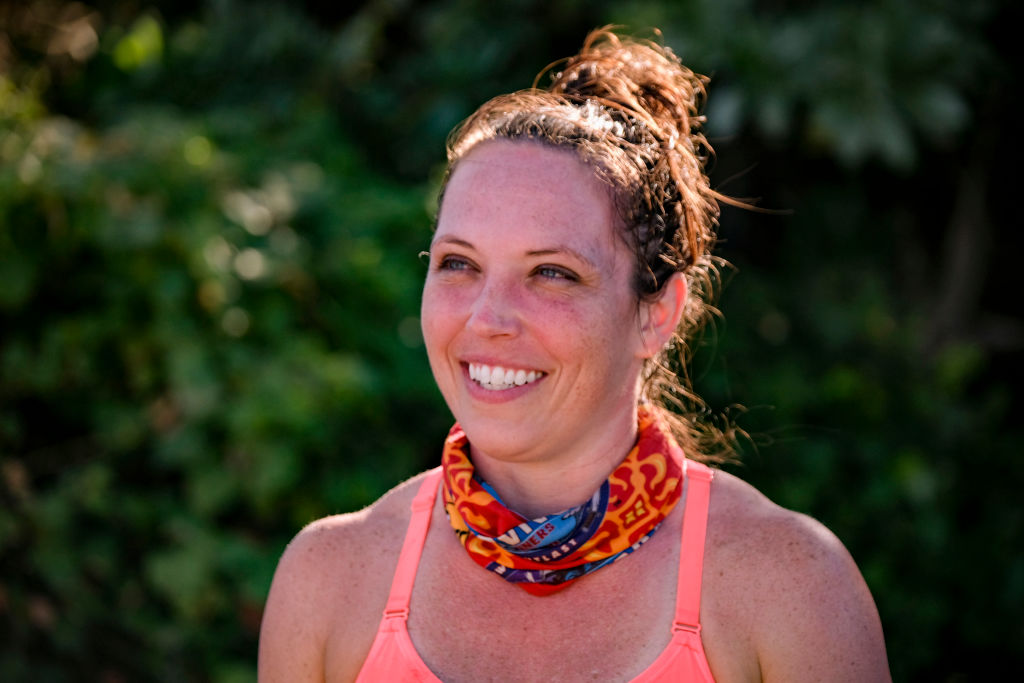 *SPOILER ALERT* This article includes information revealed in Survivor 40: Winners at War Episode 3.
Sarah Lacina successfully infiltrated the other camp
In Survivor 40: Winners at War Episode 3, Natalie Anderson found her third advantage at the Edge of Extinction and chose to offer it to Sarah Lacina. The Dakal member decided to buy it, which was a clue to a steal-a-vote hidden at the other camp in one of the Sele tribe member's torch.
Knowing how dangerous the task would be, she called fellow police officer and Cops-R-Us ally, Tony Vlachos, for help. The two spit into dirt to make mud, and Tony rubbed it on her face to disguise her.
Sarah then took off in the middle of the night in search of the advantage. Once she located the torches, the Iowa-based police officer had difficulty finding the steal-a-vote, and nearly woke up Ben Driebergen, who slept only a few feet away.
Finally, Sarah found the advantage and then "bolted," without any detection from a Sele member.
Sarah Lacina and Dakal members bond in deleted scene
On Day 9, Tyson Apostol asked Sarah to do his hair. She obliged and noted Sophie Clarke would teach her how to french braid it. In a confessional, Sarah explained, "anything can happen in Survivor."
Therefore, "the work doesn't stop once you build connections. You now have to reinforce that and continue to reinforce." She said she enjoyed the process of developing relationships and called it a "two for one" because she's "getting in the door but actually building a friendship with someone."
The scene then showed Sophie teaching Sarah how to braid with Kim Spradlin-Wolfe watching and Tyson making jokes. In Tyson's confessional, he explained Dakal is currently winning challenges, so he "can be relaxed and have fun and enjoy people, and they can enjoy me."
According to the Blood vs. Water champ, building connections with his tribemates is essential because that's how he plays the game. Once Sarah finished, Tyson showed his new french braids off to the girls, who thought Sarah did a great job.
The Game Changers winner asked Yul Kwon for his opinion, who agreed with the women. Tyson concluded the two-minute clip by high fiving everyone and referring to his new hairstyle as "tight."
Watch Survivor 40: Winners at War Wednesdays at 8 p.m. EST on CBS.