'Survivor 40: Winners at War': Tyson Apostol's Wife Tried Looking for Idols During the Loved Ones Visit
In the first two seasons Tyson Apostol played, he was eliminated before the loved ones visit and didn't receive a visit at all during Blood vs. Water since he competed with then-girlfriend, Rachel Fougler. Therefore, it was a dream come true when his wife and daughter, Bergen, ran out to greet him in Survivor 40: Winners at War Episode 10.
According to Rachel, she also attempted to help Tyson find a hidden immunity idol while everyone explored the island.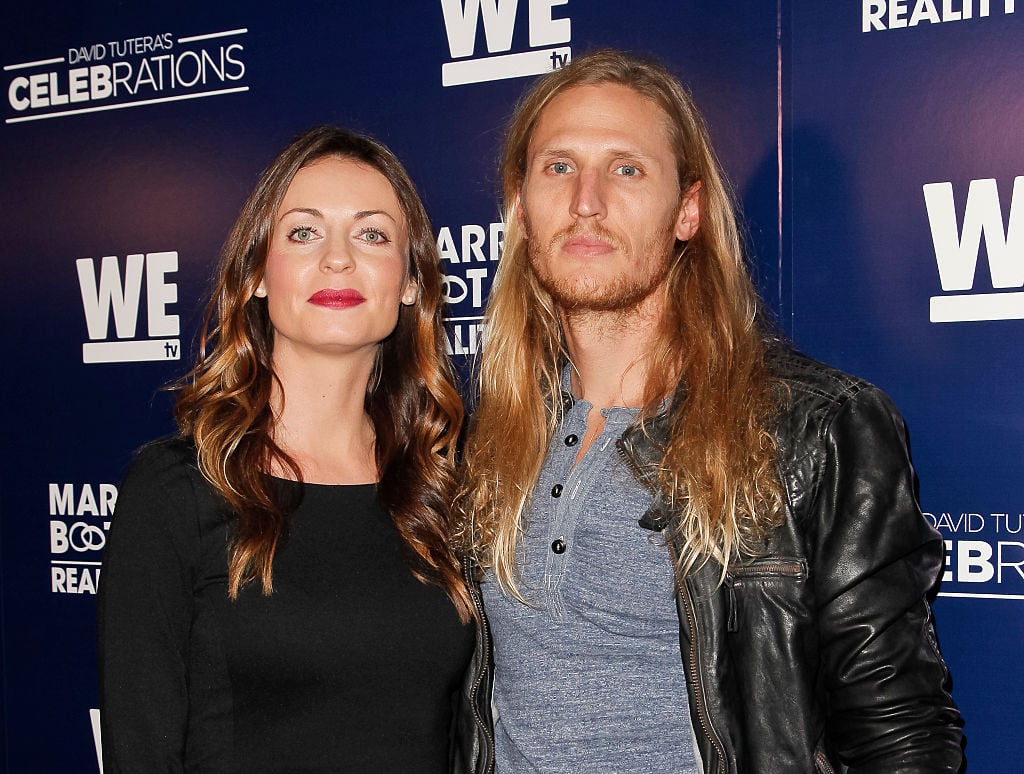 Tyson Apostol and Rachel Foulger on 'Survivor: Blood vs. Water'
In 2013, two-time returning player Tyson Apostol and then-girlfriend Rachel Fougler competed on Survivor: Blood vs. Water (Season 27) on separate tribes. Once Rachel's tribe lost their second immunity challenge, the men targeted her, hoping Tyson would take her place on Redemption Island.
However, he chose to stay in the game, and Rachel was officially eliminated after losing the duel to re-enter. Her early elimination inspired Tyson to mature into an extremely strategic player with a close alliance in Monica Culpepper and Gervase Peterson.
Additionally, he found two hidden immunity idols and won the last two individual immunity challenges. Tyson retained control of the game most of the time, even when faced with a minority alliance that forced them to go to rocks.
The cyclist, alongside his two main allies, made it to the Final Tribal Council, and his strong strategic and physical gameplay almost unanimously earned him the title of Sole Survivor.
Tyson Apostol and Rachel Foulger after 'Survivor'
In January 2015, the Utah-based couple appeared on WeTV's Marriage Boot Camp: Reality Stars 2. During the finale, Tyson proposed to his girlfriend of nearly seven years, and the two married in a private February 2015 ceremony, officiated by Survivor co-star, Stephen Fishbach.
The Utah-native also began The Spyson Hour podcast alongside Marriage Boot Camp, and The Hills star, Spencer Pratt, with Rob Cesternino of Rob Has a Podcast moderating.
Tyson also hosts the News AF podcast with the latter. Additionally, the couple has welcomed two children into the world, Bergan (4) and Marlowe (1). In 2018, Tyson competed in a celebrity poker's tournament alongside Survivor stars Boston Rob Mariano, Kim Spradlin-Wolfe, and Jeremy Collins in 2018.
Two years later, he returned to Survivor, with his poker friends, for Winners at War to compete against them and other former champs for a historic $2 million prize. 
Rachel Foulger tried looking for idols during loved ones visit
After his tribe sent him to the Edge of Extinction during their second Tribal Council, he successfully sold an advantage to a player in the game and earned a fire token. Tyson immediately cashed in on a massive jar of chunky peanut butter.
Then, he found another token scattered around on the island and used it for an advantage in the re-enter challenge. The four-time player won the duel and returned to the game and seemingly stayed off everyone's radar.
During Episode 10, Jeff Probst surprised the contestants, and the viewers, by bringing out their entire families during the loved ones' visit. Rachel, along with their oldest daughter Bergen came to see him, and enjoyed a nice meal and played in the sand.
According to the mother-of-two, they also attempted to find hidden immunity idols. In an Instagram comment, a fan noted the family should have "looked for an idol while no one was paying attention." Rachel responded to the follower and claimed she did but couldn't find anything.
If they had located the idol, it would have saved Tyson as the tribe sent him to the Edge again that night. Watch Survivor 40: Winners at War Wednesdays at 8 p.m. EST on CBS.