'Survivor 40: Winners at War': Wendell Holland Claims He and Michele Fitzgerald Were Never in a Relationship
Much of Wendell Holland's storyline in Survivor 40: Winners at War focused around his previous relationship with co-competitor Michele Fitzgerald and the way he seemingly treated her. In an interview with Entertainment Weekly, he clarified his past with the New Jersey-native and apologized if he wronged her.
[SPOILER ALERT: This article contains information revealed in Survivor 40: Winners at War Episode 8.]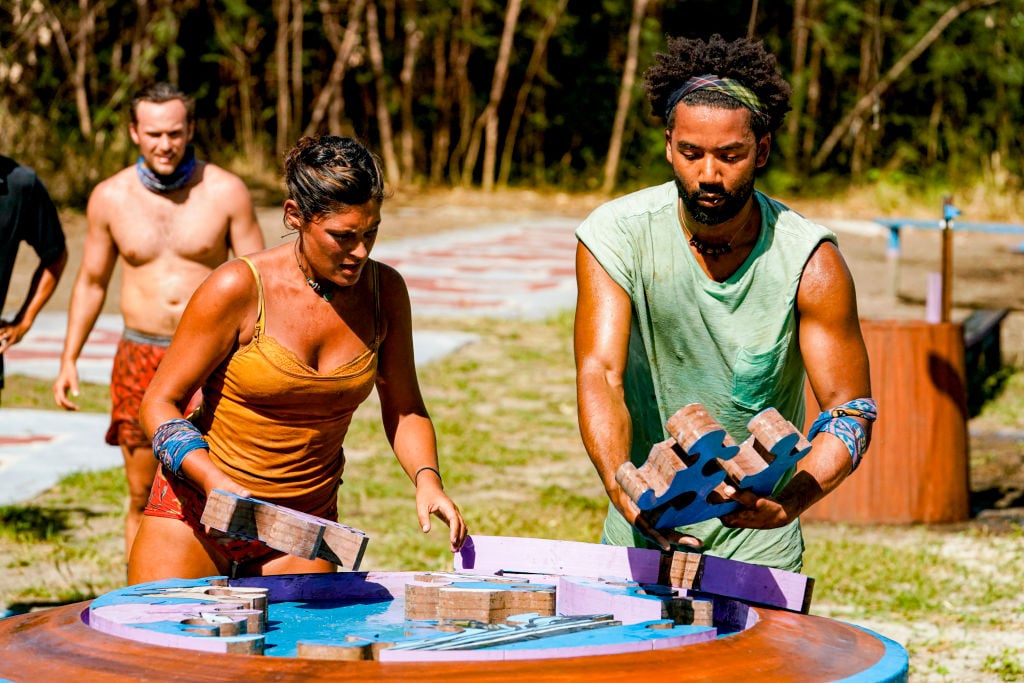 Wendell Holland Michele Fitzgerald previously dated
In 2018, Kaôh Rōng winner Michele Fitzgerald and Ghost Island champ Wendell Holland briefly dated. Many details surrounding their relationship are unknown, but Michele posted several pictures of the two, presumably while they were together, of them hanging out for his birthday.
Fans were unaware of their past until the two returned to Survivor for the first season featuring all former champs, Winners at War.
Wendell Holland and Michele Fitzgerald returned for 'Survivor 40: Winners at War'
Initially, the two were placed on opposing tribes, but he, alongside Dakal allies Nick Wilson and Yul Kwon, swapped to Sele and joined Michele and Parvati Shallow.
In confessionals, Michele referred to Wendell as her ex-boyfriend and claimed he "burned" her while they were dating. On the other hand, the Ghost Island winner acknowledged their relations as "kicking it" and didn't seem bothered by her.
Many perceived the way Wendell talked to her as "smug" or "snippy," and Michele seemingly had enough of him. However, she sided with him and chose to eliminate Yul. At the following Tribal Council, she didn't vote for him when the majority decided to send her ex to the Edge of the Extinction.
Once voted out, Wendell bequeathed one fire token to Michele and the other to Nick.
Wendell Holland claims he and Michele Fitzgerald never officially dated
In an interview with Dalton Ross of Entertainment Weekly, the Ghost Island champ explained the two "casually dated" while his season aired "and a little after."
He thought they would "downplay" their past relationship and "play up that we don't particularly like each other" for strategy. When he swapped into a tribe with Michele, Wendell said he "wanted to play it cool" but came "fully prepared to work with her on the low," and they did.
According to the latest boot, the two were "on the same page every day on the beach." However, he believes the edit didn't show that because "there's only so much time in the episode."
While watching the season play out, Wendell admitted the portrayal of his past with Michele "surprised and confused" him because they were never in a relationship. Therefore, he was "caught off guard" by Kaôh Rōng winner, referring to him as her ex-boyfriend.
While Wendell noted the show didn't capture his "side of the story," he said he doesn't have any "qualms" with it as he understands it's reality television and not real life.
Finally, the Ghost Island champ explained the two hung out several times between the time they stopped casually dating until filming began and considered her a "good friend."
Therefore, he spoke to her the same way he communicated with Ghost Island ally and runner-up, Dominic Abbate, as he didn't "feel the need to sugar coat things." However, he still apologized to Michele if she did feel hurt or slighted by him.
Survivor 40: Winners at War airs Wednesdays at 8 p.m. EST on CBS.