'Survivor: Winners at War': Denise Stapley Claps Back at Fans on Twitter After Harassment
After last week's tribal council on Survivor: Winners at War, fans had a lot to say. They commented so much on contestants Twitter accounts that some — Denise Stapley, Sarah Lacina, and Ben Driebergen — had to leave social media altogether. Most left without a word, but Denise clapped back at fans.
[Spoiler alert: Survivor 40: Winners at War Episode 12 spoilers ahead.]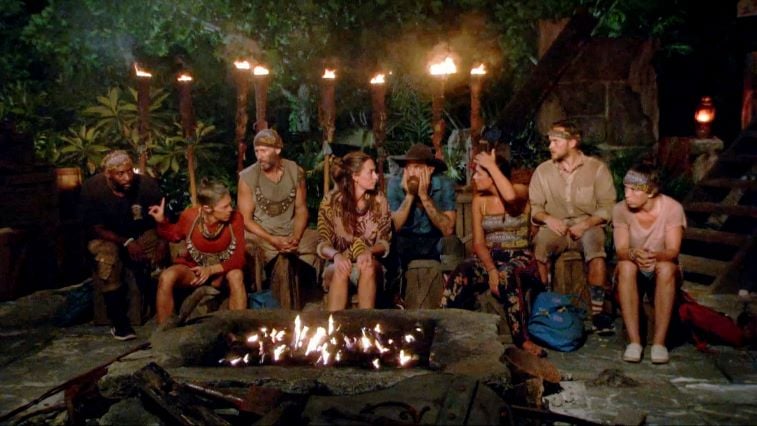 What happened in last week's episode of 'Survivor: Winners at War' to cause fan harassment
In Survivor: Winners at War Episode 12, whispers again broke out at tribal council. Tony Vlachos started the side conversations by leaning over to talk to Jeremy Collins. Within minutes, almost every contestant was up out of their seat chatting with someone else. It continued for so long that Denise became very annoyed.
"I'm done," Denise told Jeremy when he tried to whisper to her. "I'm ready to vote."
She shut him down and put her hand up in front of her face as if to say, "Talk to the hand."
"You know you're only safe tonight, though?" Jeremy asked her.
"I fully realize that," Denise responded.
Immediately the remainder of the castaways stopped talking. Probst tenderly asked if they were ready to vote. The group silently nodded, and then the vote proceeded. Both Tony and Jeremy considered playing advantages but ended up deciding against it. In a five to 3 vote, Kim Spradlin-Wolfe was sent to the Edge of Extinction.
What did Denise say to fans who were harassing her on Twitter?
"Making a decision to not view Twitter for now," Denise tweeted. "Just not worth it. So much love & support but also so so much judgment without true understanding of what happens in the game. You can call my actions rude, disrespectful, racists..whatever. Just remember…we're human. Mama D out."
Fans were complaining that the way Denise was treating Jeremy during tribal council was "rude, disrespectful, and racist."
In a separate tweet, Denise also explained that she spoke to Jeremy in the same tone that she talks to her daughter.
"As we watched last night, my daughter said 'I've seen THAT look before… that's the SYD…don't push me look…' LOL. So for the record to those 'questioning' so nicely…100% NOT racist…just 100% exhausted."
She tried in two different tweets to tell fans that she was merely tired.
How did fans react to Denise's clap back on Twitter?
"The comments that people are leaving for the WAW players are out of control," replies one fan. "Nick, Sarah, and Ben have all shut down their Twitter accounts. Maybe you should too to avoid all the drama. There is enough in the world already."
Most fans were very supportive of Denise in the comments of her tweet. However, some continued to say that she was rude talking to Jeremy that way.
"I can tell you I've only ever received or given that look from/to people I loved dearly," added another fan. "It's just the 'Mama' look of 'don't even try it, mister.' I hope you and Jermey hashed things out off-camera, but nobody can blame you for tensions getting high during tribal! Still, my favorite."
It sounds like many fans are supportive of Denise's gameplay, and find her clap back needed on Twitter. Hopefully, the harassment ends, or it looks like she might leave Twitter like her tribemates.
Survivor: Winners at War airs Wednesdays at 8 p.m. EST on CBS.