'Survivor: Winners at War': Is the Poker Alliance Alive and Well, But Flying Under the Radar?
Now that the anniversary season of Survivor is down to 10 contestants, fans are adamantly trying to figure out who will be in the top three. The Poker Alliance was on all of the contestants' minds when Survivor: Winners at War began, but somehow the castaways seem to have forgotten about it. Are Kim Spradlin-Wolfe, Jeremy Collins, and Tyson Apostol in a Poker Alliance together, still, and planning to take each other to the end?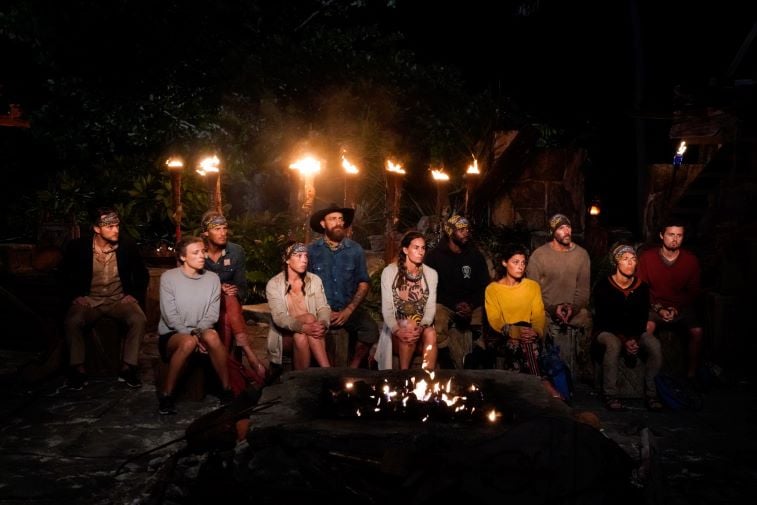 Is the 'Survivor: Winners at War' Poker Alliance real?
In 2018, Boston Rob Mariano, Tyson, Jeremy, and Kim played in Poker Night in America's season 1, week 10 episode of Poker Night Live! They played the $5- $5 no-limit hold 'em cash game at California's The Garden's Casino with Jonathan Little and Joe' Stapes' Stapleton. 
"If we all find ourselves on the island together, we're definitely going to be the power alliance," Tyson said on the PNIA broadcast.
Boston Rob agreed with Tyson, "Definitely, obviously." However, Rob's wife, Amber Mariano, was voted out of Winners at War in week two because of her affiliation with the alleged Poker Alliance. Yul Kwon reminded the other castaways of the comments made during the poker tournament and convinced his tribe to vote off Amber. 
"I played in a poker game a year ago outside of the game, which is going to turn out to probably come back and bite me," Tyson said during the first episode of the season. "There are so many close relationships that are so much closer than the poker player alliance that met for three hours. The Poker Player Alliance is not a thing. It's not a thing, and if it is, I'm not in it."
Tyson denies that the Poker Alliance is real, but now that he is back in the game with Kim and Jeremy, fans wonder if the alliance was resurrected.
Fans feel that the Poker Alliance is going to go all the way on 'Survivor: Winners at War'
"Personally, I think all three are top 10 all-time players," one fan wrote on Reddit about Tyson, Jeremy, and Kim. "Any of the three could last the longest, and I wouldn't be surprised."
Since the tribes merged, the three former poker players are together. It is possible that they were planning this all along, and fans are here for it.
"I think all three of them are set up to go far and are controlling the majority right now," added another fan. "I think Tyson is our winner and he'll take out Kim in the final five. Kim is giving me Alison vibes from David Versus Goliath where she's super under-edited, but everyone says she's a huge threat."
Fans are hoping these three take this Poker Alliance under the radar and all the way to the end.
Read more: 'Survivor 40: Winners at War': Fans Notice Kim Spradlin Flying Under the Radar — She Might Take Home the $2 Million