'Survivor' Yul Kwon Has a Hilarious Reaction to Fans' Chanting His Name: 'I Guess It's a Yulogy'
Survivor Winners at War gets more devastating each week as fan-favorites such as Parvati Shallow and Boston Rob Mariano get booted out of the game and sent to the Edge of Extinction. This week was no different, except that fans reacted oddly, with a chant. Except Yul's response to his fans was even better.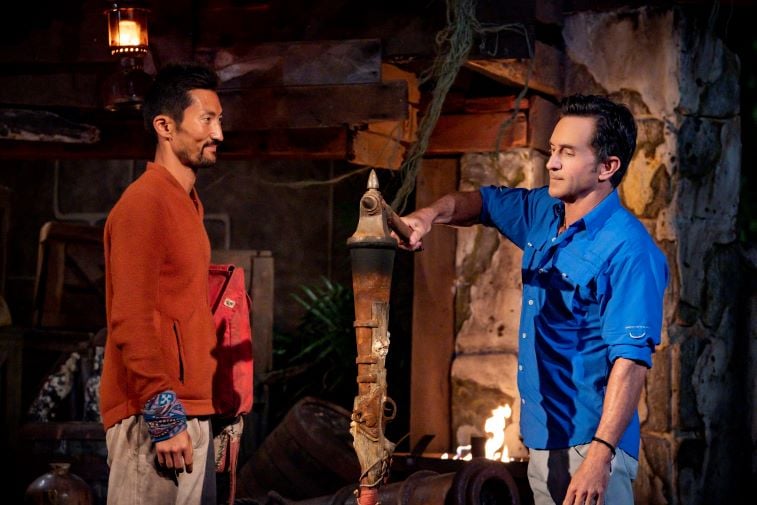 Who was voted out in 'Survivor Winners at War' Episode 7?
In Survivor 40, episode 7, fans were struck with the vote out of one of their favorite players of all time. Yul Kwon was chosen by many fans to win the $2 million on Survivor Winners at War. Although it is still possible that Yul might come back from the Edge of Extinction, fans were still devastated by the events of Wednesday night's episode.
"Michelle & Nick just made the worst decision voting out Yul," tweeted one fan. They picked the guy who WILL betray them in a heartbeat over the one who would have been their ally until the last possible moment."
The votes came down to Michele and Nick since Wendell and Yul voted for each other. In the end, the pair decided that Yul was strategizing too much. They worried about what might happen after the merge. However, fans feel they chose wrong.
"The new school players have terrible gameplay compared to the old school players," another fan wrote on Twitter. "Just look at Michelle & Nick, keeping Wendell over Yul. Wendell is sneaky and obnoxious and cannot be trusted after the merge, Yul is humble and a solid ally. Bad, bad choice."
How did fans react on Reddit after Yul was voted off on 'Survivor Winners at War' episode 7?
Immediately following Yul's journey to the Edge of Extinction, users took to Reddit and began chanting Yul's name. It was a thread that consisted entirely of users writing only, "Yul," as a comment.
The users continued until there were over 1200 comments. Every single comment only said one word — "Yul." They hoped that Yul would join the chat community.
Then, Yul came across the thread on Reddit and commented, "Yul." The community on Reddit went wild with excitement and continued to chant his name. Several days later, the "Yul," comments are still coming in full force.
What was Yul's response to Reddit users for chanting his name?
"I can't figure out how this became a thing, but whatever it is, it makes me inexplicably happy to see this thread on Reddit that consists of people posting 'Yul' over and over (I mean, like, 1200 times)," Yul tweeted. "I guess it's a Yulogy? Haha. Ok, that was lame."
Although Yul might think that his pun is lame, his fans loved it. He will forever be a fan-favorite.
"Yulogy is hilarious," commented one fan on Yul's tweet. "We love you on Reddit. Truthfully I think you are one of the few universally revered players."
Fans agree that it is hard to find anyone who talks negatively about Yul. He is a well-loved player.
"Exactly," wrote another viewer. "I've only ever seen people talk about Yul with respect and admiration. Not an easy feat for a Survivor player, since a lot of us in the audience like to analyze every tiny aspect of the game."
Although Yul is on the Edge of Extinction island currently, fans are hoping that he returns to the game. You can watch how it all plays out on Survivor Winners at War, Wednesdays at 8 p.m. EST on CBS.
Read more: 'Survivor 40: Winners at War': Fans Are Calling for the Edge of Extinction to End at the Merge